Premium Playbook for Legal Entity Rationalization
About this Playbook
Working with industry leading experts, and based on methodology used by Fortune 100 companies, Midaxo developed a playbook for Legal Entity Rationalization that can guide any company through the process of complex business transformation efforts.
Common events triggering the need for legal entity rationalization:
M&A transactions
Alliances and joint ventures
Divestments
Entering or exiting markets
Business restructuring
Tax planning initiatives
Common benefits:
Reduced administration costs
Simpler governance
Tax planning
Midaxo's legal entity rationalization solution is a combination of comprehensive Legal Entity Rationalization playbook (optimized for the Midaxo platform), 20+ document templates, and the Midaxo cloud platform.
Midaxo's legal entity rationalization solution enables leadership to efficiently manage legal entity changes while saving costs, mitigating risk, and streamlining legal entity governance.
Lead Author: Gregg Clark
Gregg has 20+ years of M&A Advisory experience with EY and Accenture. He has led all aspects of M&A deals including multiple Legal Entity Rationalization Programs.
Contributing Author: Tom Allen
Tom has led and worked on numerous M&A projects, many cross border. Tom's experience spans acquisitions, divestments, due diligence, VC rounds, valuations and IPO to the London Stock Exchange, etc. Tom is a Chartered Accountant (ACA), member of the Institute of Chartered Accountants England & Wales (ICAEW) and started his career in financial services at PwC.
*Note: This Core Midaxo Playbook is available with Midaxo at an additional cost.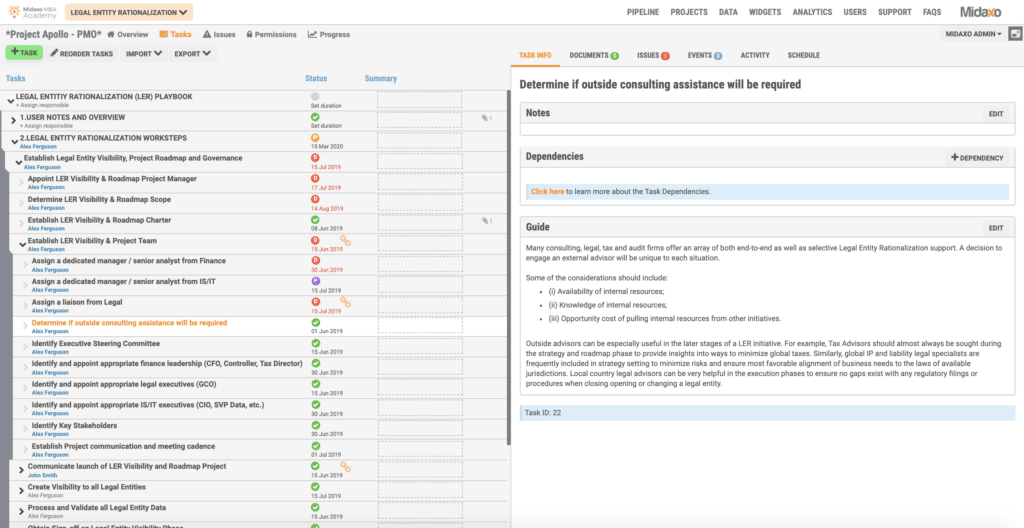 Learn How Midaxo Can Power Your Dealmaking
Contact us for a live demo or simply to discuss how Midaxo can improve the productivity of your team