Due Diligence
Buy-Side Virtual Deal Room (VDR) Software
Manage multiple due diligence processes in parallel, standardize the review process, save all documents from all deals in a single source of truth, assign review tasks, and report on progress from your buy-side virtual deal room.
Request a demo to see how to effectively manage your workflows and reduce diligence time up to 50%.
Set up an integrated, buy-side virtual deal room. Invite sellers to collaborate and provide requested materials.
Buy-Side VDR
Make a positive impression by providing a great experience for the seller
Own the Data
Seamlessly integrate the VDR into your end-to-end dealmaking process
Q&A Feature
Enhance collaboration with the seller on additional questions
Single System
Centralize separate information requests, VDRs, checklists, task trackers and issue logs
Unparalleled Security
Ensure all documents are safe with industry-leading Midaxo security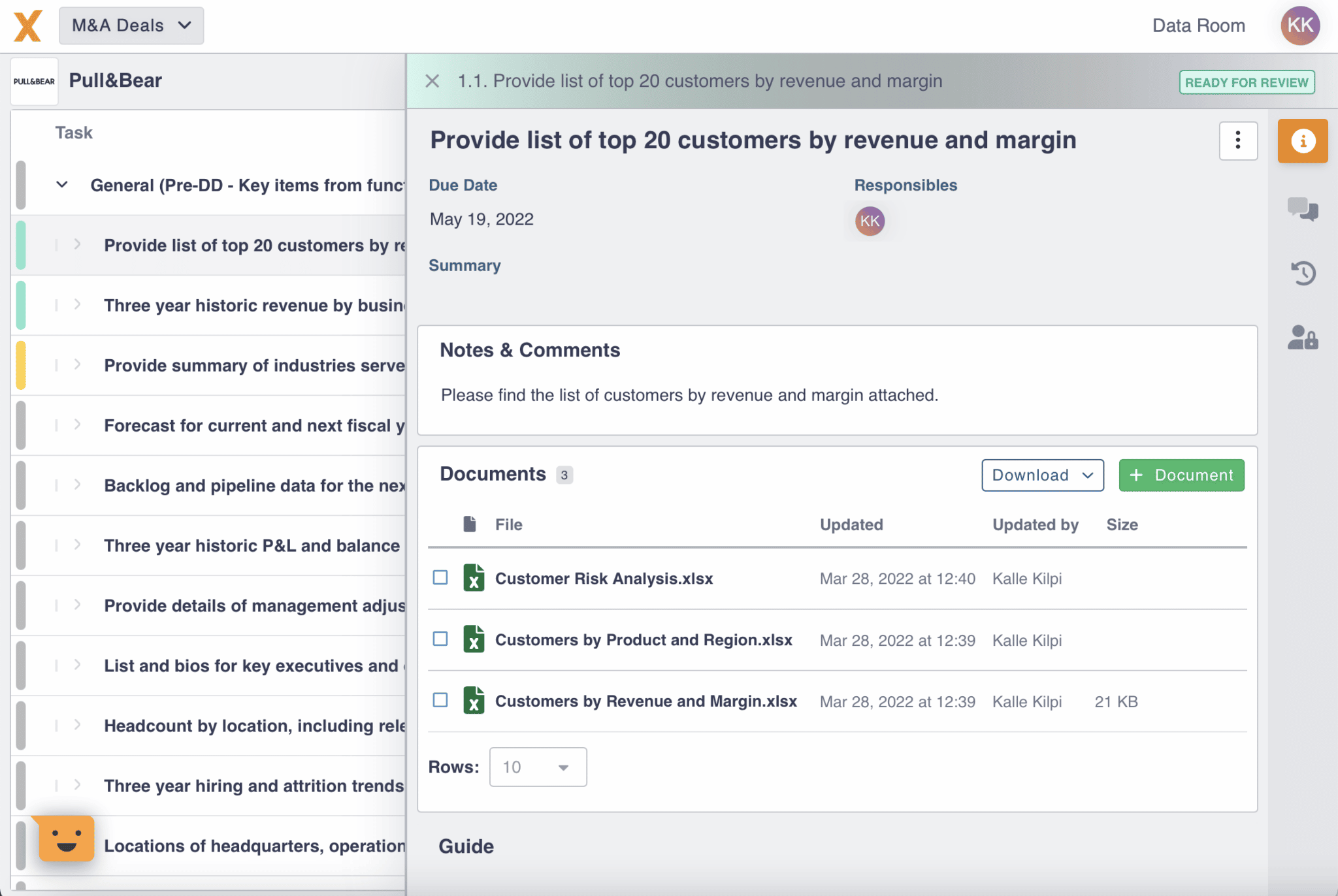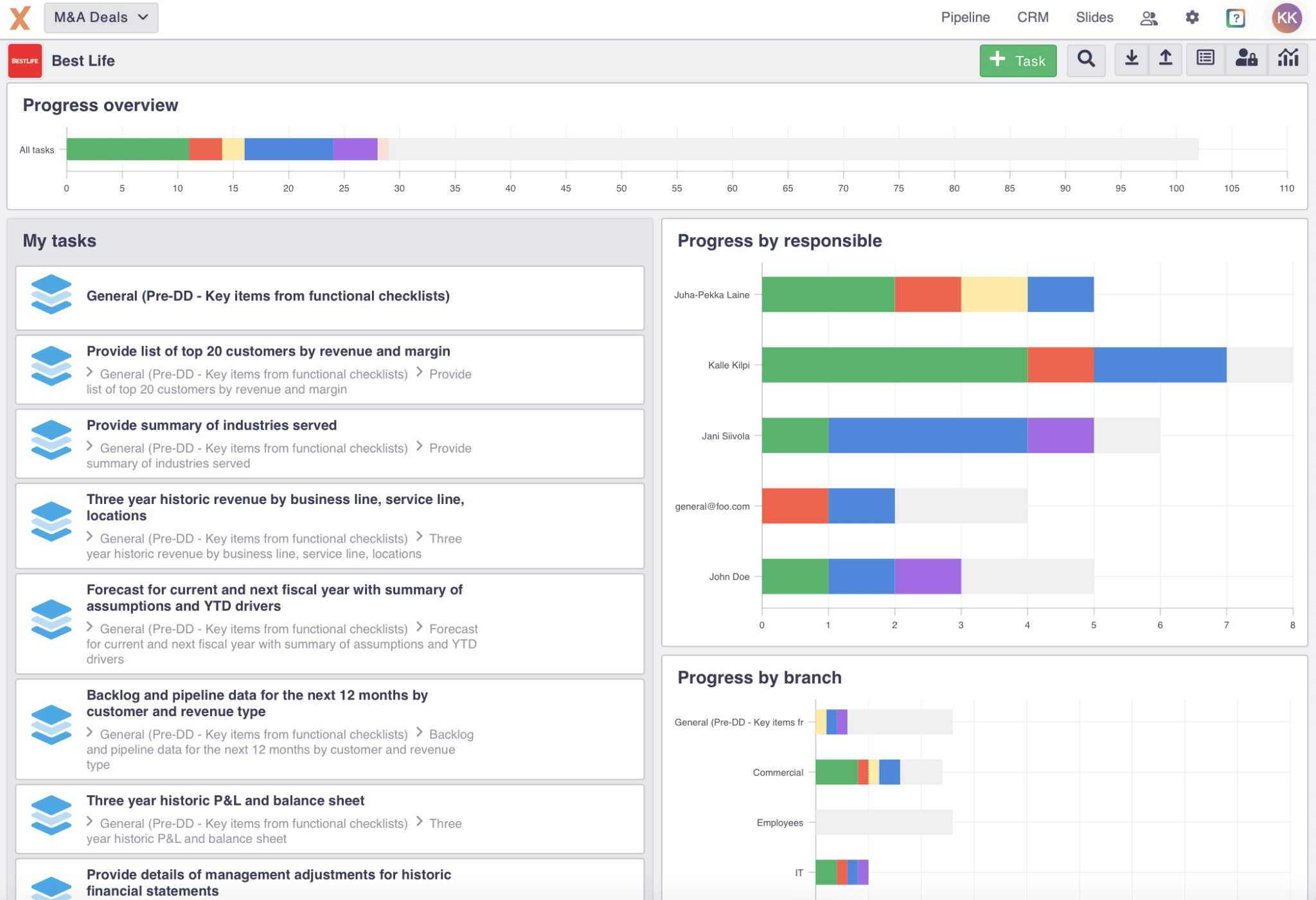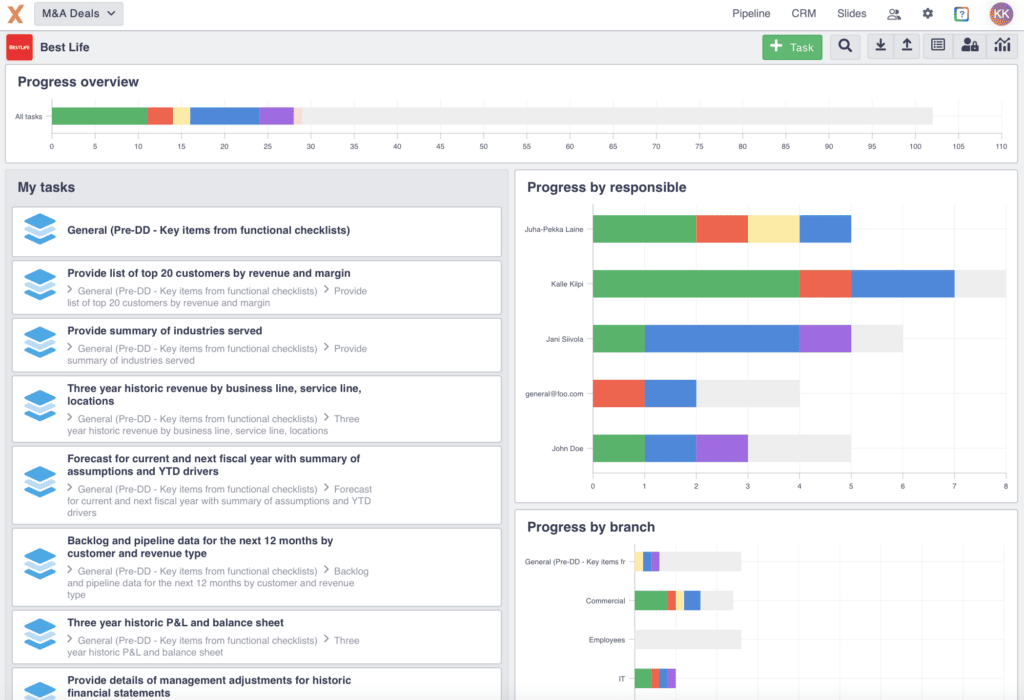 Clearly establish due diligence deadlines and track progress with clear responsibilities to ensure nothing is overlooked.
Information Requests
List all the material to be provided by the seller
Task Management
Assign responsibilities and due dates, making team members accountable
Review Progress Tracking
See what is done, in progress, and not yet started. View by topic or who is responsible.
Email Notifications
Get timely updates about new material provided, tasks assigned, or work completed
Effortlessly standardize your due diligence checklists and decision criteria in your buy-side virtual deal room.
Deal Playbooks
Standardize everything from business case templates to valuation models and LOI letters
Due Diligence Checklists
Increase process efficiency with due diligence checklists and information request lists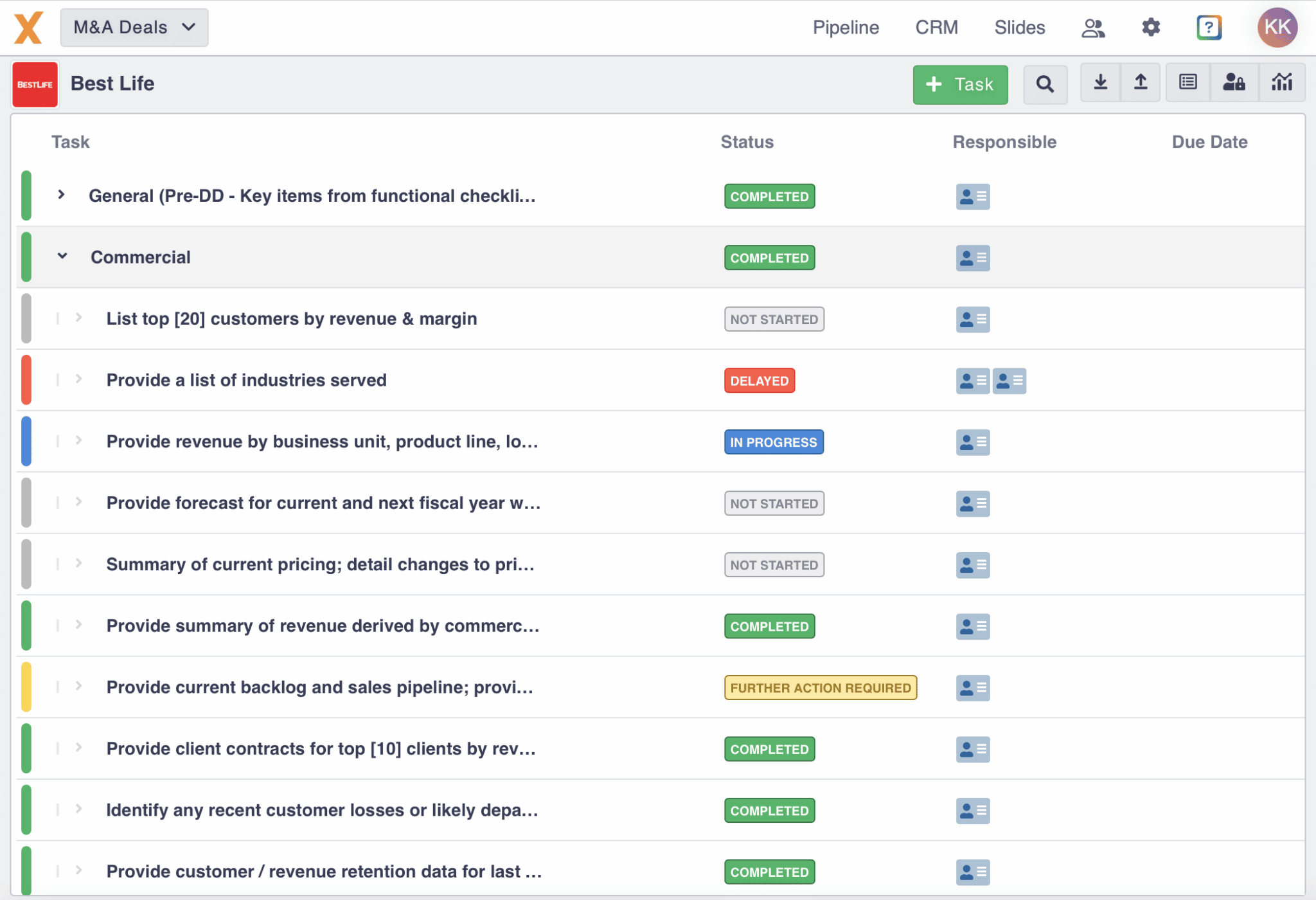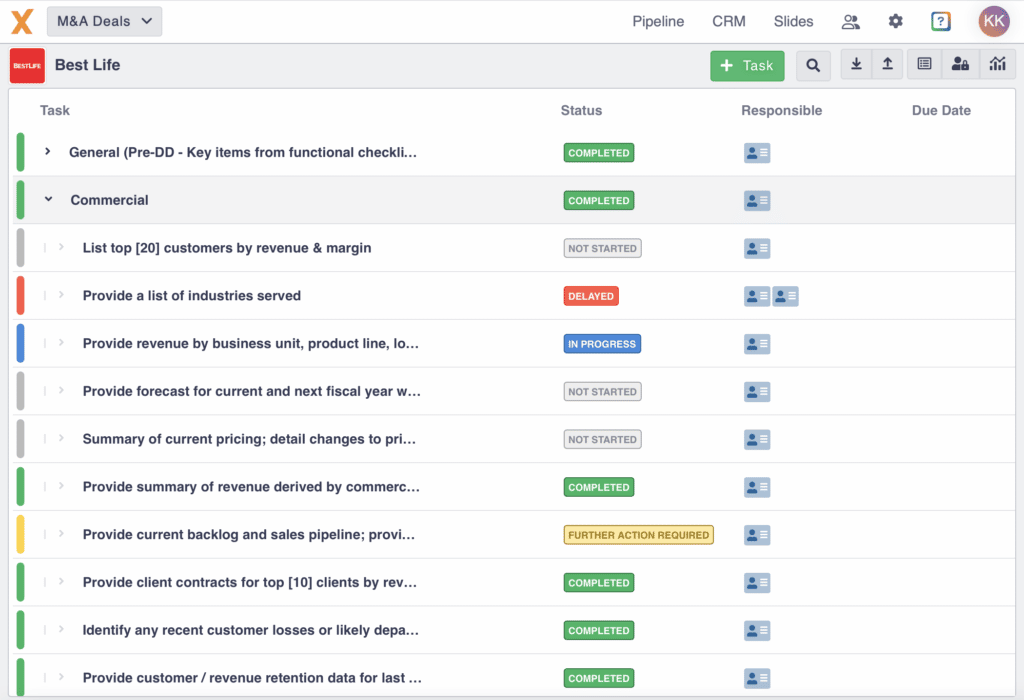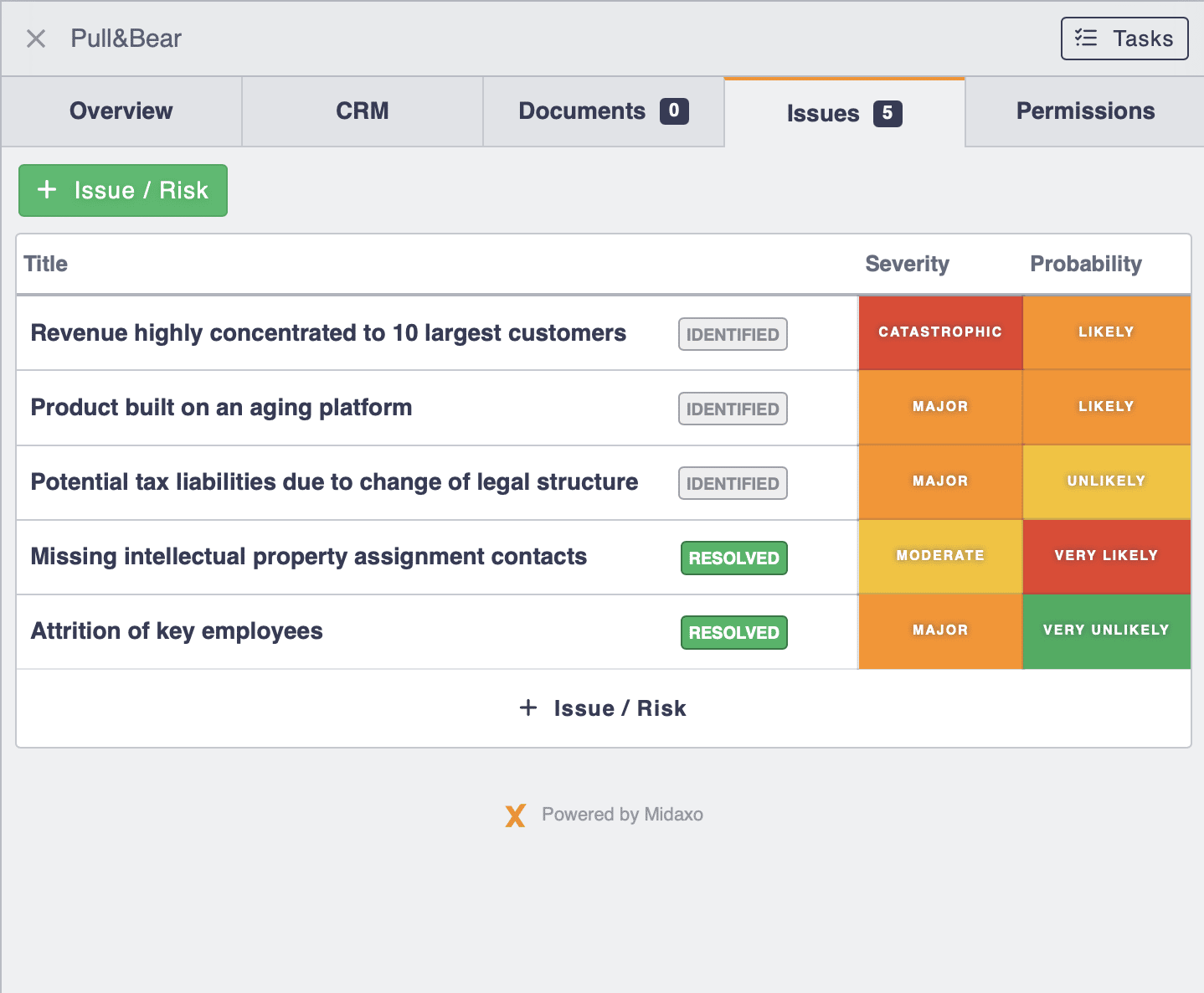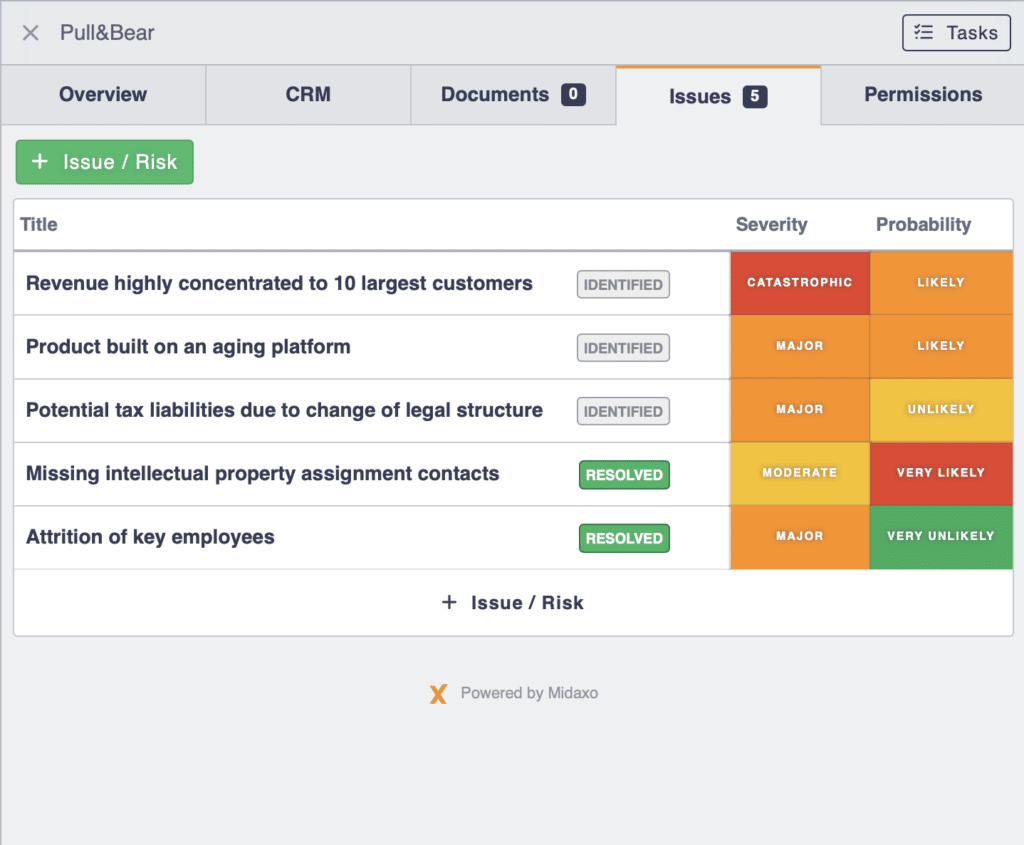 Centralize all data about issues, risks and findings. Make sure nothing falls through the cracks.
Risks/Issues Tracking
Ensure all stakeholders are aware of key issues and risks relevant to them
Risks/Issues Mitigation
Identify common risks/issues and design your process to avoid them
Risks/Issues Assessment
Understand the severity and probability of risks and their likely impact
Risks/Issues Visibility
Keep deal teams and leadership informed about risks and issues
Get best practices from the top M&A teams in the world.
Midaxo makes it easy for Corel to visualize our M&A pipeline, evaluate targets, and collaborate effectively, but the real game-changer is how easy it is to add, move, and update – so everyone is on the same page."

– Charles Breed, VP Corporate Development M&A, COREL / KKR
Select a Vendor You Can Count On
Focused on Dealmaking
Our core business is to design, build and deliver great software for dealmaking.
World-Class Security
We understand information security is paramount in corporate dealmaking and are ISO 27001 certified.
Deep M&A Expertise
Our team has deep corporate development expertise and Midaxo is built in collaboration with leading practitioners.
Learn How Midaxo Can Power Your Dealmaking
Contact us for a live demo or simply to discuss how Midaxo can improve the productivity of your team