Legal Operations Software for Corporate Development
Accelerate Outcomes, Reduce Costs, and Avoid Risks
Purpose-built as a software platform for corporate deal making, Midaxo now supports an array of corporate initiatives. Legal teams use Midaxo to organize their projects, establish effective processes, work more efficiently, and demonstrate progress in real-time.
Take advantage of our VDR (virtual deal room) to securely store and share confidential documents with associates and clients. Use Midaxo to manage contracts, IP-licensing, partnerships, M&A due diligence, analytics, and reporting.
With one central source of truth, legal teams can protect IPR and better manage risk in litigation, compliance, reputation, and insurance. Midaxo is designed to give you and your clients exactly what you need when you need it.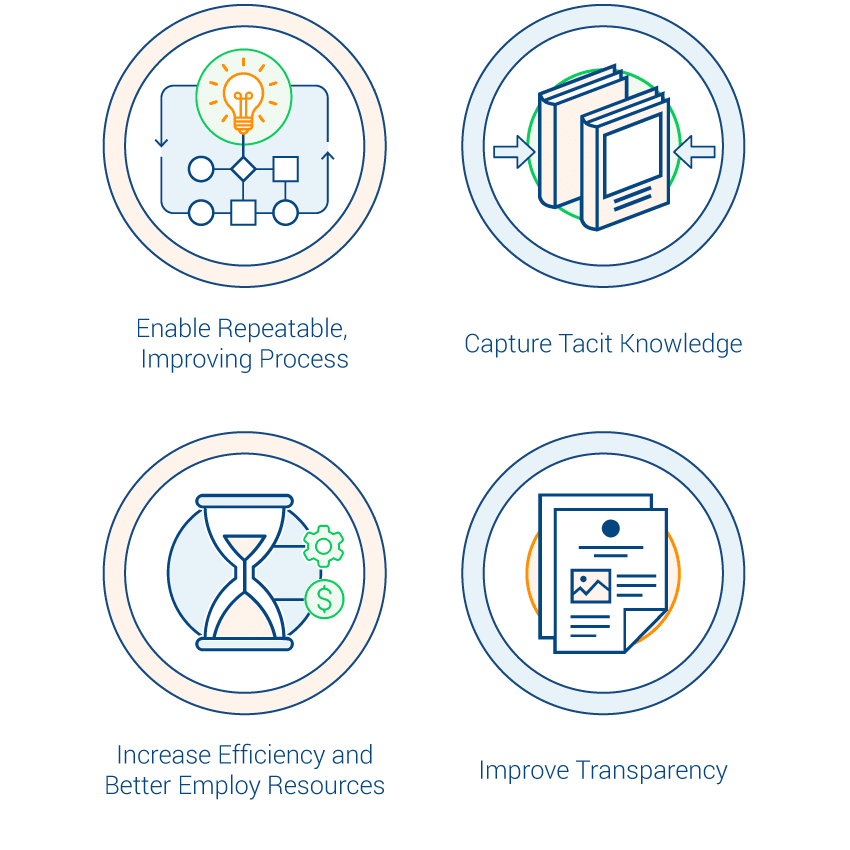 Hewlett Packard Enterprise used Midaxo to manage and streamline 1,200+ legal transactions, 50,000 patents, and 150,000 contracts during their split from HP.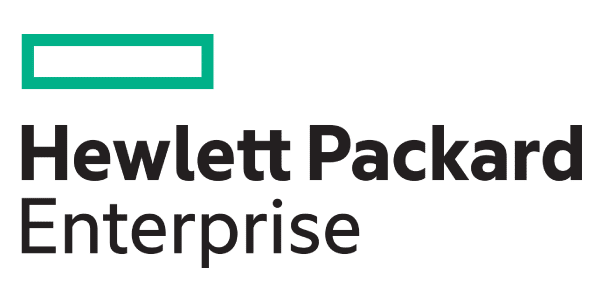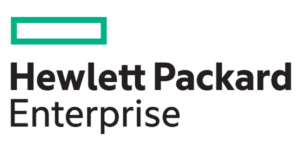 Using Midaxo for Legal Operations
Negotiated Contracts
Real Estate
Litigations
Regulatory Approvals
IPR Protection
IP In/Out Licensing
M&A, Funding
Import/ Export Law
Legal Entity Changes
JVs/Partnerships
Compliance Filings
Six Sigma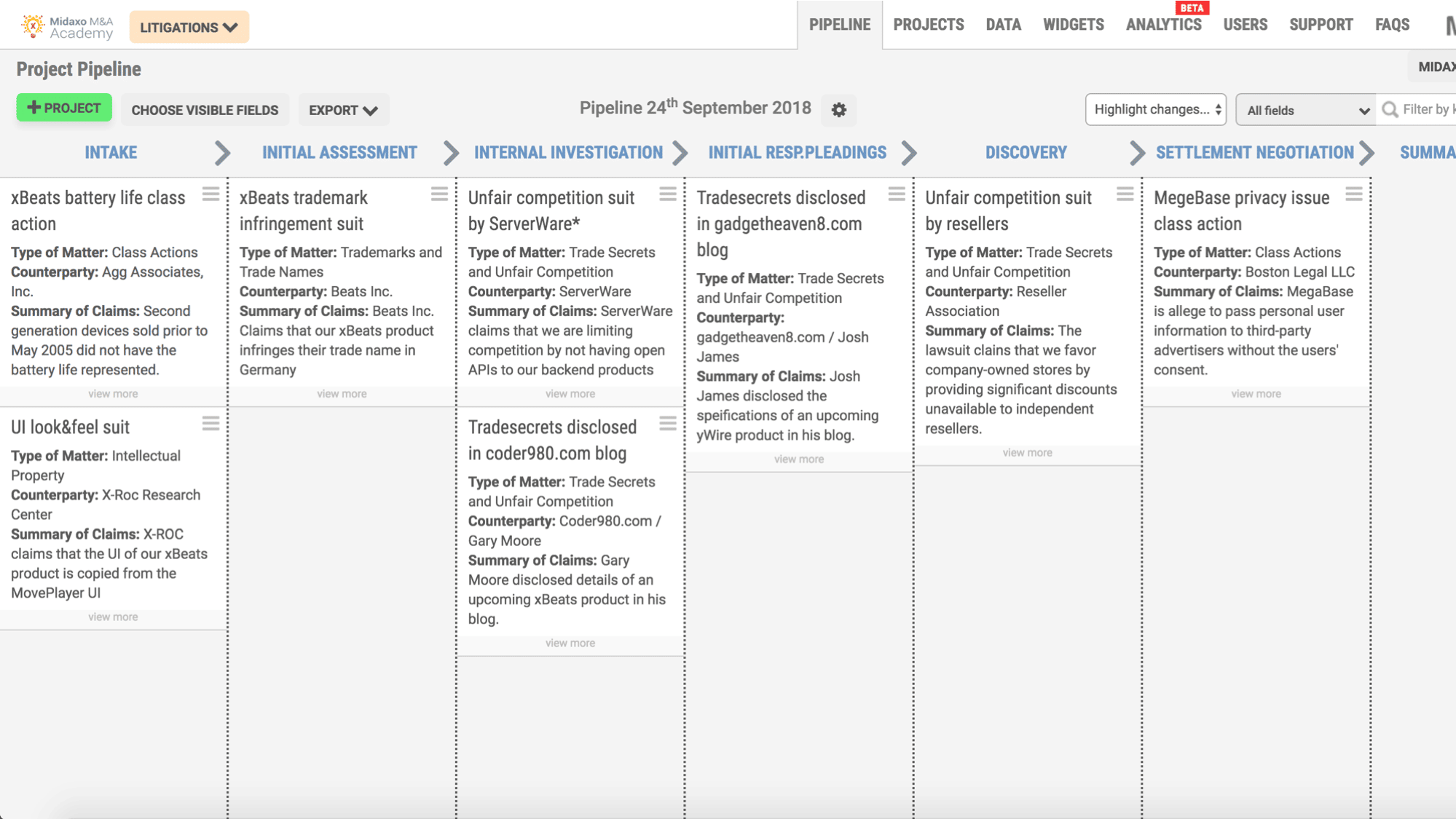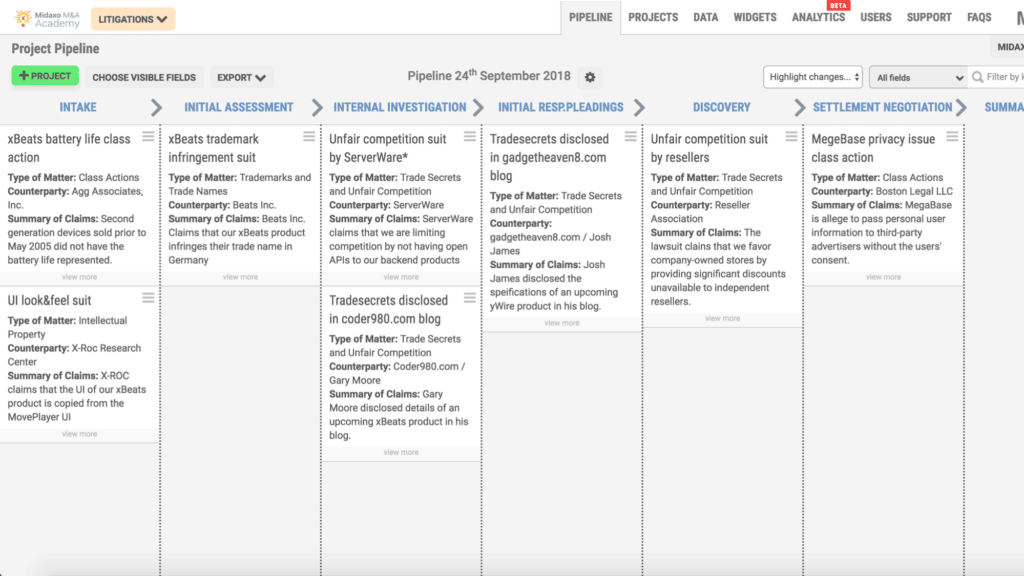 Centralized Pipeline Management
A customizable pipeline view gives you the insights and clarity you need into project and team progress. See milestones, deliverables, targets, and requests in one central source of truth. Keep your legal operations organized and moving forward.
Design stage-gates that fit your exact needs, processes, and teams. Easily toggle between projects and quickly check in on relevant ones using specific parameters.
Organize and view cases based on status. Know how each project is progressing and what needs to be done next. If deadlines should be adjusted, recognize that early.
Keep all associated documents at your fingertips. With our VDR, you won't waste time searching through inboxes to find emails and attachments.
Selectively invite others into the platform. With Midaxo's detailed permission settings, they'll only see what they need to view.
Expert-Developed Legal Operations Playbooks
Midaxo playbooks give you the structure and knowledge to successfully execute corporate legal processes and procedures. Our playbooks can lay the groundwork for your organization or you can import your own playbooks.
Our custom playbook library has playbooks for legal entity rationalization, commercial contract review, IP management, and more. They keep teams focused with clear objectives and accessible plans.
Best practices, templates, and guidelines mean lawyers can more efficiently use their time and reduce their workloads and billings. Rely on playbooks to help you build repeatable and constantly improving processes.
Use our platform to refine your processes and tailor them to your organization. Midaxo makes it simple to add lessons learned as you go by customizing your playbooks to fit your processes.
With one source of truth, new team members can get up to speed more quickly and require less training from senior staff.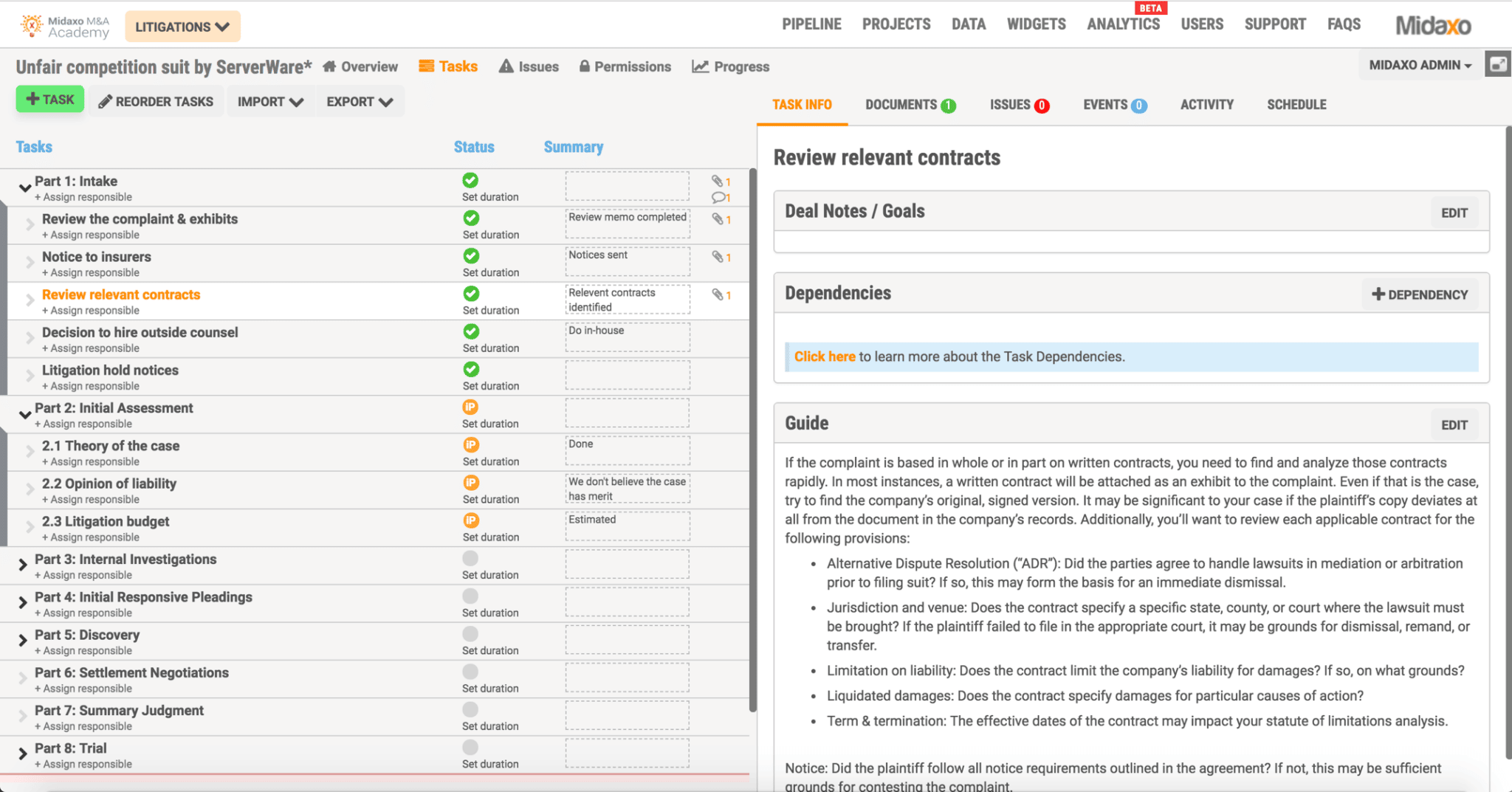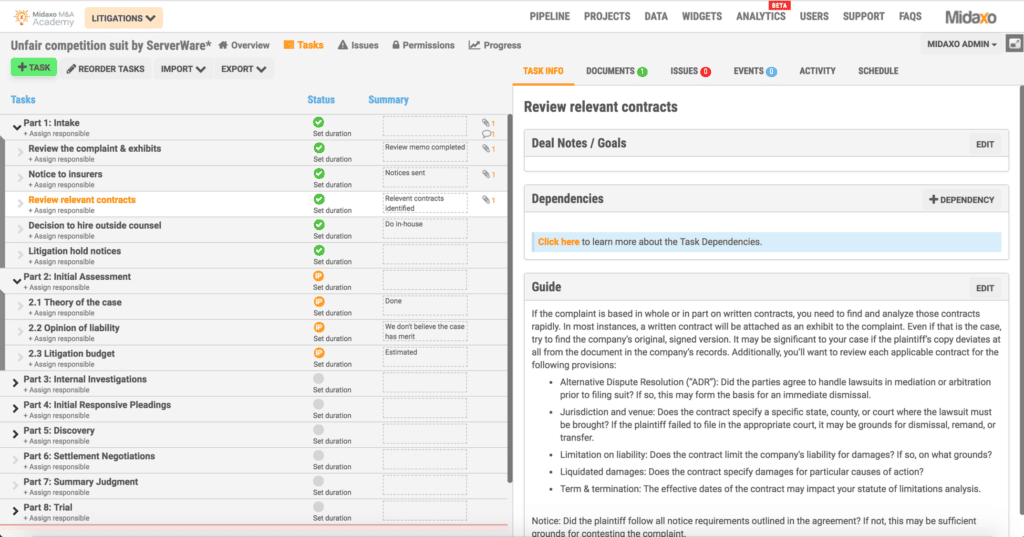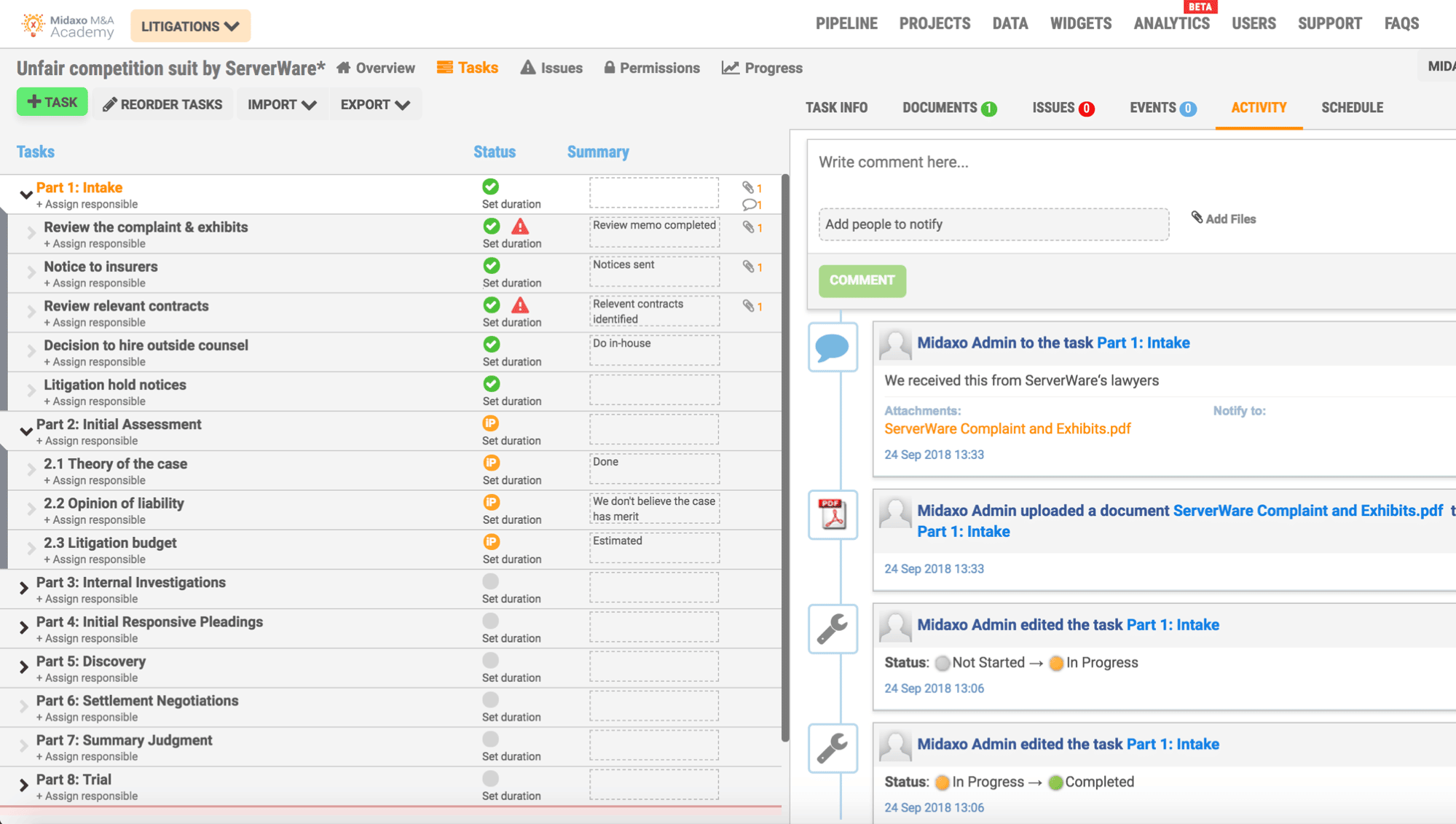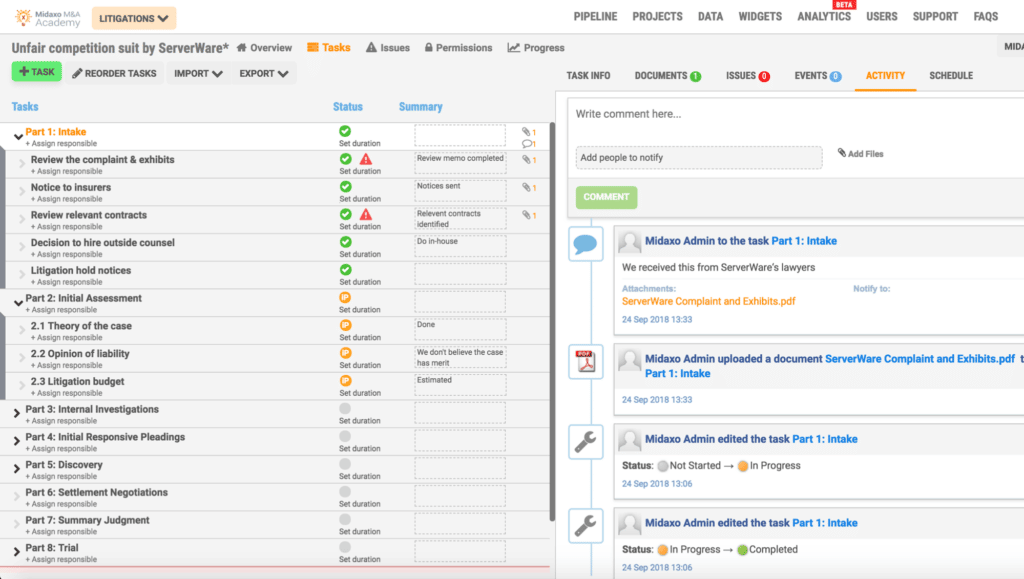 Streamlined Task Management and Communication
To be successful, you should have complete visibility into projects and always know who's responsible for what. With Midaxo, team leads can manage their responsibilities more effectively, keeping everyone on track and working together towards the end goals.
See everything in one place. Midaxo's pipeline view displays all projects, giving you a comprehensive overview of everything happening as well as the ability to dive into the details.
Eliminate workflow slow-downs and gaps with straightforward scheduling, planning, and project tracking. Know target milestones, individual responsibilities, team deliverables, and progress.
Configure permissions and roles to ensure the right people, internally and externally, have the correct access to information.
Maintain an audit log of all events, making it easy to track changes and see when they occurred.
Increase Visibility with Real-Time Analytics
Project reporting should be detailed, accurate, and easy to update with minimal maintenance. With our platform's one-click reporting and custom dashboards, see what you need when you need it. Confidently make decisions based on real-time insights into workflows, team progress, and outstanding tasks.
Track, monitor, and adjust KPIs. Dashboards show progress as it occurs at the task and project level.
Easily create and share reporting decks with a few clicks. Save time with automated reporting across all projects, teams, and workflows.
Make changes and process improvements based on verifiable information. If teams need more support or resources, quickly recognize and act on it.
Eliminate problems caused by multiple versions and outdated data. Working in a central platform with real-time analytics ensures your reports and analyses are based on the most recent, accurate information.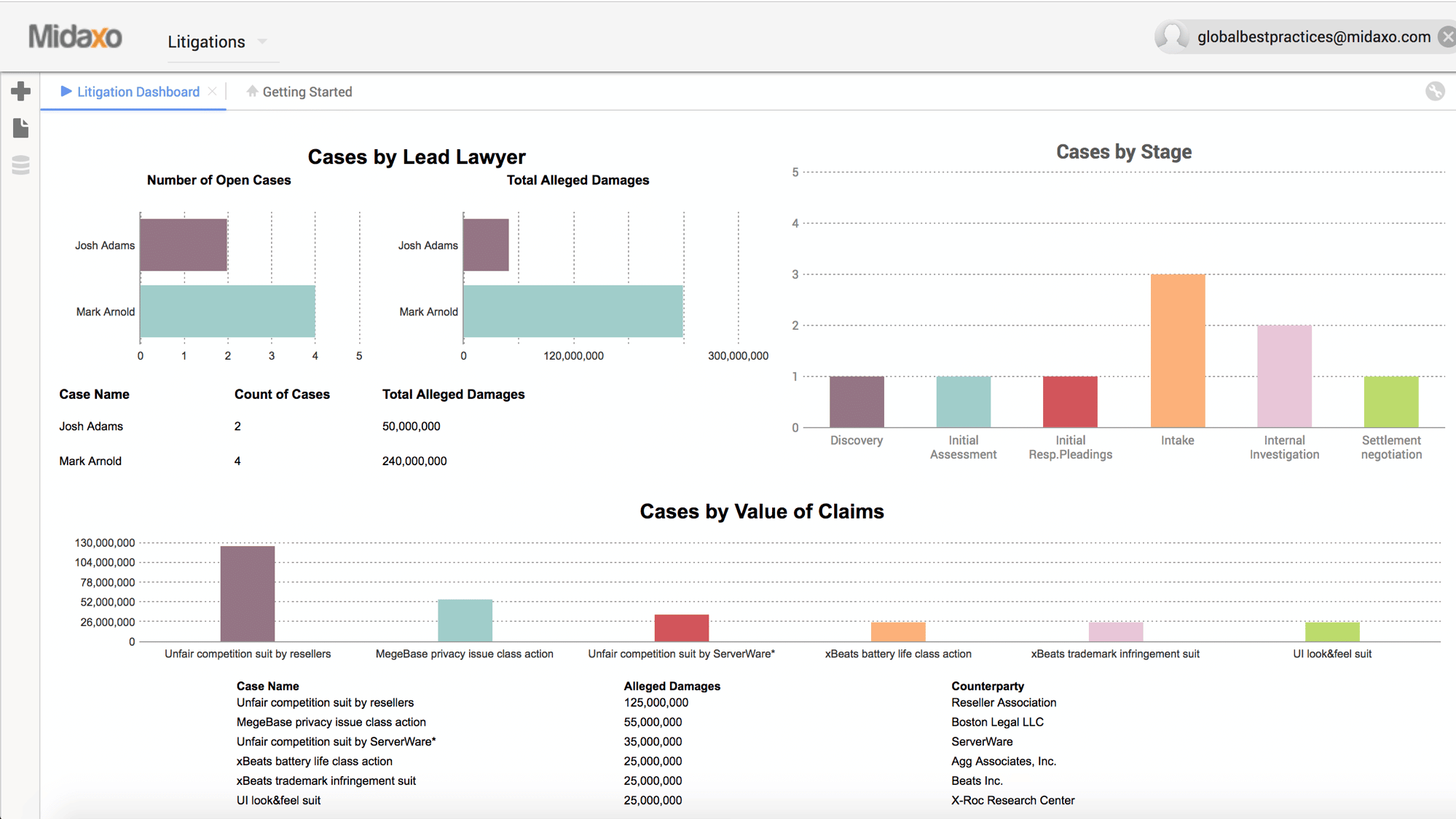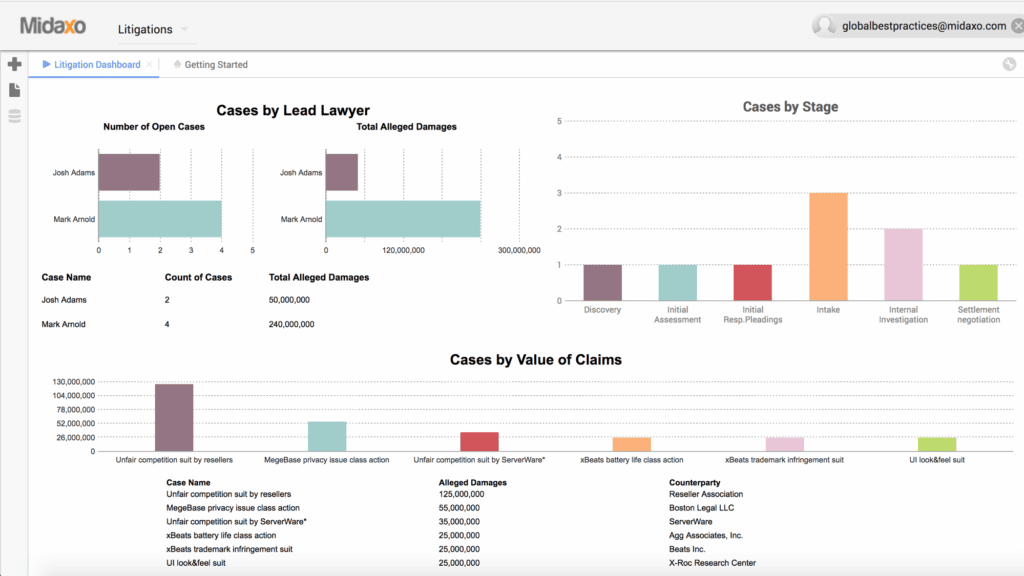 Learn How Midaxo Can Power Your Dealmaking
Contact us for a live demo or simply to discuss how Midaxo can improve the productivity of your team