Pipeline
Deal Pipeline Management Platform
Generate consistent pipeline, evaluate targets systematically, manage relationships, report on progress effortlessly, and create a standardized environment to assess and move more deals forward.
Request a live demo to see for yourself how to streamline your dealmaking pipeline and workflow.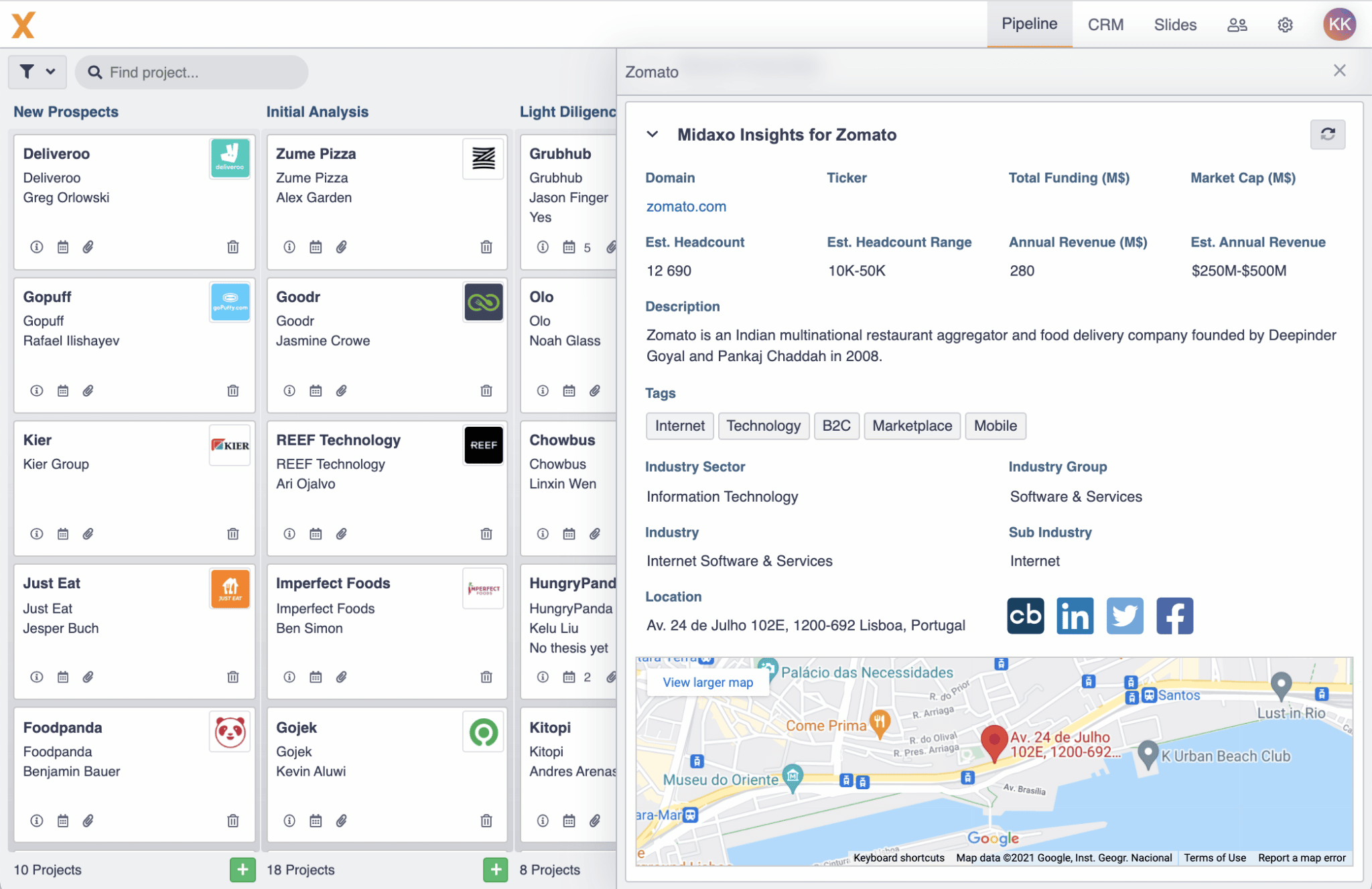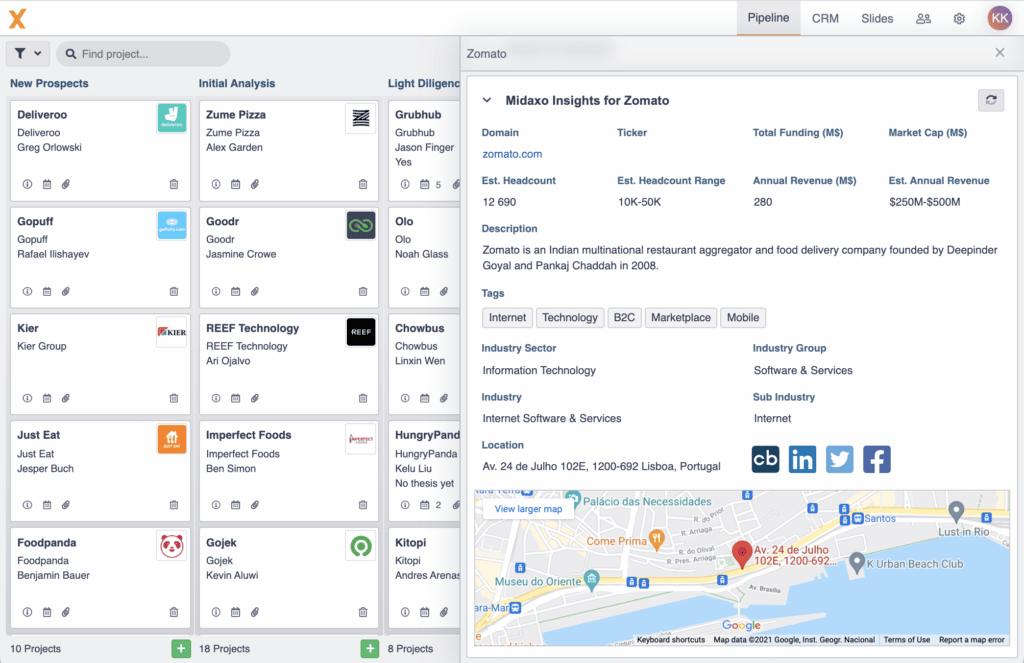 Easily add new and existing targets, have fresh target info auto-populated, easily view your pipeline
Kanban Board
See deals visually on a board organized by key milestones
Midaxo Insights
Have pertinent target information populate automatically from business data sources such as Clearbit, Pitchbook and Crunchbase
Midaxo Deal Scoring
Prioritize targets using user-defined deal scoring calculated based on target information
Multiple Pipelines
Manage multiple pipelines and view by business unit using process dropdown
Import from Excel
Convert Excel-based pipeline trackers with a few clicks
Ensure the Security of Your Pipeline
Rest assured your data is safe with industry-leading Midaxo cybersecurity
Systematize target evaluation criteria, deal scoring, and information gathering
Custom Deal Scoring
Establish standard criteria, specific to your needs, for target evaluation including the option of defining calculated values based on multiple business factors
Automated Scoring
Pre-set criteria scores new deals for initial analysis when relevant data is populated
Structured Deal Database
Store deal data in a structured format to enable simple, advanced reporting
Document Security
Securely store key documents such as NDAs, LOIs, business cases, etc.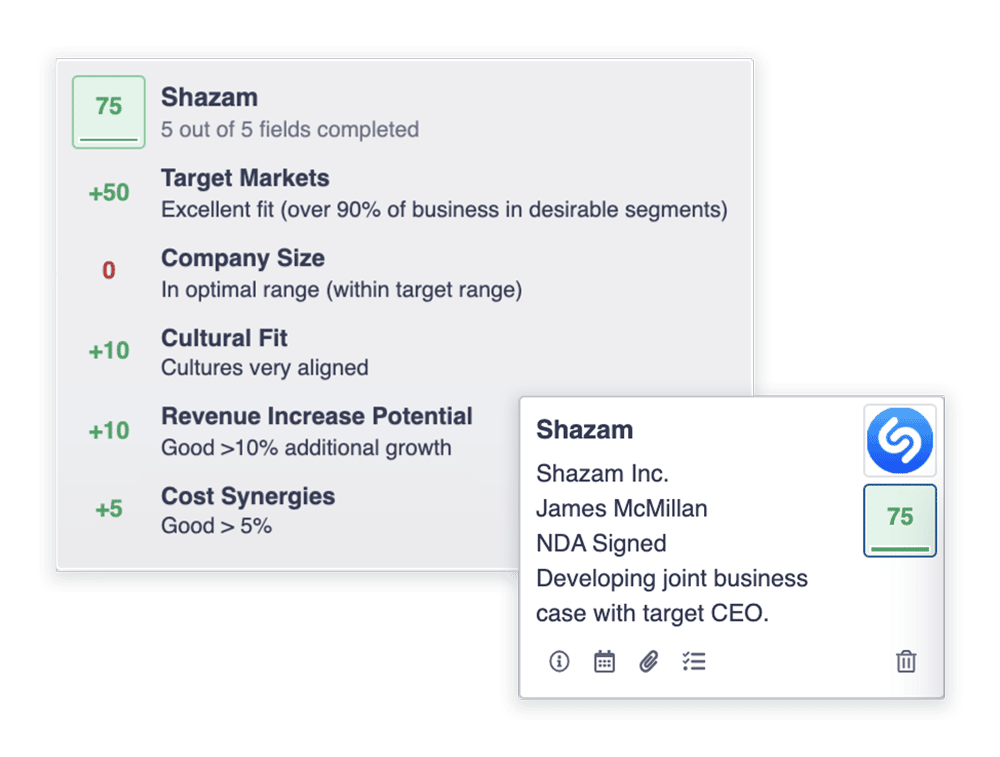 Having Midaxo has allowed Philips to re-evaluate, structure and systematize our global end-to-end M&A methodology."

New Venture Integration Manager, Philips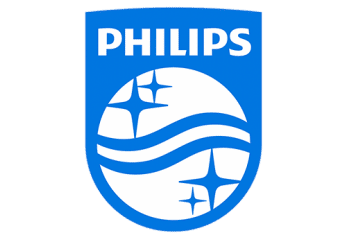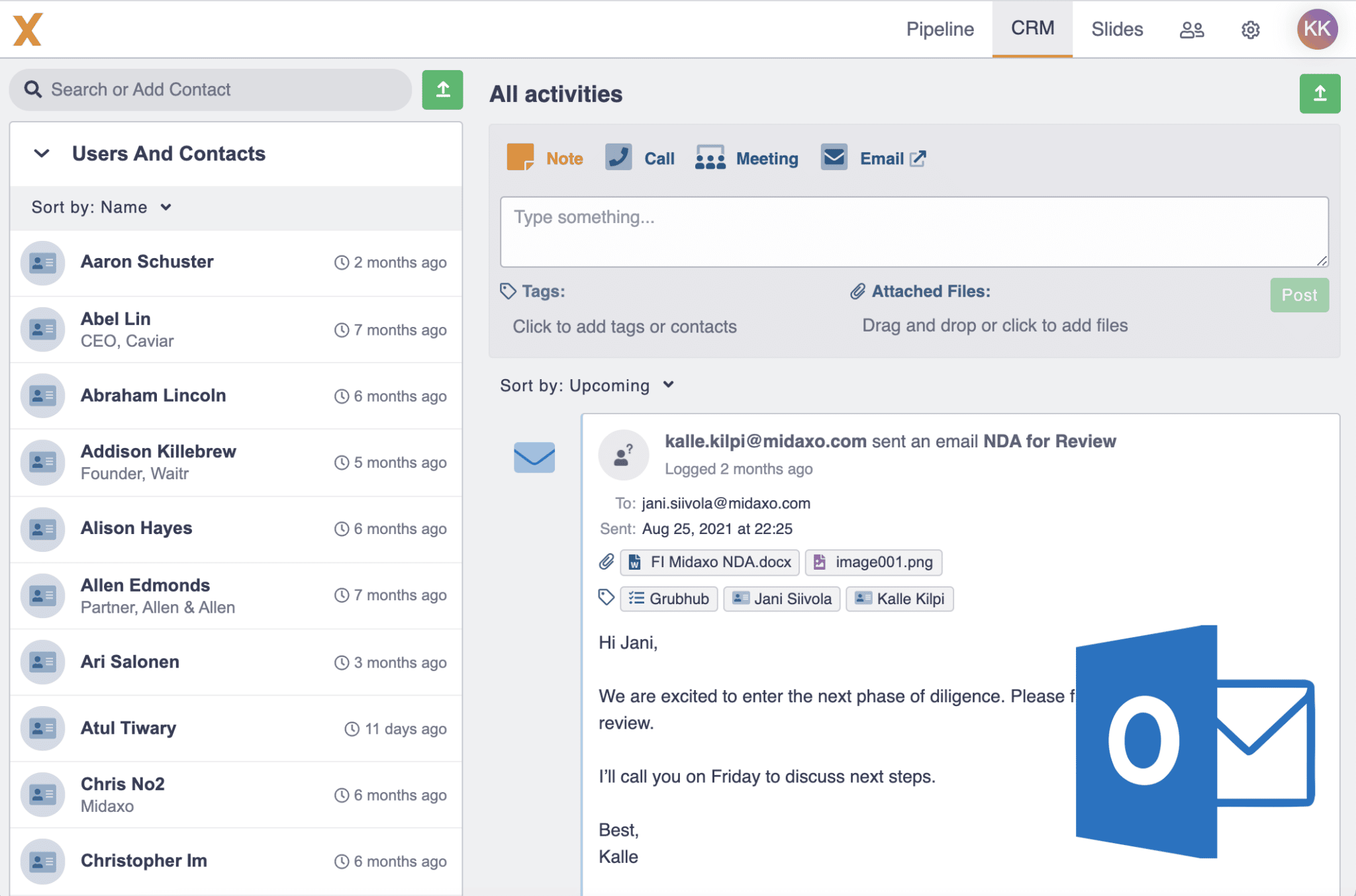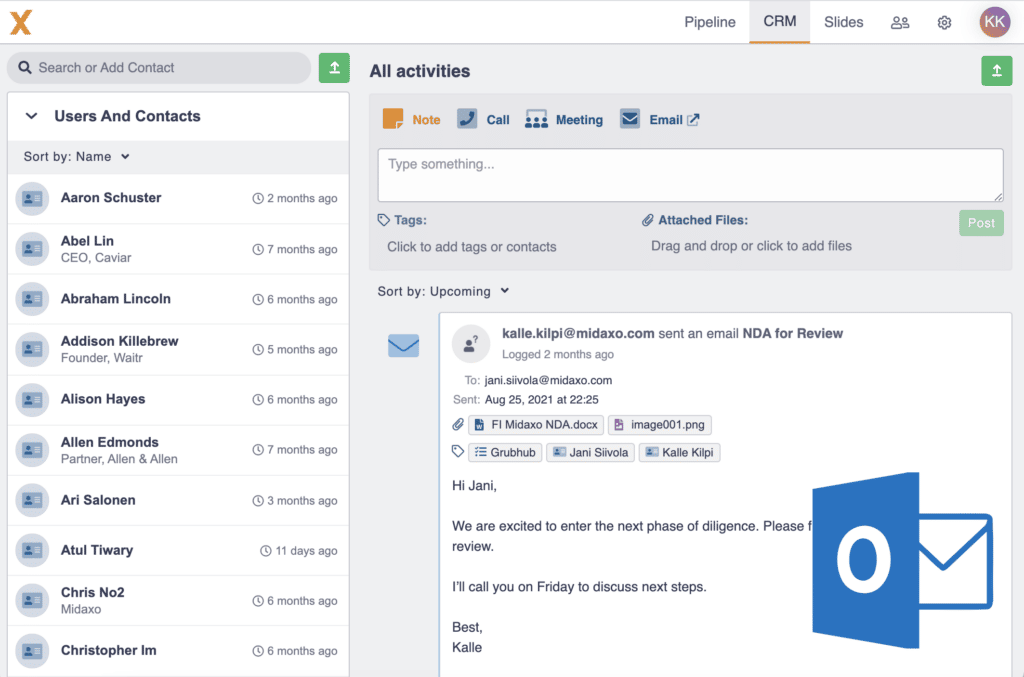 Manage relationships and communications with targets and stakeholders
Contact Directory
Search contact info and see related activities
CRM Functionality
Log related calls, meetings, emails, and notes
Sourcing Transparency
View team activity such as new introductions, calls, NDAs, etc.
Outlook Integration
Capture emails and associated contacts easily in the Midaxo CRM
Stay connected to your ongoing projects, team, and prospects, even when out of the office
Mobile Access
Use our mobile app on Apple or Android devices
Create Notes
Log notes effortlessly using your phone's speech recognition
Shoot Photos or Videos
Capture footage when visiting target companies or photograph pertinent documents or objects
Secure Information
View and save data without storing it on your mobile device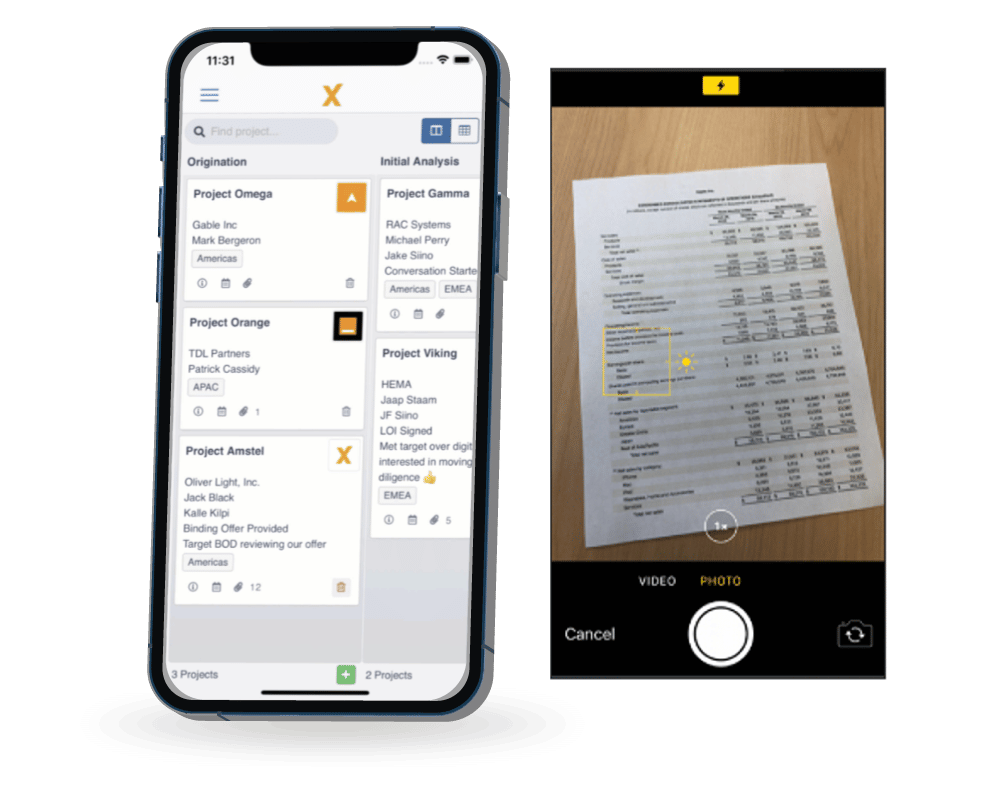 We were looking for visibility and control across our M&A pipeline. Midaxo allows us to easily manage the pipeline, making collaboration smoother and decisions faster."

Rovio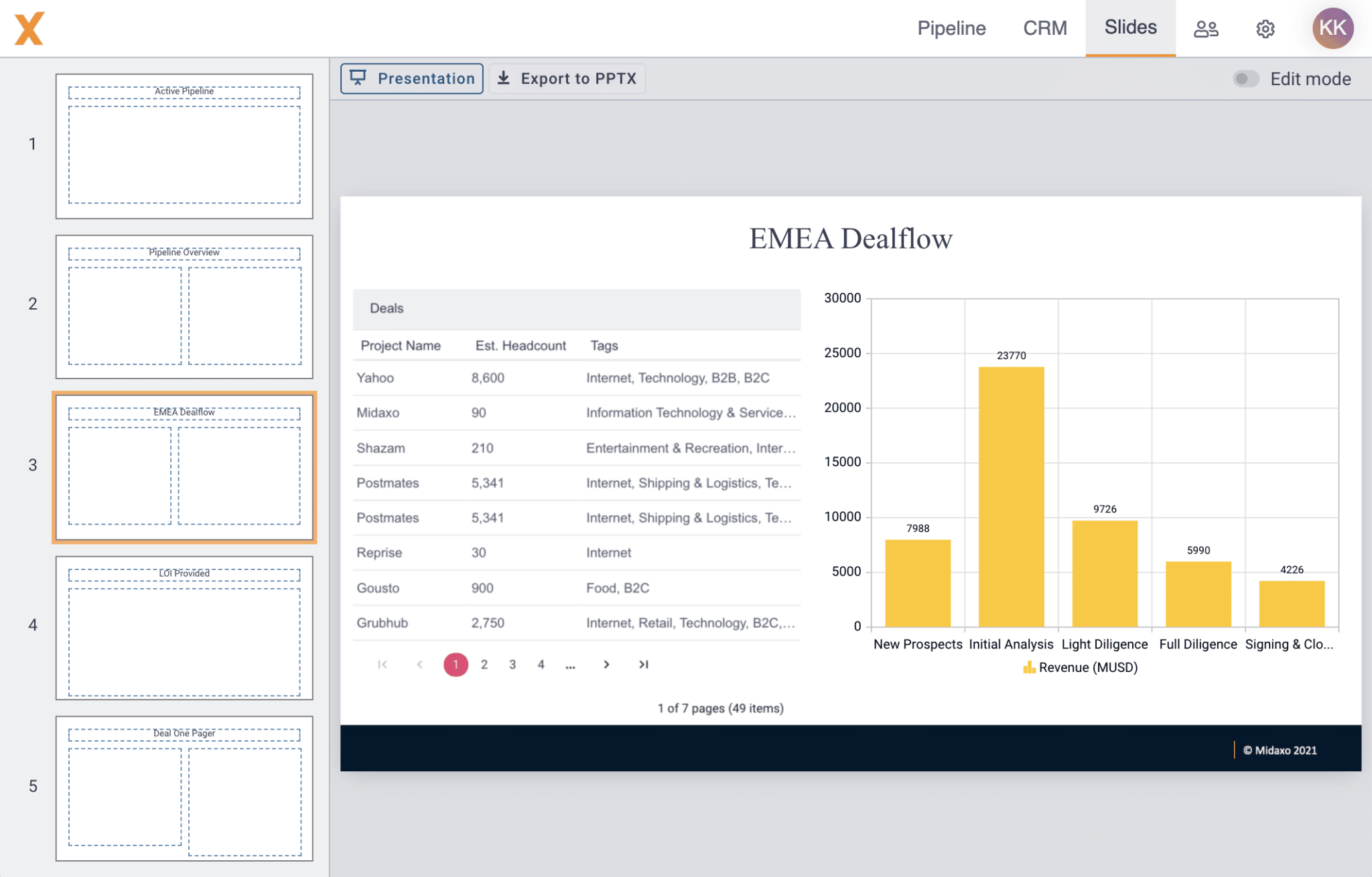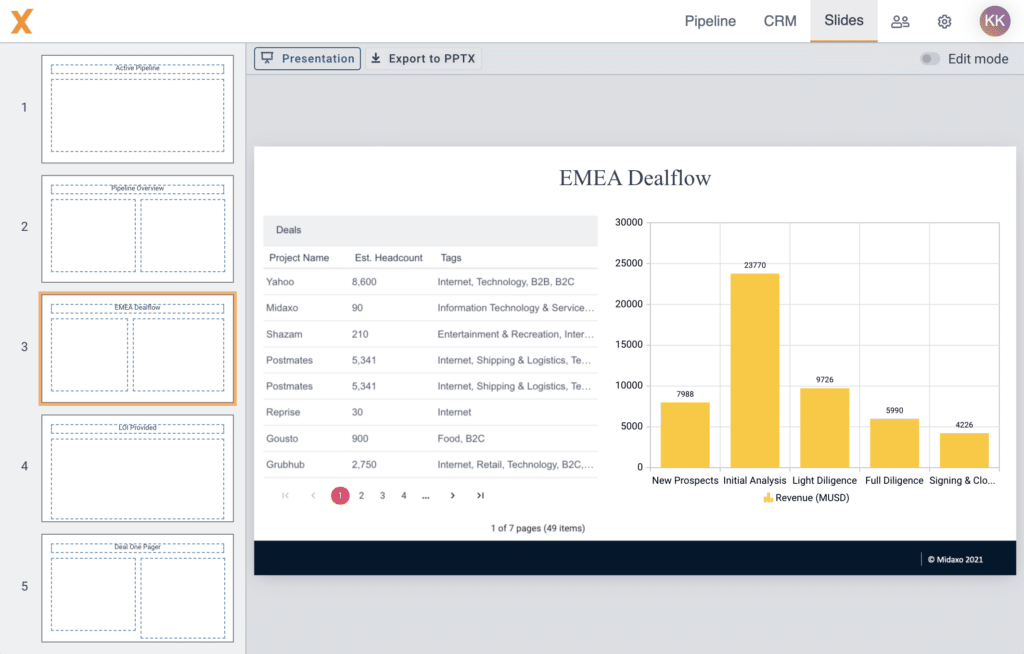 Automate creation of presentations and eliminate countless hours of manual work
Dynamic Slides
Build dynamic slides which automatically update based on new data
View in Your Browser or PowerPoint
Build presentations in-app or export to an existing deck in PowerPoint
Match Your Branding
Set custom colors, logos, and cover page details with ease
Best Practice Templates
Select from pre-configured templates or design your own
Make well informed decisions with Power BI's advanced data visualizations
Intuitive, Yet Powerful Tools
Aggregate, process, and transform data into easy-to-understand visuals
Save Time
Automate reports to make informed decisions in record time
Browser and Desktop
Use the collaborative browser interface and the powerful desktop functionality
Best in Class
Tell the story behind the data with a tool suitable for beginner and expert analysts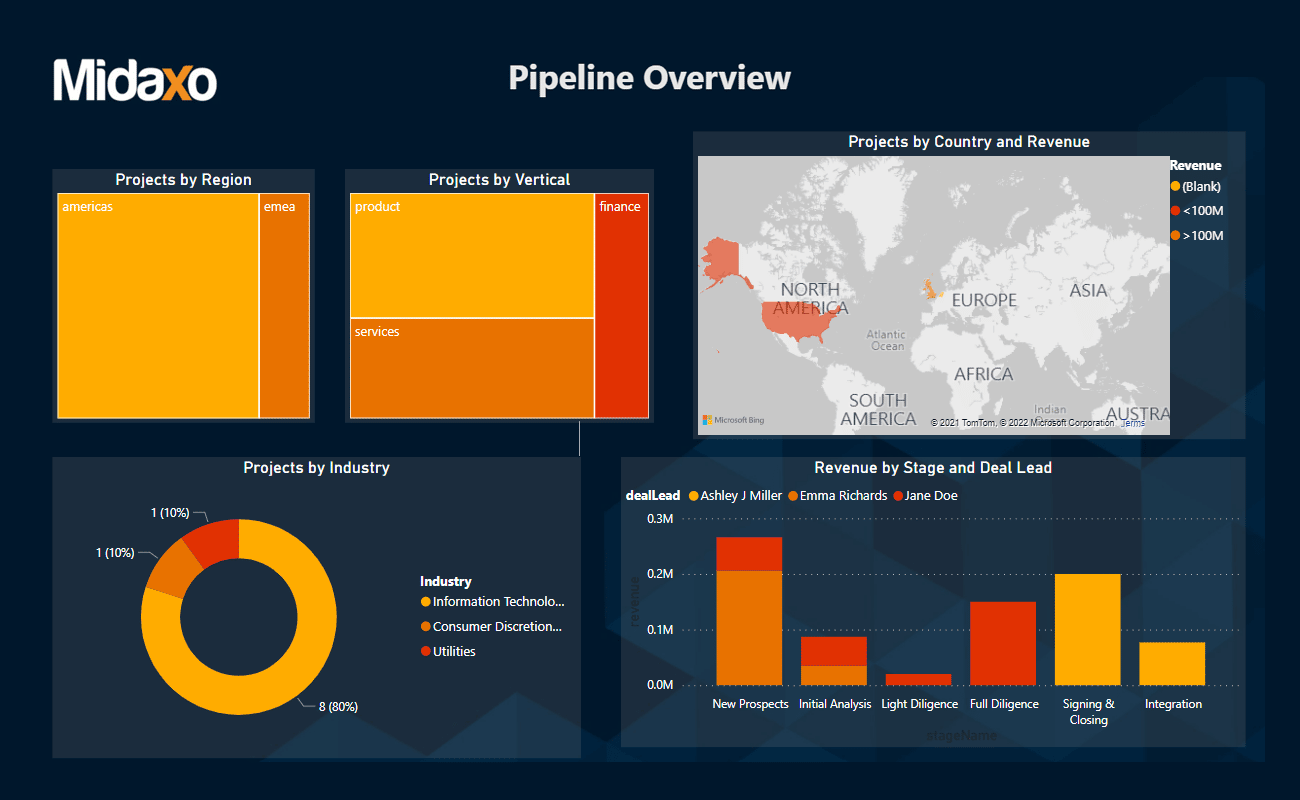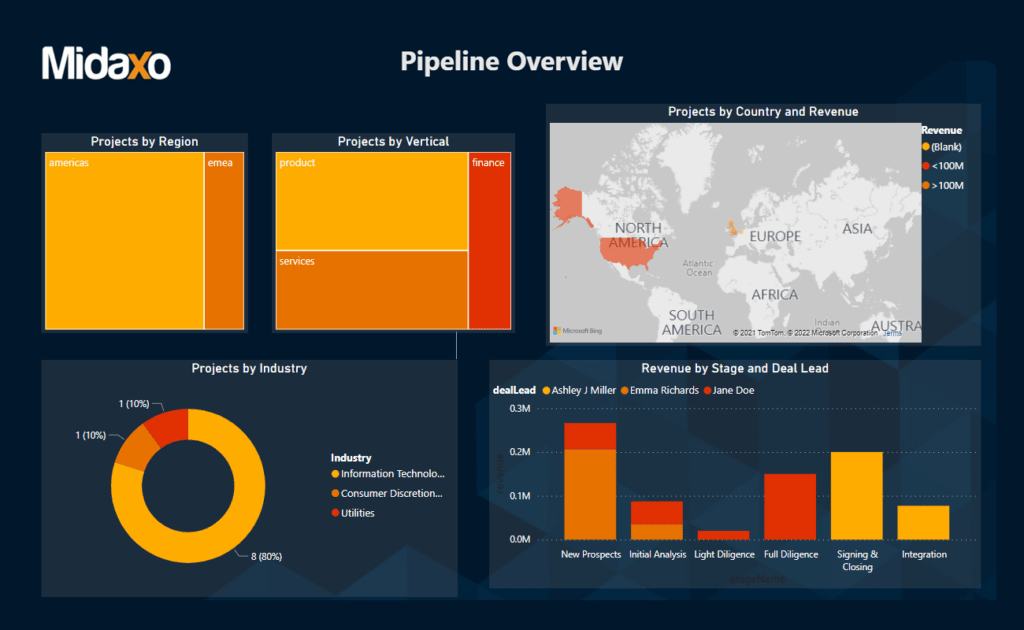 Learn How Midaxo Can Power Your Dealmaking
Contact us for a live demo or simply to discuss how Midaxo can improve the productivity of your team