Real Estate Rationalization (RER) Software Platform
Flawless Multi-Site Integration at Every Location
Successfully integrating newly acquired companies involves much more than signing on the dotted line. Many deals, particularly cross-border ones involving companies with a large footprint, have broad implications for those organizations and their real estate holdings.
Whether you are opening, closing, or merging physical locations, there are a number of considerations. Evaluating existing contracts, communicating with employees, implementing IT systems, managing lease renewals, and handling office logistics are just a few examples.
Midaxo provides a secure, collaborative software solution to manage real estate rationalization (RER) and everything that entails. With our playbooks and platform, you can successfully plan, execute, and report on your real estate management program.
See how Midaxo eases the challenges of multi-site integration and real estate rationalization.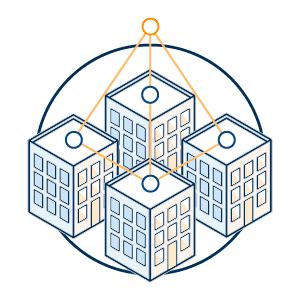 A large American bank used Midaxo to coordinate the divestiture of 50+ retail locations. Being able to seamlessly run all the projects in parallel accelerated results by an estimated 30%.
Using Midaxo for Multi-Site Integration and Real Estate Rationalization
People
Give everyone involved the proper support and information in a single SaaS platform as your RER program proceeds.
Plan and coordinate employee communications and notifications
Manage employee transfers
Securely store employee data
Make new employee onboarding smooth and productive
Projects
Manage all project deliverables, targets, and timelines in one central source of truth software solution for multi-site real estate rationalization.
Synchronize and update IT/POS systems
Update branding and related collateral
Track employee relocation plan progress
Integrate PMO support and cross-team collaboration
Locations
Keep tabs on the status of integrations and upcoming tasks at each location with a purpose-built SaaS solution.
Divest properties made redundant
Acquire new locations to support further expansion
Manage leasing and sub-leasing
Easily and comprehensively compare integration status by location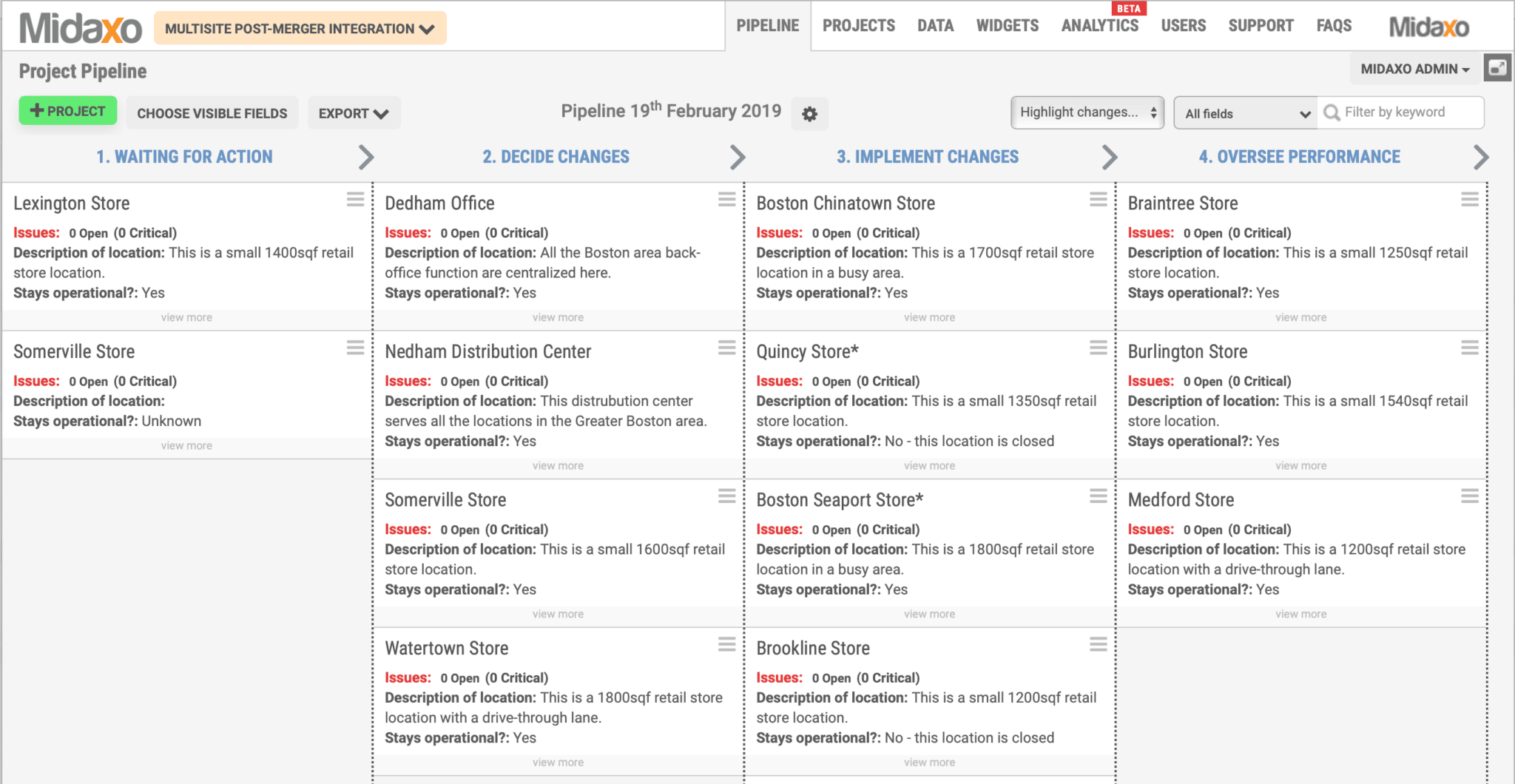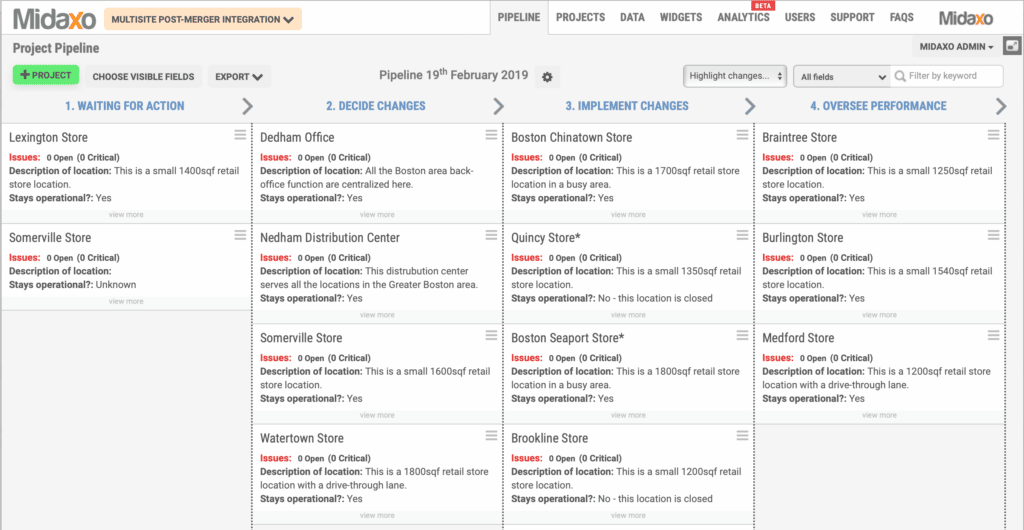 Centralized Project Management Software Platform
Rely on one central source of truth for instant access and visibility into all projects and deliverables. Know what each location needs and how to best support all people, projects, and buildings.
Store and manage all documents, communications, and plans for each location in one secure, cloud-based platform
Switch between multiple locations and associated deliverables with a few clicks
Clearly visualize project progress and where extra attention is required
Easily communicate with teams across every location. Configure alerts, reminders and notifications to ensure every location is a priority.
Capture Best Practices with Playbooks
Like other deal stages, multi-site integration should be approached by carefully combining proven strategy and tactics with adjustments made for the particular transaction and buyer. Our expert-developed real estate rationalization and integration playbooks help you get up and running immediately.
Execute confidently with Midaxo playbooks that offer detailed guidance on opening, integrating, or closing locations, including process roadmaps, best practice guidance and task lists
Know that everyone is working from the same page and with the right focus. Provide all employees, contractors, partners and stakeholders with the context and information required to keep moving forward
Collaborate with industry experts within the Midaxo platform, giving them responsibility for tasks while ensuring they only see what's relevant to their work
Delegate responsibility to the right people at the right locations. Keep everyone involved communicating with a clear view of next steps.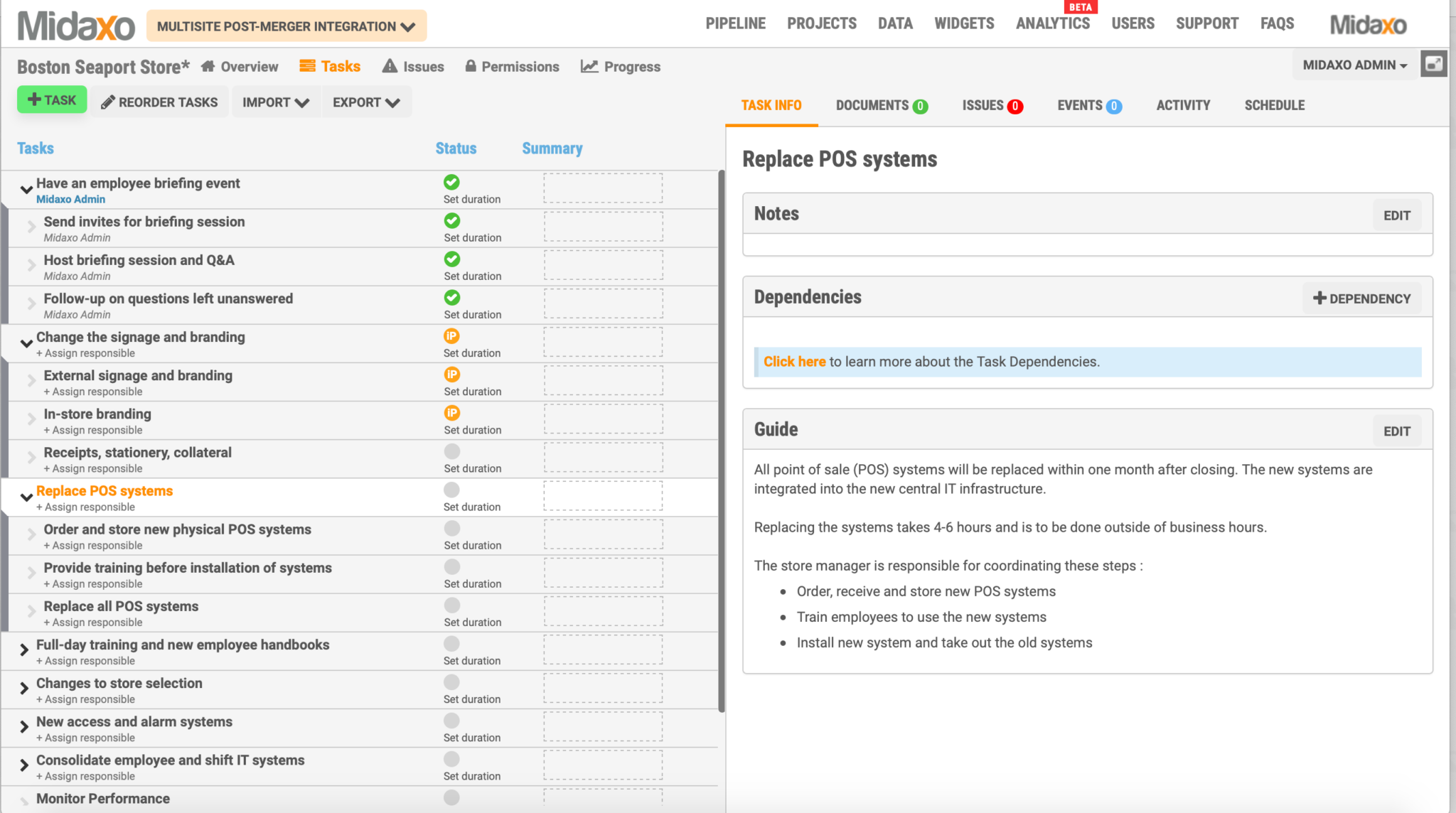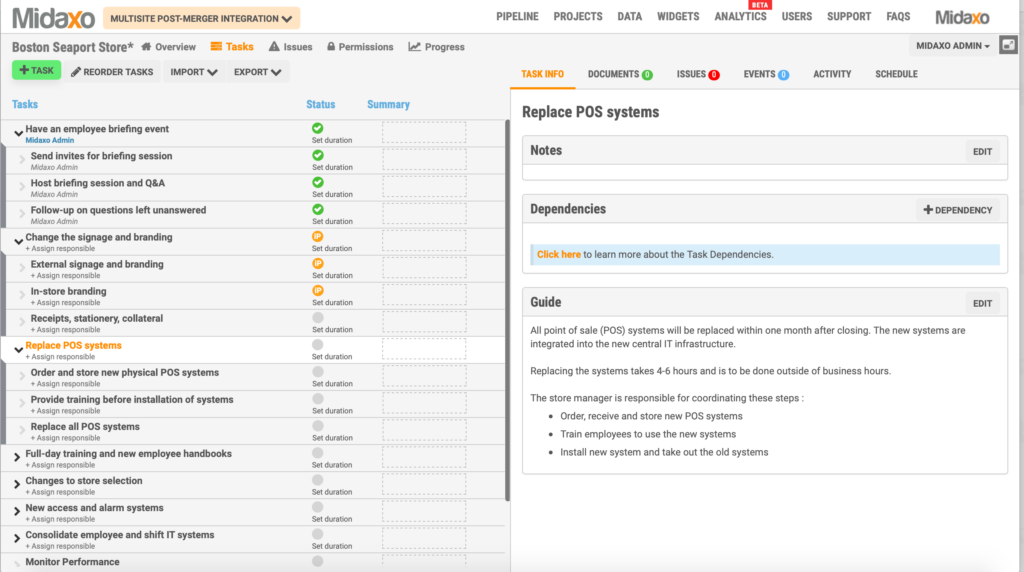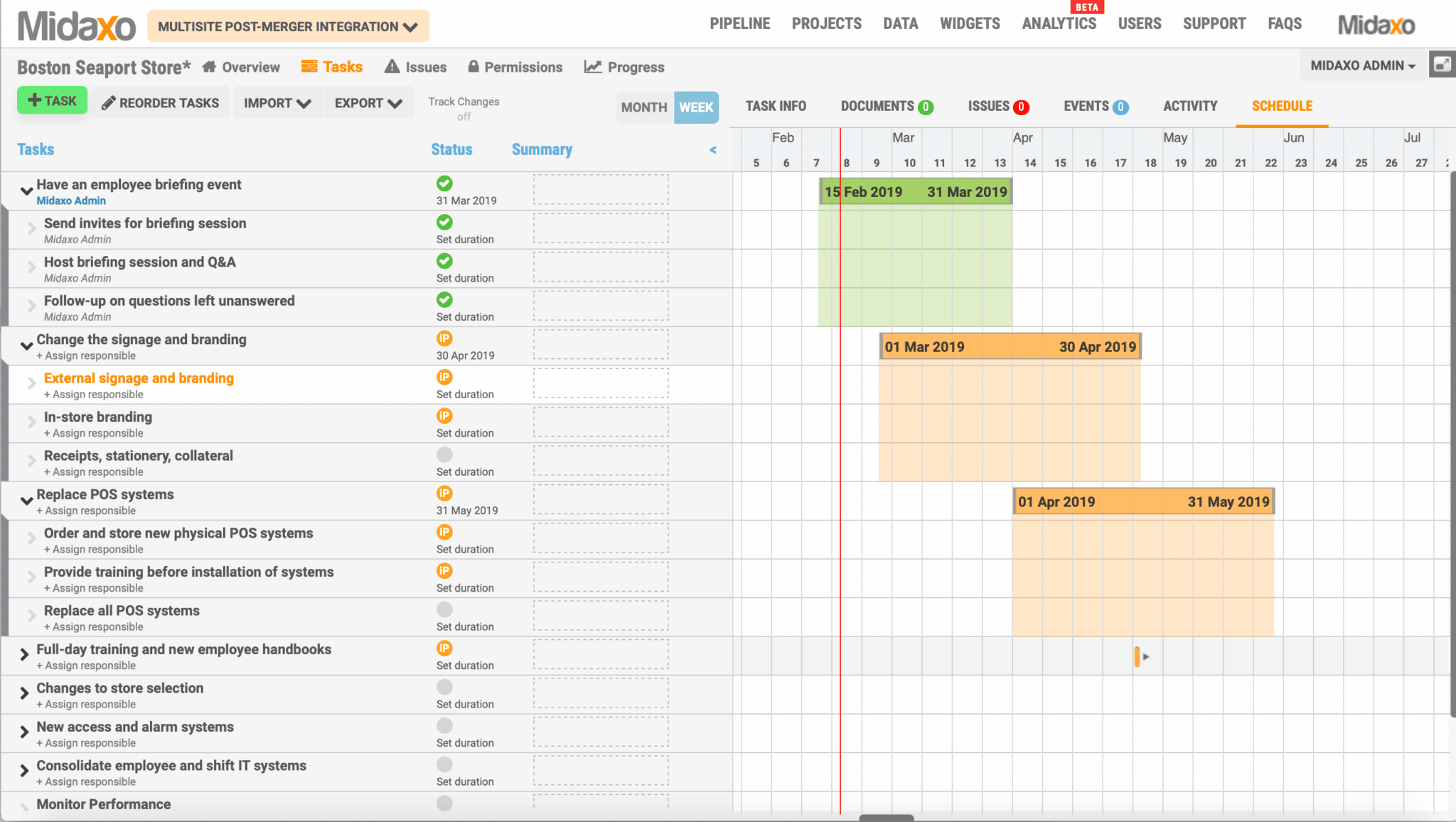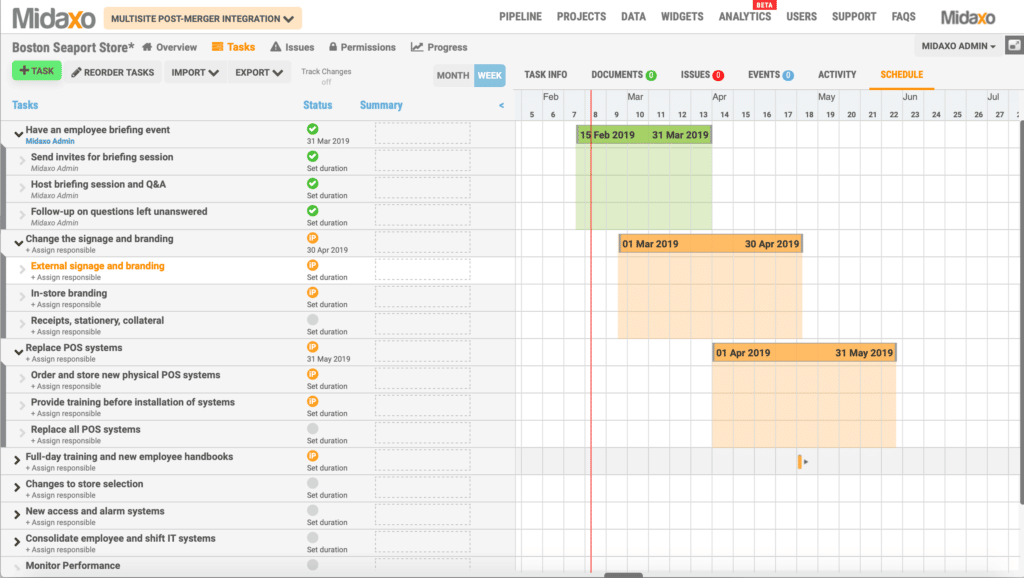 Manage Multiple Tasks and Locations
The Midaxo project view feature makes it easy to drill down to project, task and location details. See the entire picture, from an encompassing view to individual assignments.
Get real-time visibility into task progress so you can prioritize accordingly and know every aspect of multi-site integration execution is on track
Assign responsibilities and monitor completion within one secure platform while viewing all documents, schedules and tasks with one click
Rely on Midaxo's secure cloud-based platform for protected document storage and sharing. Define permissions to control document and user access and stop spending time combing through emails.
Use project templates to craft the most effective process for your company and then easily duplicate that with a few clicks
Stay On Track with Real-Time Analytics
Know what needs to be done next and why. Real-time analytics and reporting give you the insights needed to stay informed and make strategic decisions on locations, people and projects.
Spend less time manually generating reports and more time working on the areas that matter most
Automate your workflow with real-time dashboards and reports and create your next deliverable with just a few clicks
Maximize value creation at every location and across all teams by tracking KPIs of your choosing at the individual task level and across the entire project
Have the ability to quickly and easily draw on previous projects and experiences to create accurate timelines for similar work in the future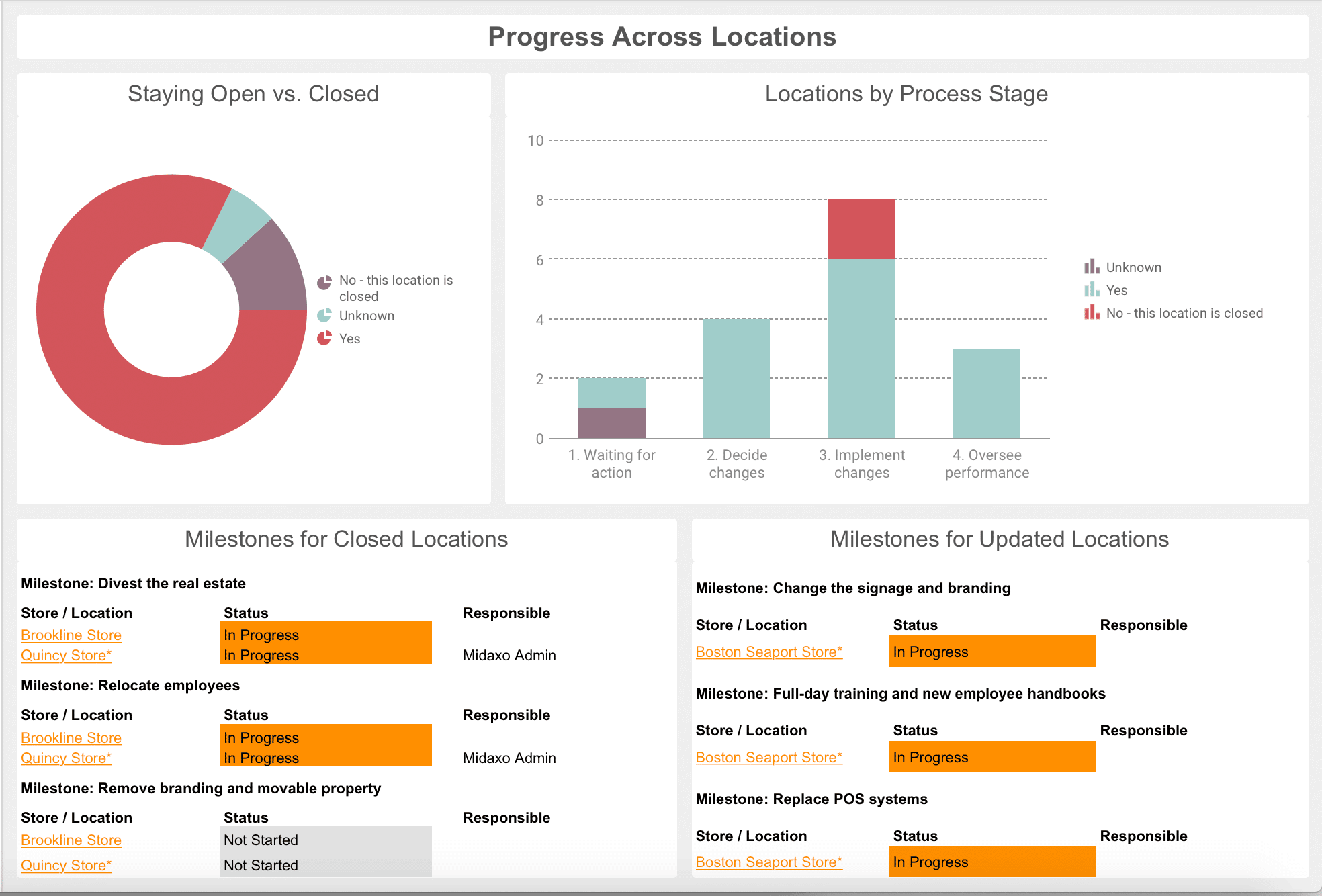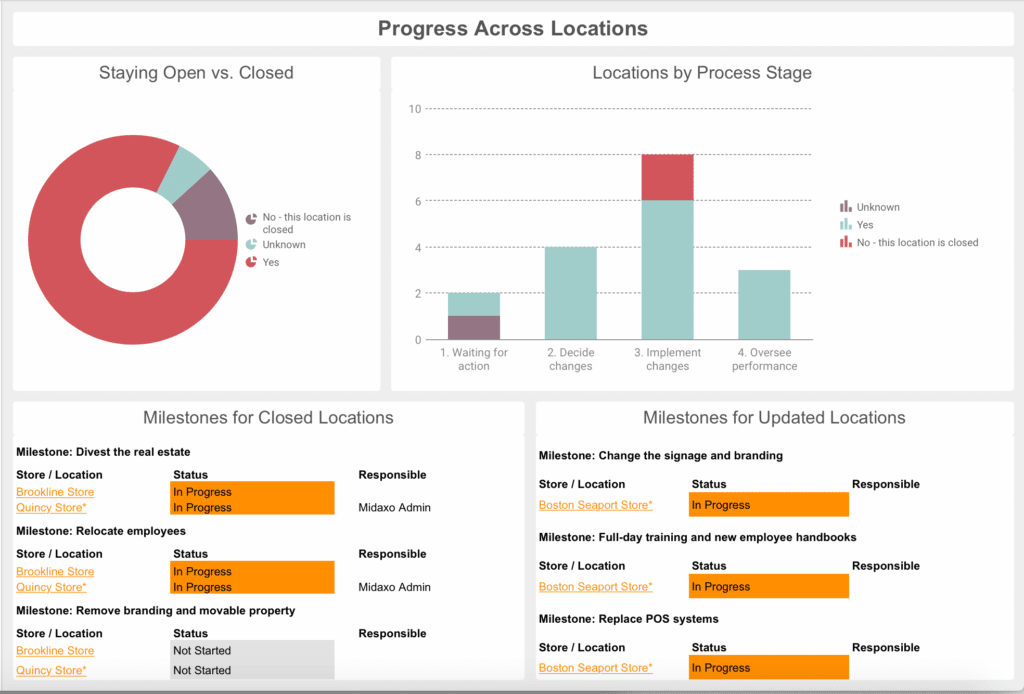 Learn How Midaxo Can Power Your Dealmaking
Contact us for a live demo or simply to discuss how Midaxo can improve the productivity of your team