Enterprise-Level Project Management
Gain Faster Results, Better Collaboration, and a Clear Focus with Enterprise-Level Project Management Software
Purpose-built for corporate deal making, Midaxo has grown to support a range of corporate development and PMO initiatives. Our software platform now offers a suite of capabilities that are ideal for managing different processes, from smaller projects to organizational transformation.
The pipeline view shows a complete picture of all ongoing projects. Playbooks serve as the best-practice foundation for a successful process. Task assignments provide a straightforward way of determining who's responsible for what and when. Real-time reporting dashboards establish a visual way to track progress.
The best work comes from teams who work collaboratively and efficiently towards shared goals. Midaxo equips them with the structure and resources to do that every day.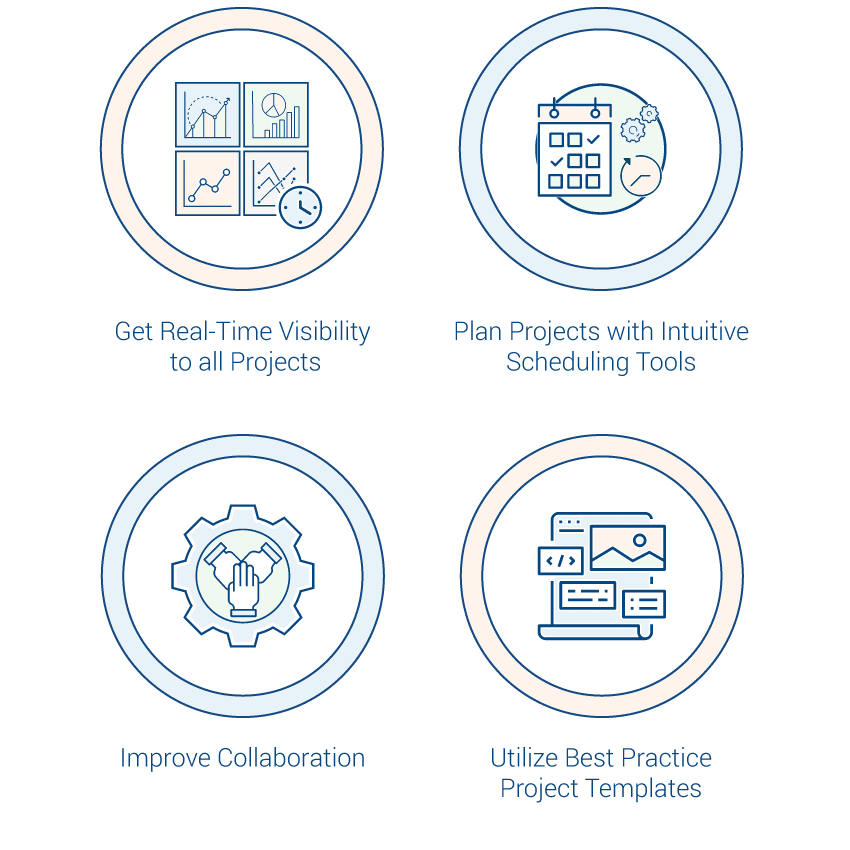 Hewlett Packard Enterprise uses Midaxo to run various PMO activities from small projects to Six Sigma and large-scale organizational changes.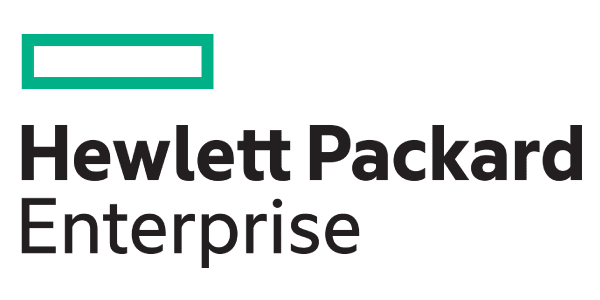 Common Uses
Legal Project Management
Real Estate PMOs
Internal Investigations
Organizational Change
Strategic Initiatives
Product Phase-in/out
Market Entry/Exit
Drug/Product Approval
Lean / Six Sigma
Process Improvement
General PM/PMO Work
Corporate Development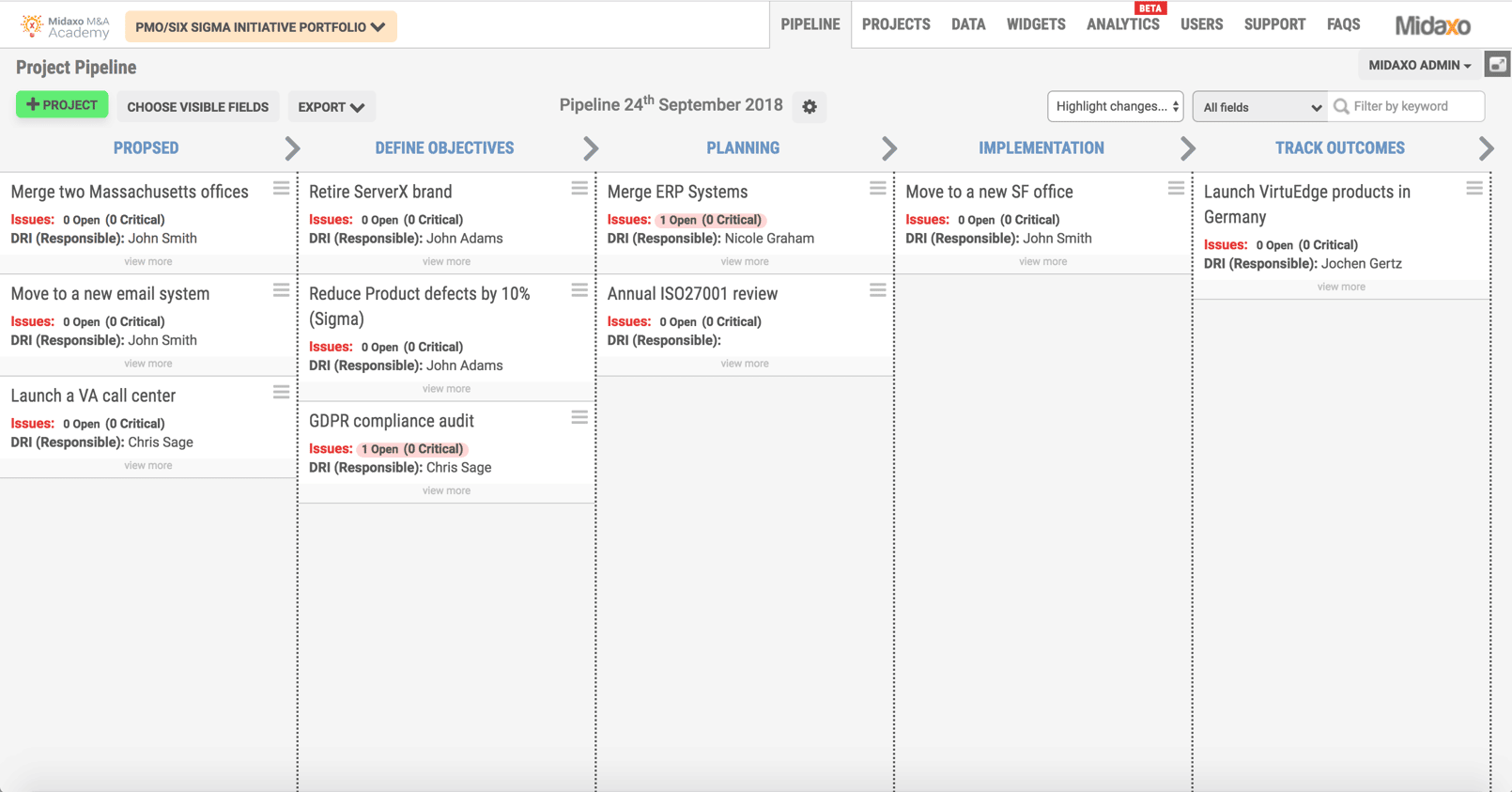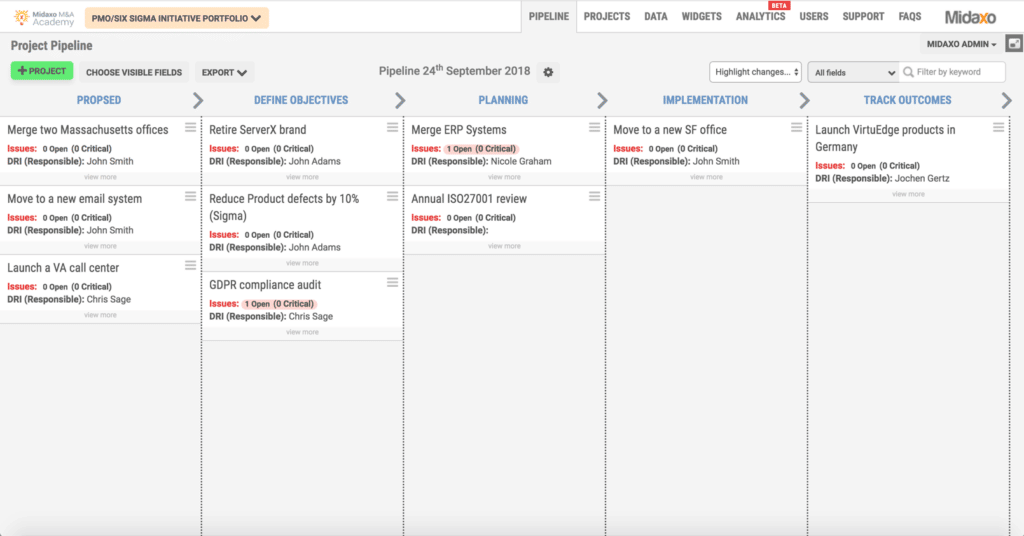 Empowered Project Management Office (PMO)
Having visibility and knowing who's responsible for what are key to ensuring projects move forward in a timely, organized manner. With Midaxo, PMOs have a central source of truth for all their projects and the capabilities to manage them effectively.
Be able to see everything in one place. Midaxo's pipeline view displays all projects, giving PMOs a quick, easy way to access a comprehensive overview.
Run multiple projects in parallel and toggle between them with just a few clicks. Create repeatable processes by using templates to duplicate successful projects.
Keep all associated documents at your fingertips. No more searching through inboxes to find emails and their attachments.
Invite others into the platform as needed. With detailed permission settings, they'll only see what they need to see.
Best-Practice Playbooks
Every PMO office works to build effective, repeatable processes that position their organization for success. Playbooks are the best way to establish structure and guide all tasks to completion while ensuring teams do everything the right way.
Use Midaxo's Playbooks or create your own to incorporate company best practices including Six Sigma and PMP. Our library also offers playbooks for due diligence, post-merger integrations, divestments and other initiatives.
Import task lists from Microsoft Excel or Word for better onboarding of all team members. Make it easier for team members to be productive quickly with less training.
Edit templates and plans to fit your deals and teams. Our platform gives you the ability to take proven tactics and adjust them as necessary based on what makes the most sense for your organization.
House all of your projects and associated data in the same place, providing a simple way to find previous work and relevant information for upcoming projects.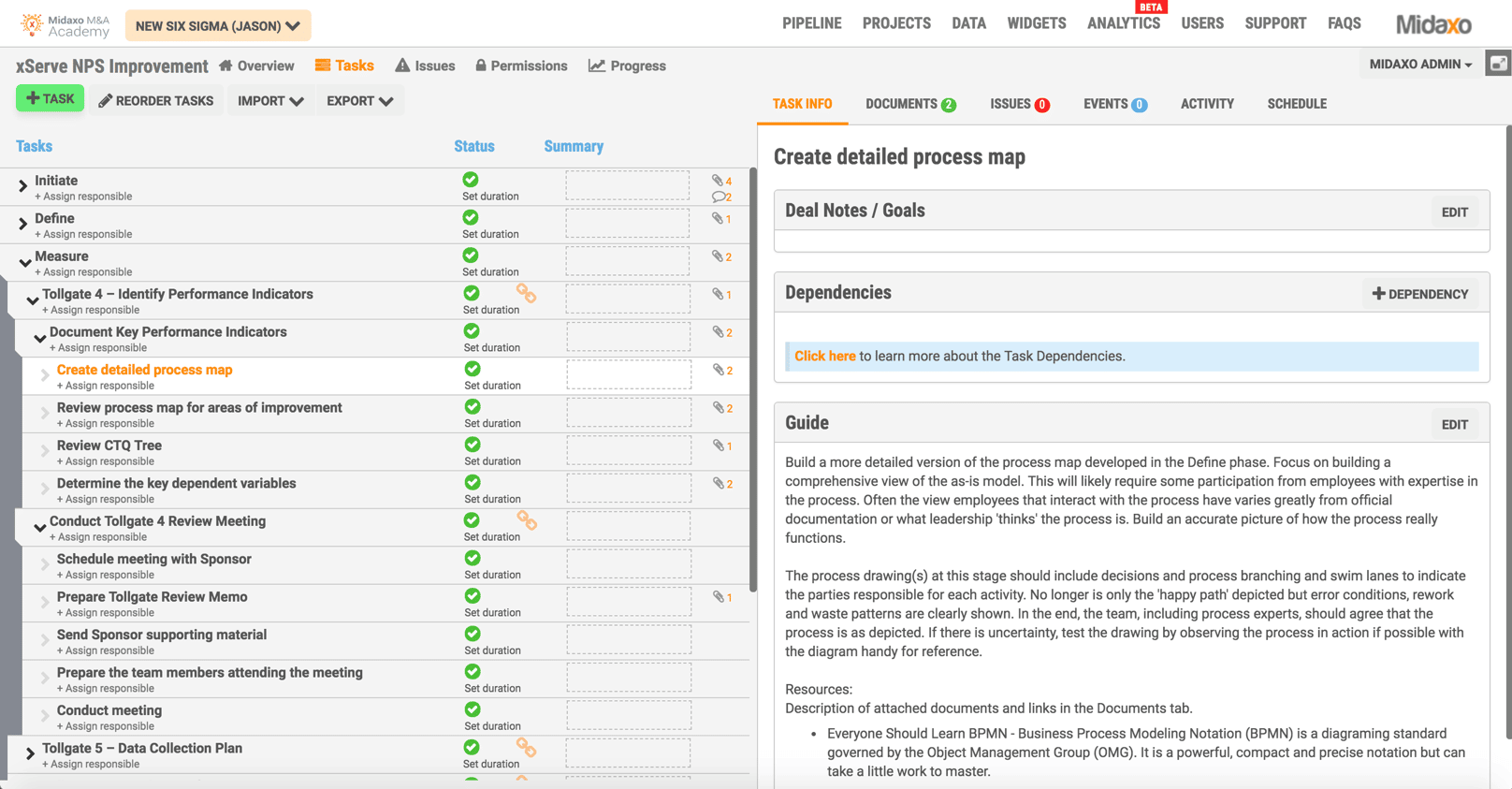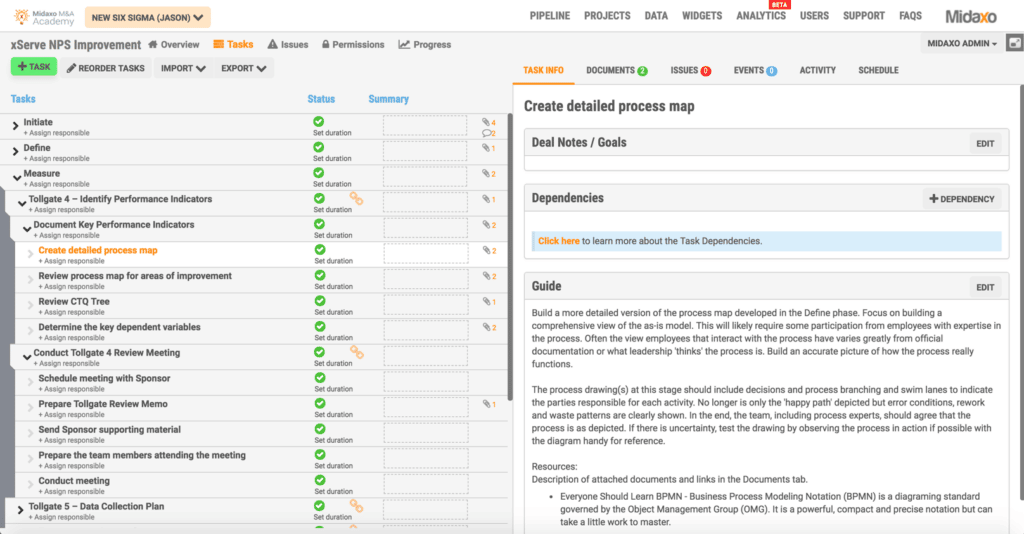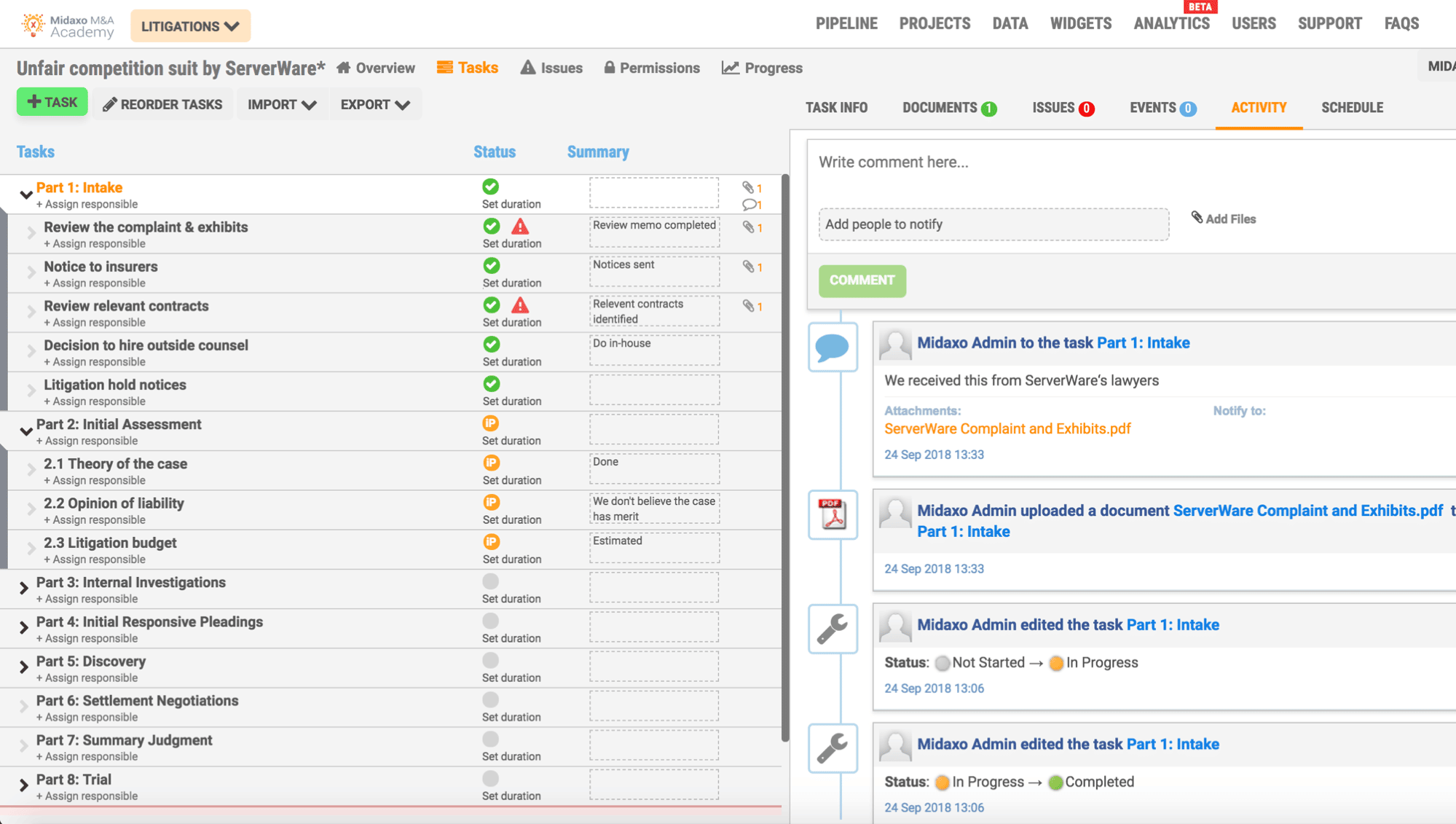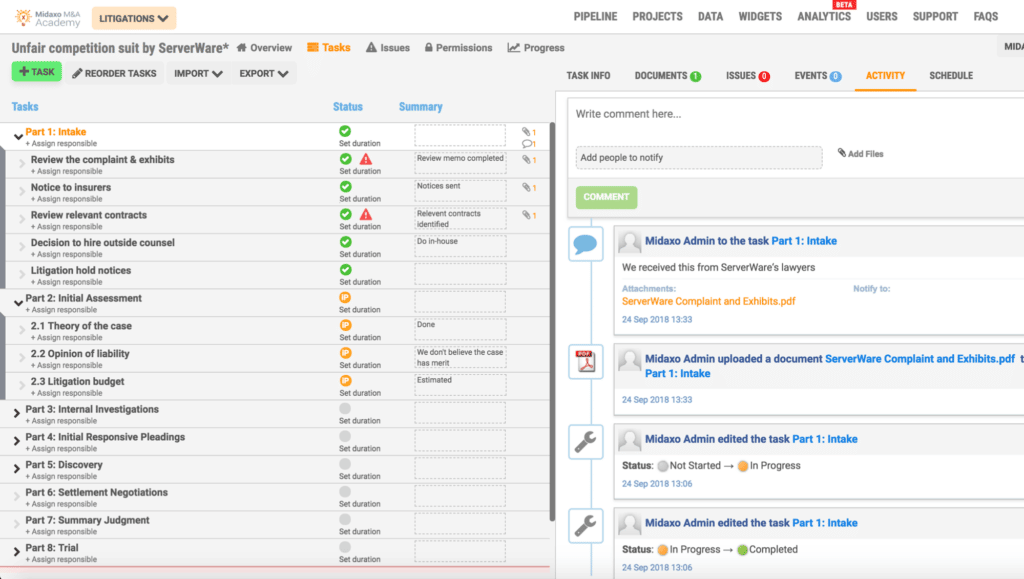 Collaborative Project Management
Successful project management depends on having organized and informed teams that work well together. The best way to foster this environment is with easy-to-use communication tools, shared resources, and clear responsibilities within a central platform.
Eliminate workflow slow-downs and gaps with straightforward scheduling, planning and project tracking. Know target milestones, individual responsibilities, team deliverables, and progress.
Midaxo streamlines communication by removing barriers between teams and groups. Configure permissions and roles to ensure the right people have the right access to information.
Give teams a central platform that encourages communication and teamwork. Visibility throughout every stage and phase of your project makes close collaboration achievable.
Never lose a document, email or spreadsheet again. A secure cloud-based platform means there is one central source of truth for all teams and deals. Know everyone is accessing and updating the latest document versions.
Real-Time Project Management Reporting
There are only so many hours in a week. Spending them recreating manual progress reports is not the best use of anyone's time. With one-click reporting and custom dashboards, see what you need when you need it. Confidently make decisions based on real-time insights into workflows, team progress, and outstanding tasks.
Track, monitor, and adjust KPIs with dashboards that show progress as it occurs at the task and project level.
Easily create and share reporting decks with a few clicks. Save time with automated reporting across all projects, teams and workflows.
Make changes and process improvements based on verifiable information. If teams need more support or resources, quickly recognize and act on it.
Eliminate problems caused by multiple versions and outdated data. By working in a central platform with real-time analytics, you can be sure your reports and analyses are based on the most recent, accurate information.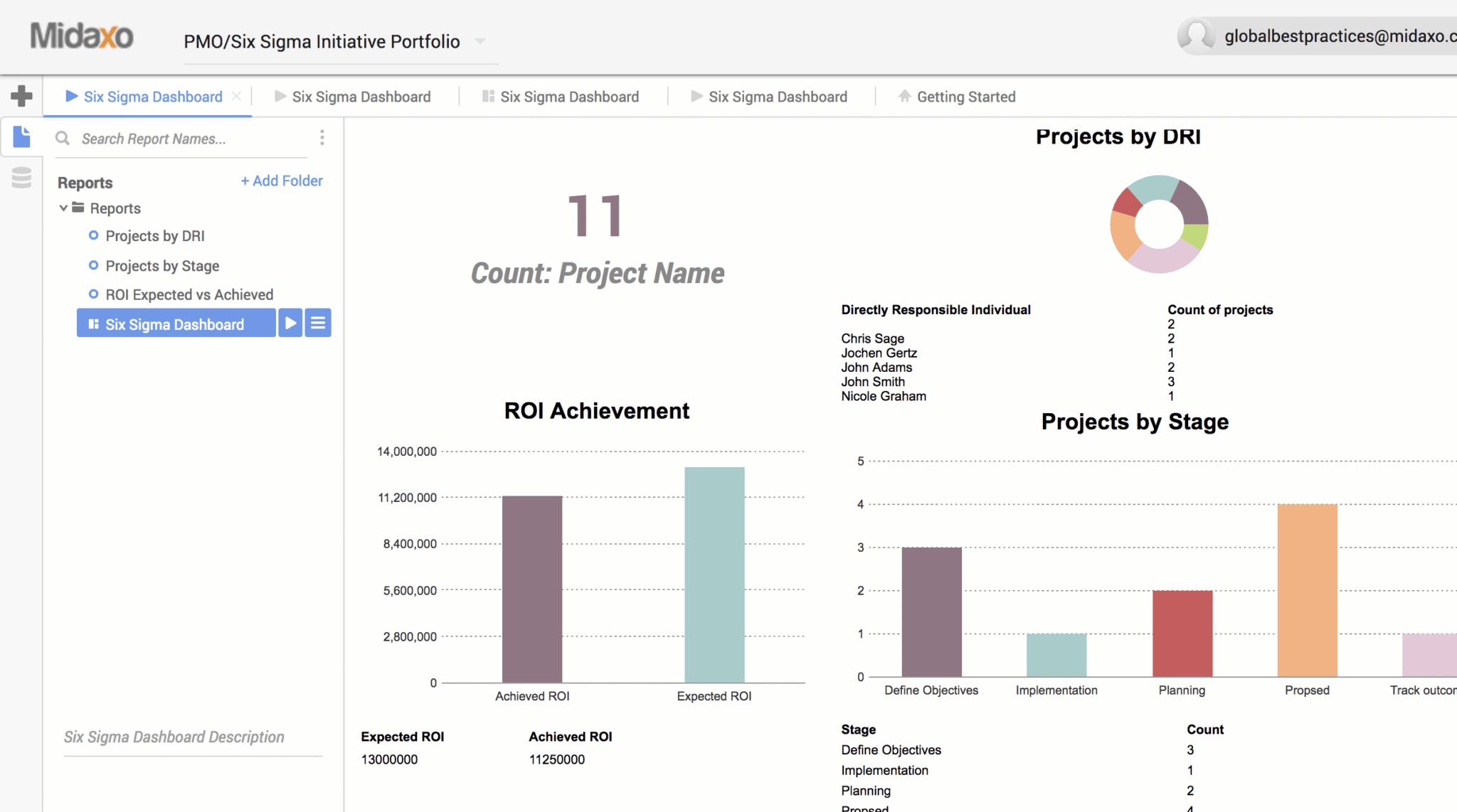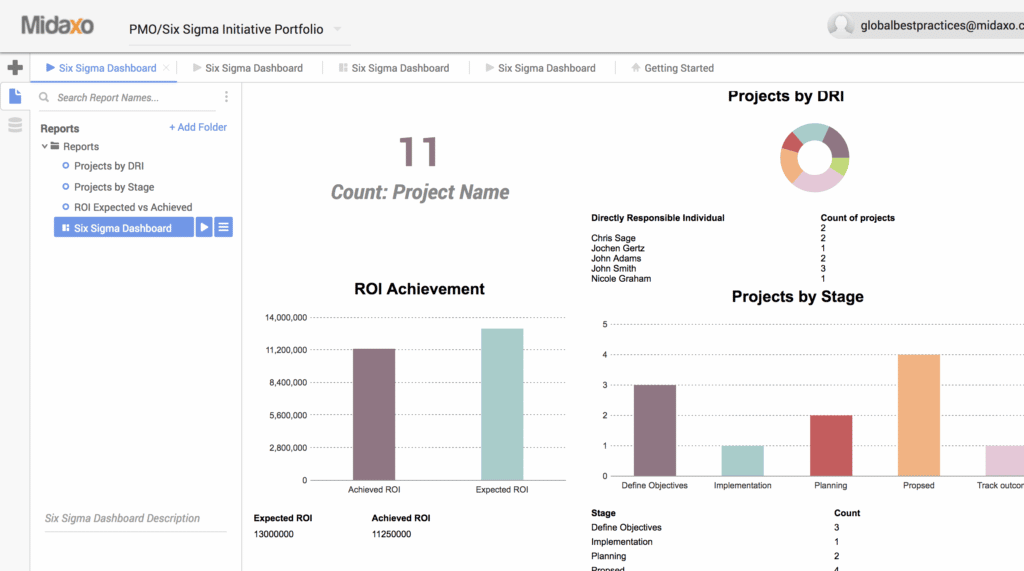 Learn How Midaxo Can Power Your Dealmaking
Contact us for a live demo or simply to discuss how Midaxo can improve the productivity of your team