Legal Entity Rationalization in Corporate Development
Manage Legal Entity Changes Efficiently
Acquisitions, divestitures and restructurings often demand significant changes to corporate legal entity structure, particularly for larger and more complex organizations.
Midaxo's legal entity rationalization solution gives leadership and teams one central source of truth for all entity information, so you can make confident decisions based on real-time data. Manage legal entity risk, costs and resources in one cloud-based platform.
Rely on expert-designed process playbooks, the Midaxo VDR (virtual deal room) for document management, and real-time reporting for the information and progress insights you need. Effectively managing dozens or even hundreds of parallel projects is never a simple task, but the Midaxo platform makes it achievable.
See how Midaxo makes it easy to manage contracts, leasing information and resources in one central location.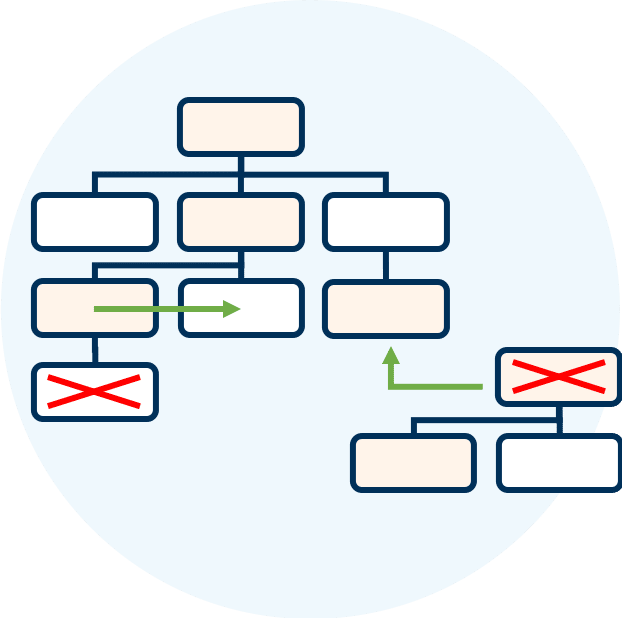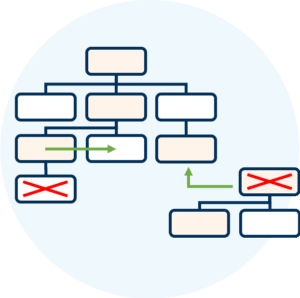 Hewlett Packard Enterprise used Midaxo to manage and streamline 1,200+ legal transactions, 50,000 patents, and 150,000 contracts during their split from HP.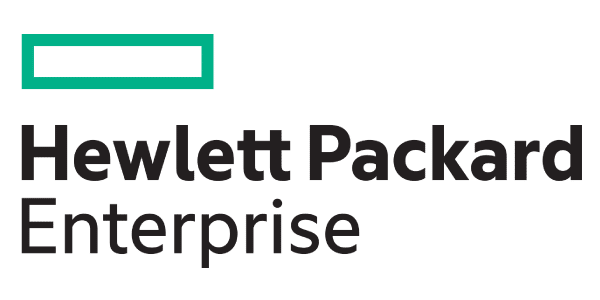 Using Midaxo for M&A Legal Entity Rationalization
Mergers & Acquisitions
Strategic Alignment
Divestments
Restructuring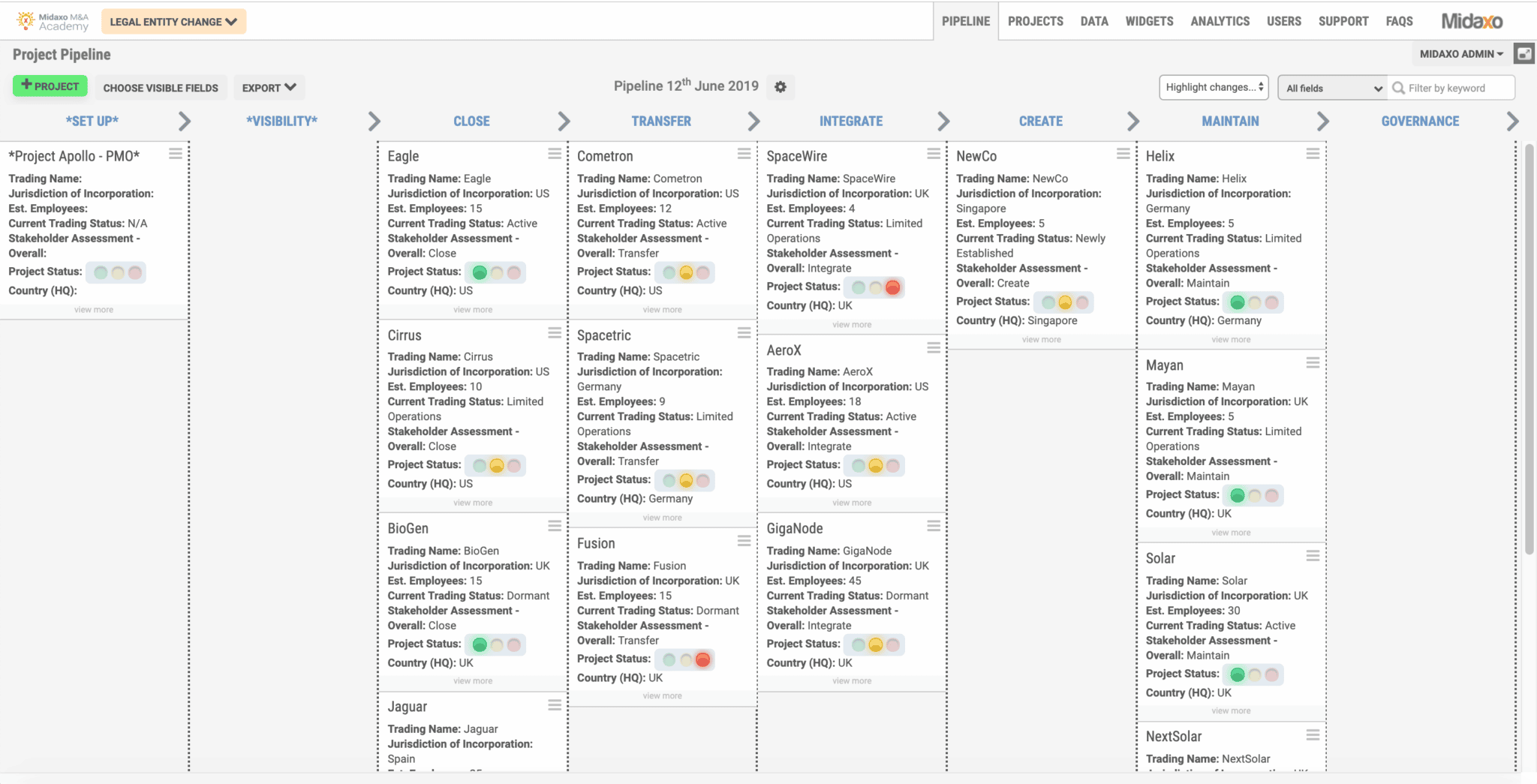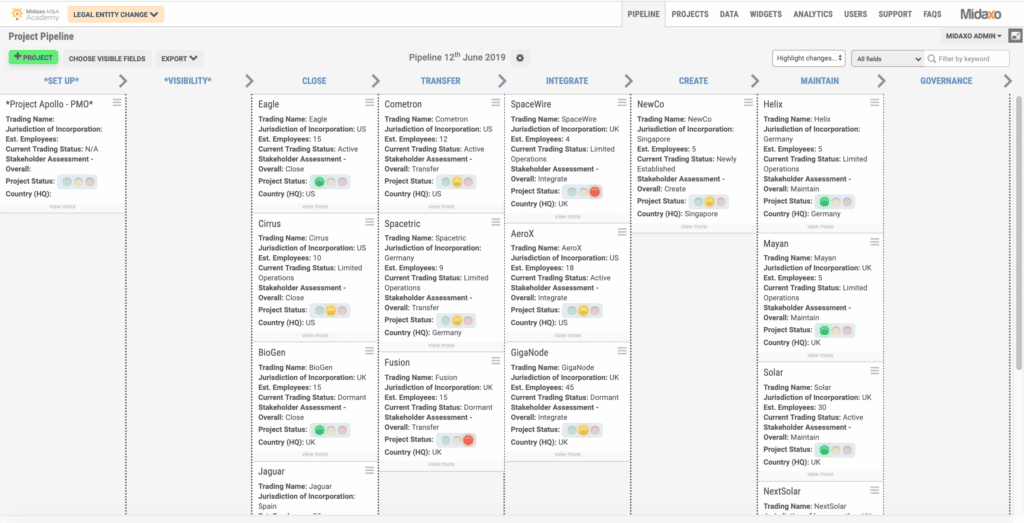 See All Entities in One View
During a transaction, it's essential your team is on top of all contract changes, leasing and sub-leasing requirements, dependencies, and resources. Our platform's pipeline view provides a complete overview of all activity that everyone can access, wherever they are.
Midaxo is your go-to for managing all entities and associated projects in one place. With one central location, you can clearly track and monitor projects, check progress, and better allocate resources.
Know what people are doing, see their workloads and streamline communications. Make sure projects are moving along as they should and, if they aren't, recognize that and act early.
Keep all associated documents at your fingertips. With our VDR, you won't waste time searching through inboxes to find emails and attachments.
Invite others into the platform as needed. Midaxo has detailed permission settings so they'll only see what they need to see.
Legal Entity Rationalization Playbooks
Every legal team, regardless of experience and expertise, needs best practices guidance and templates to expeditiously produce their best work. Take advantage of our expert-designed legal playbooks to build effective, repeatable processes.
Our playbook library includes a Legal Entity Rationalization Playbook that can guide any company through the process of complex business transformation. Our library has playbooks for several other legal processes as well.
Best practices, templates, and guidelines mean lawyers can use their time better and reduce their workloads. Good playbooks give team members guidance during their day-to-day activities and build a stronger function at the same time.
Use our platform to refine your processes and tailor them to your organization. Midaxo makes it simple to add lessons learned as you go to customize your playbooks for future activities.
With one source of truth to manage everything, new team members can get up to speed more quickly and with less training from senior staff.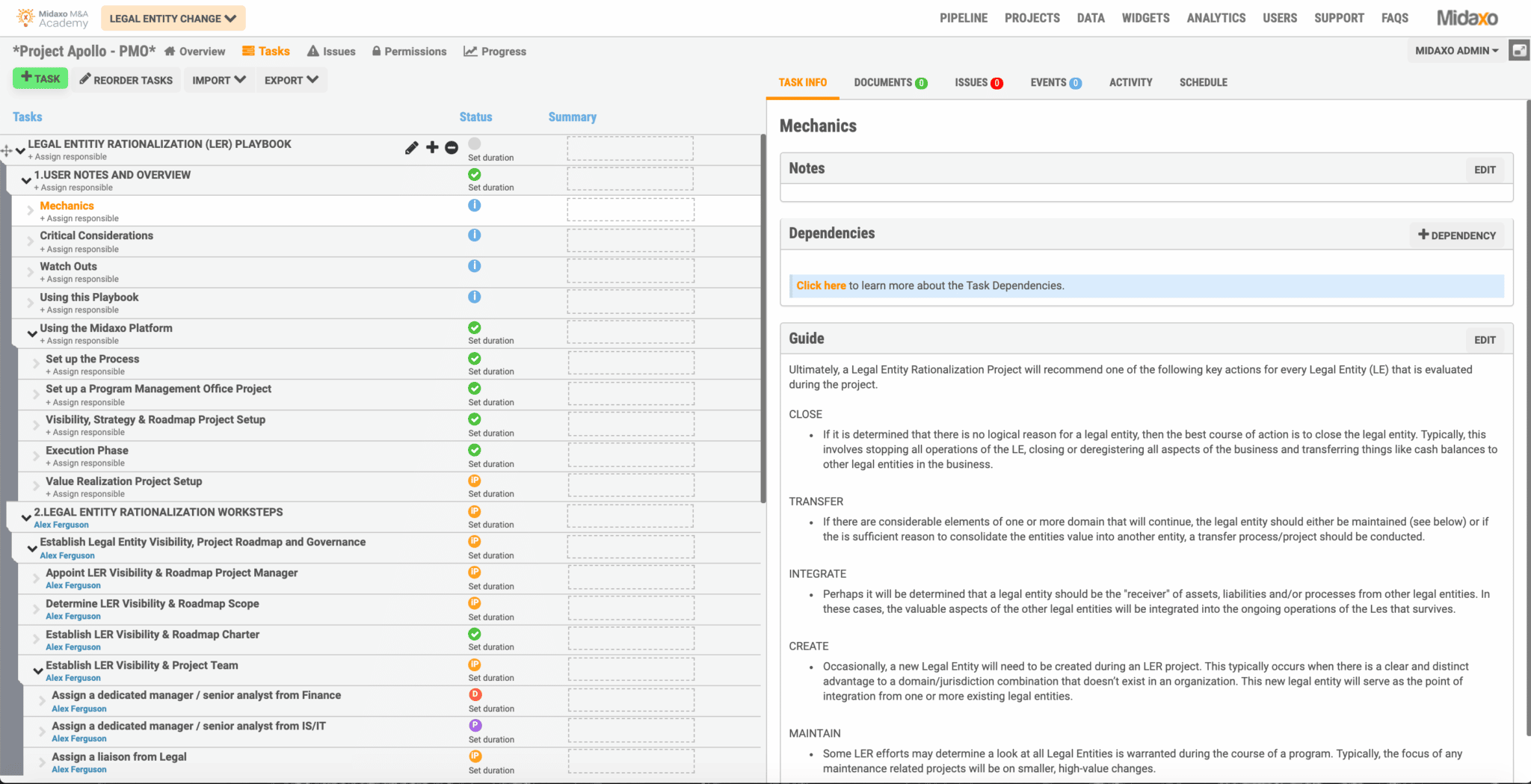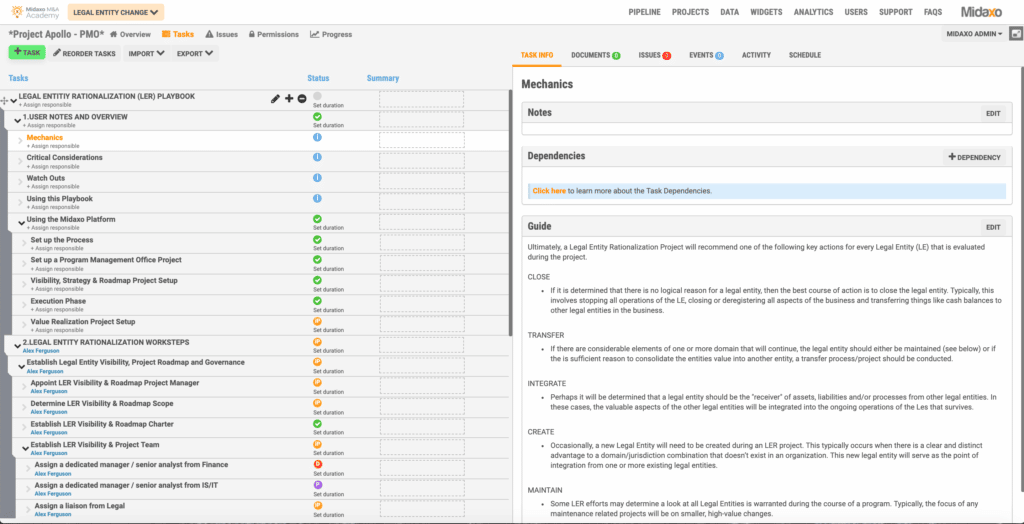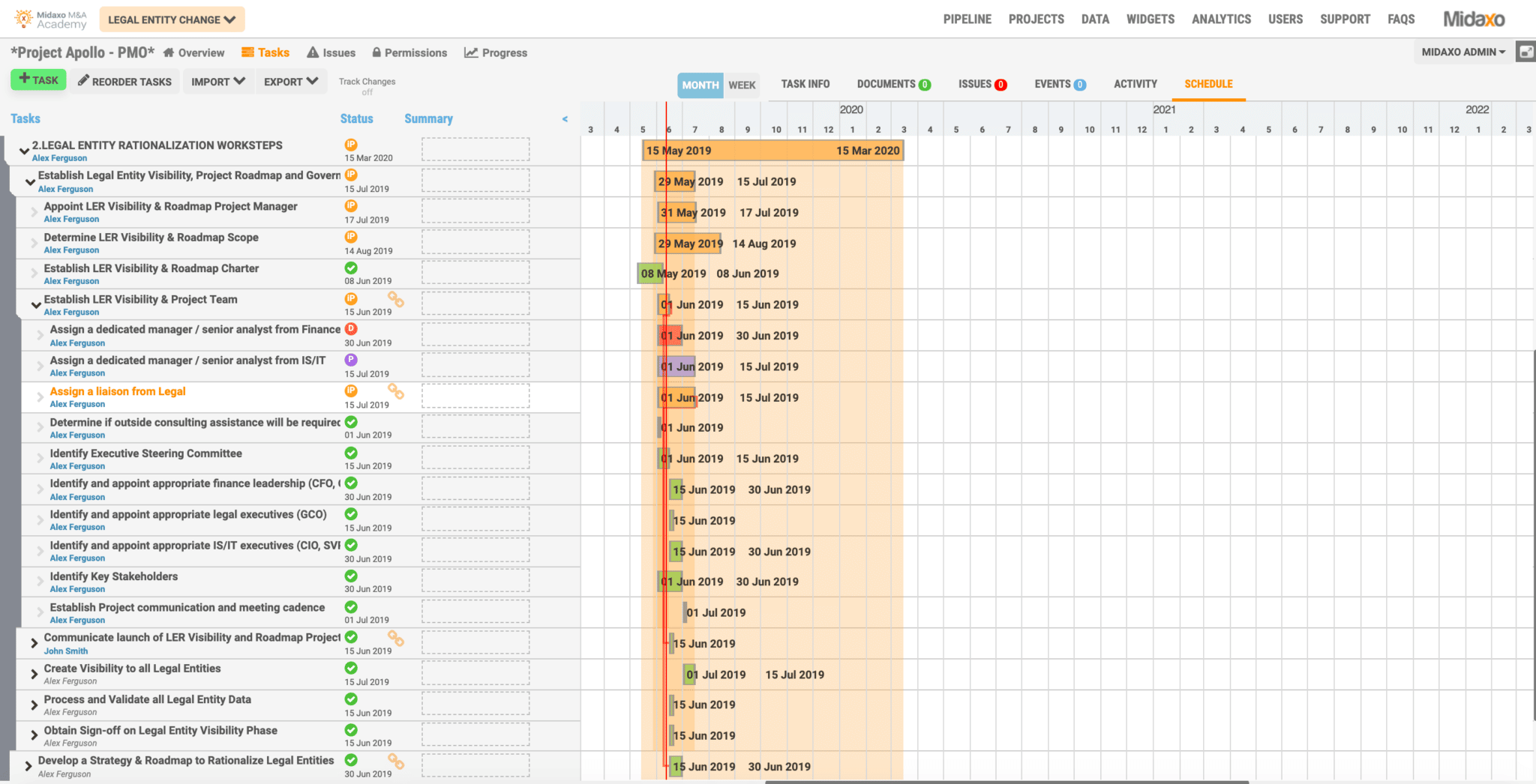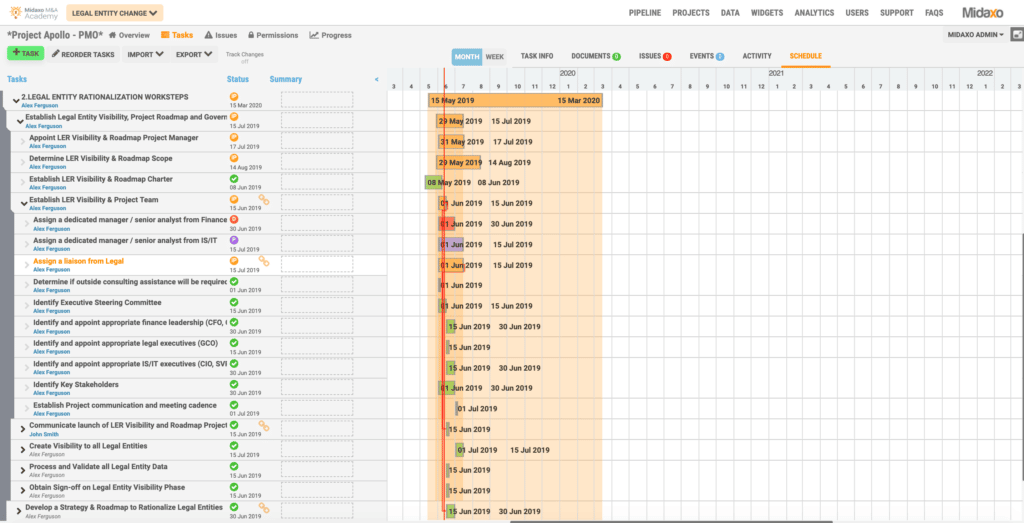 Centralize Management and Communication
Teams who communicate and collaborate closely produce better results, particularly in demanding environments like the transactions legal space. With Midaxo, you get an accessible and easy way to house all transaction data and communications.
Keep deal data, communications, notes, and everything else in one portal. Our platform has a unique suite of capabilities, including project management, document storage, analytics, and more.
Eliminate workflow slow-downs and gaps with straightforward scheduling, planning, and project tracking. Know target milestones, individual responsibilities, team deliverables and progress.
Configure permissions and roles to ensure the right people, internally and externally, have the right access to information.
Maintain an automatic audit log of all events, making it easy to track changes and see when they occurred.
Accurate Decision-Making with Real-Time Analytics
Every important decision should be backed by real-time, accurate data. With Midaxo as your source of truth for all contracts, documents, schedules and dependencies, you can create shareable reports with just a few clicks.
Automate reporting so it requires less manual maintenance and team members can focus on the work in front of them.
Track, monitor and adjust KPIs with dashboards that show progress as it occurs at the task and project level.
Customize entity reporting based on trading status, total headcount, revenue, operational cost structure, and more.
Eliminate problems caused by multiple versions and outdated data. By working in a central platform with real-time analytics, you can be sure reports and analyses are based on the most recent, accurate information.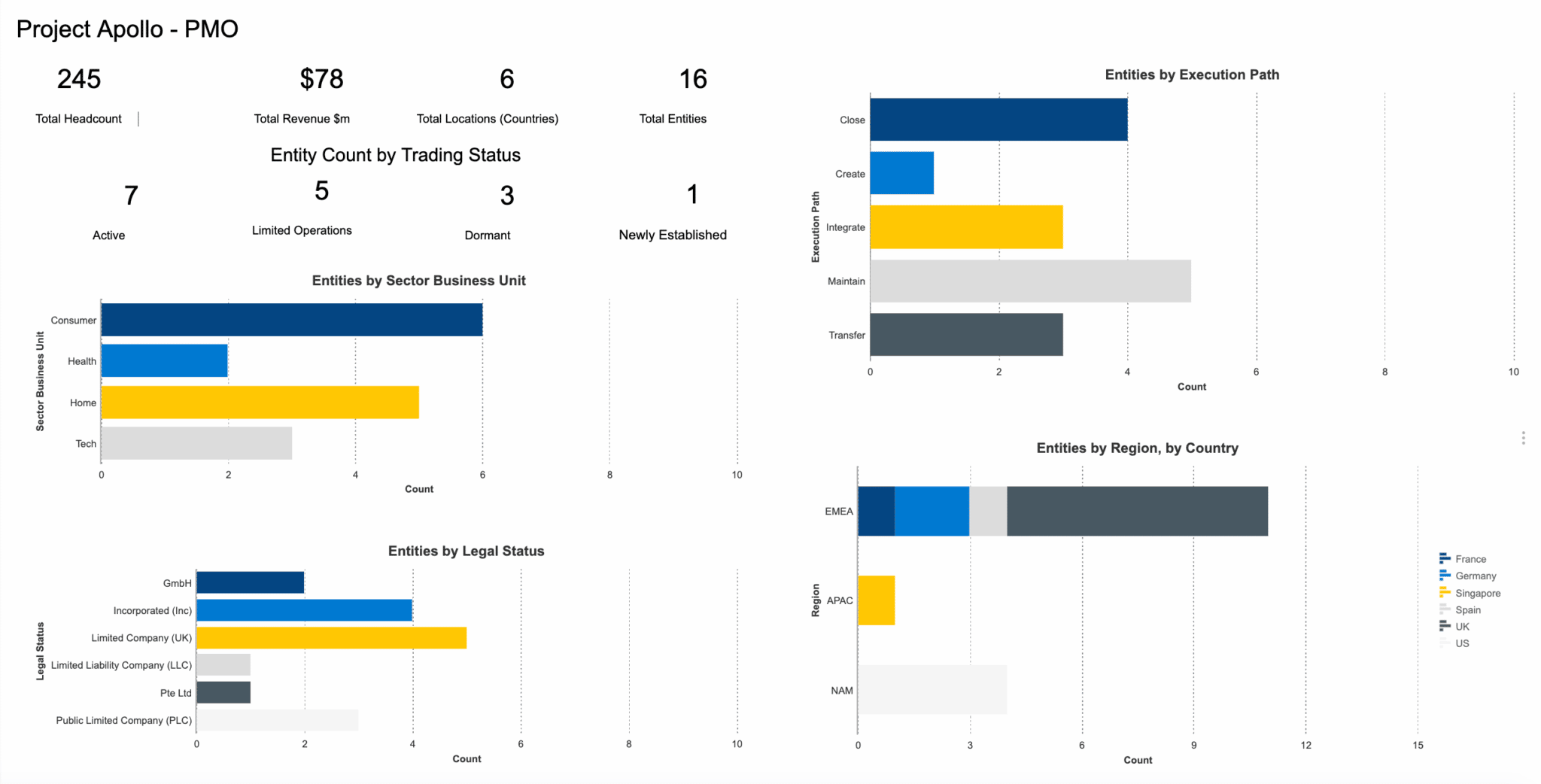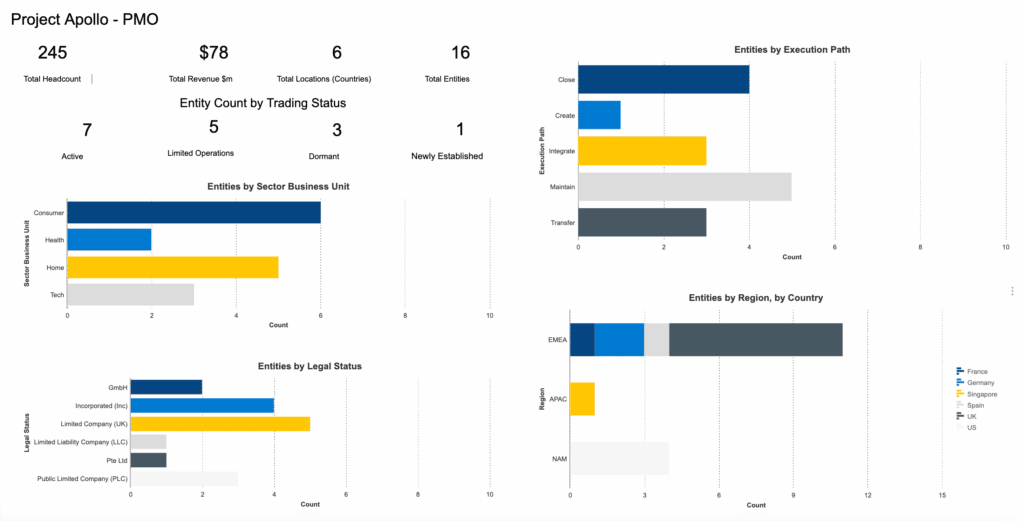 Learn How Midaxo Can Power Your Dealmaking
Contact us for a live demo or simply to discuss how Midaxo can improve the productivity of your team