Programmatic M&A Deal Scoring
Automated Deal Scoring for Programmatic Acquirers
Systematized Deal Scoring
Deal Scoring ranks open opportunities in your pipeline by your defined rules to allow your team to instantly identify and organize the targets that best align with your goals.
Develop standardized criteria to meet your needs
Quickly identify which deals merit your team's primary focus
Visualize high-synergy companies directly on the pipeline with color-coding and score breakdowns
Multi-process support allows different business units to set unique criteria to suit their needs
Calculated fields enable you to define scoring parameters based on numeric calculations using multiple data fields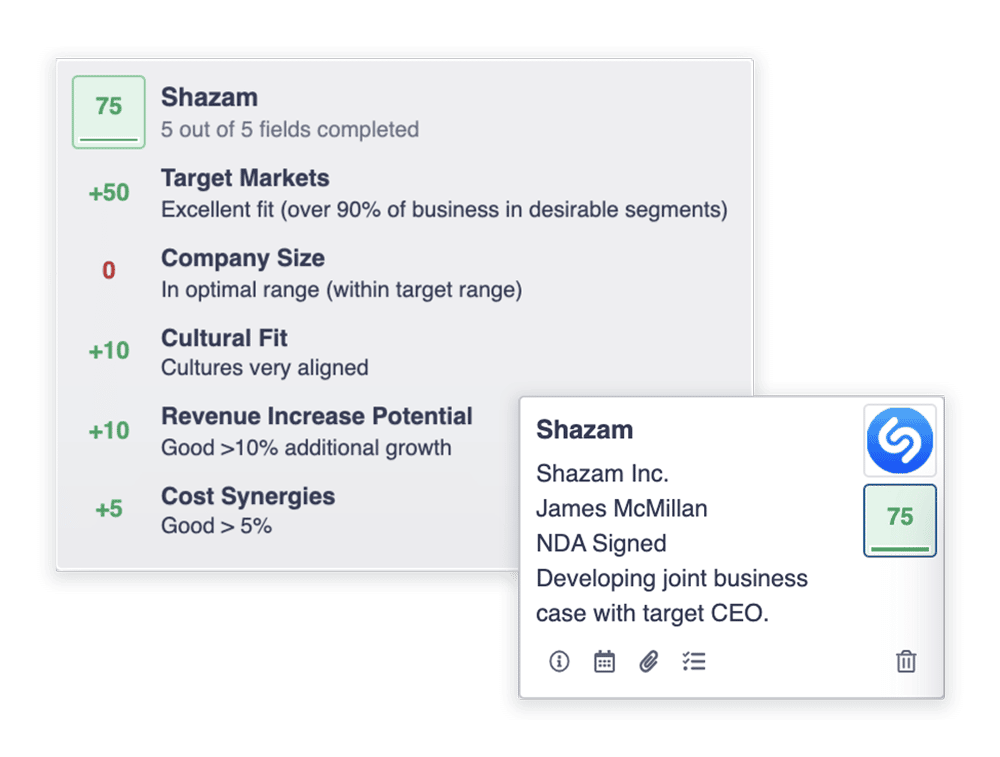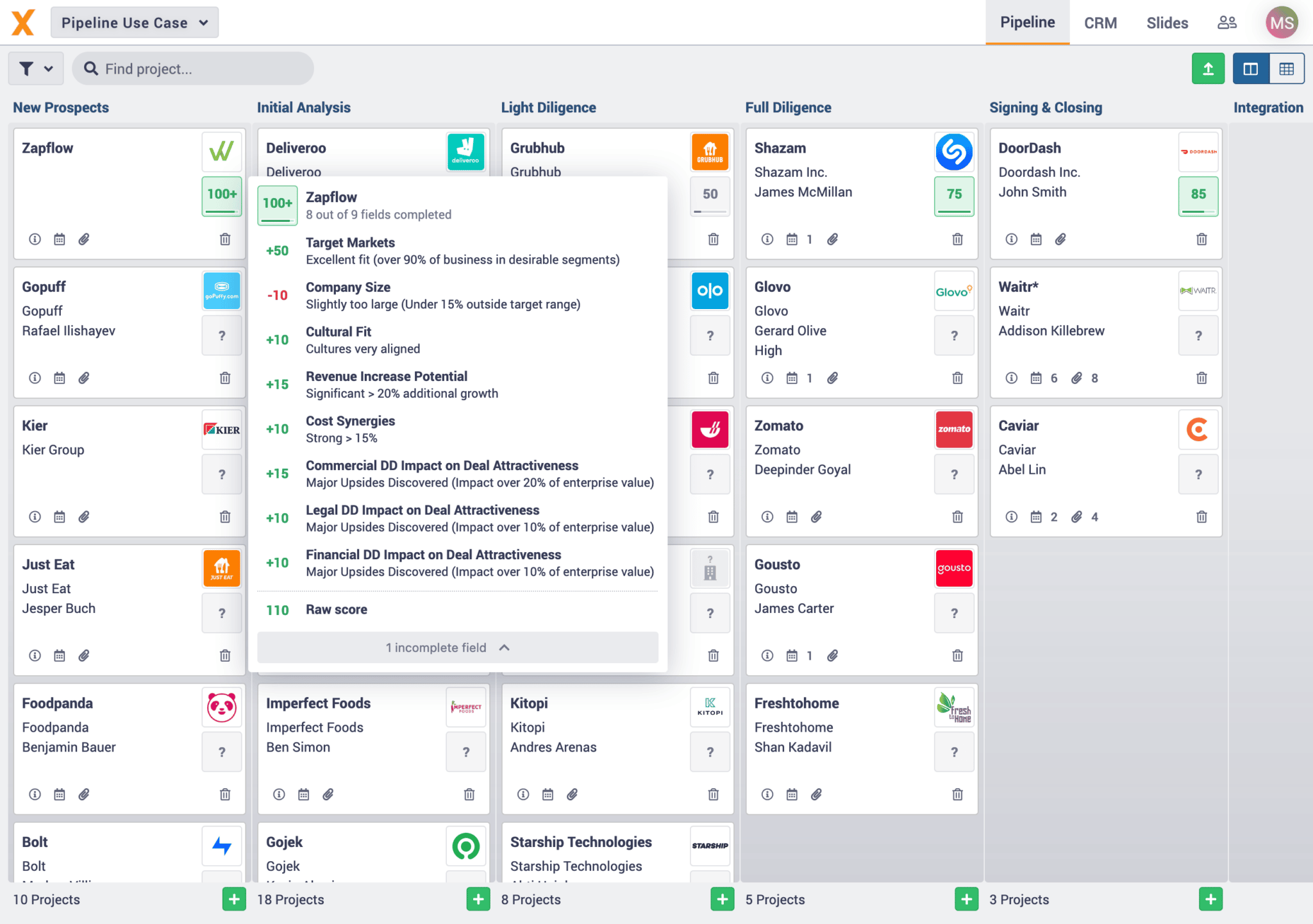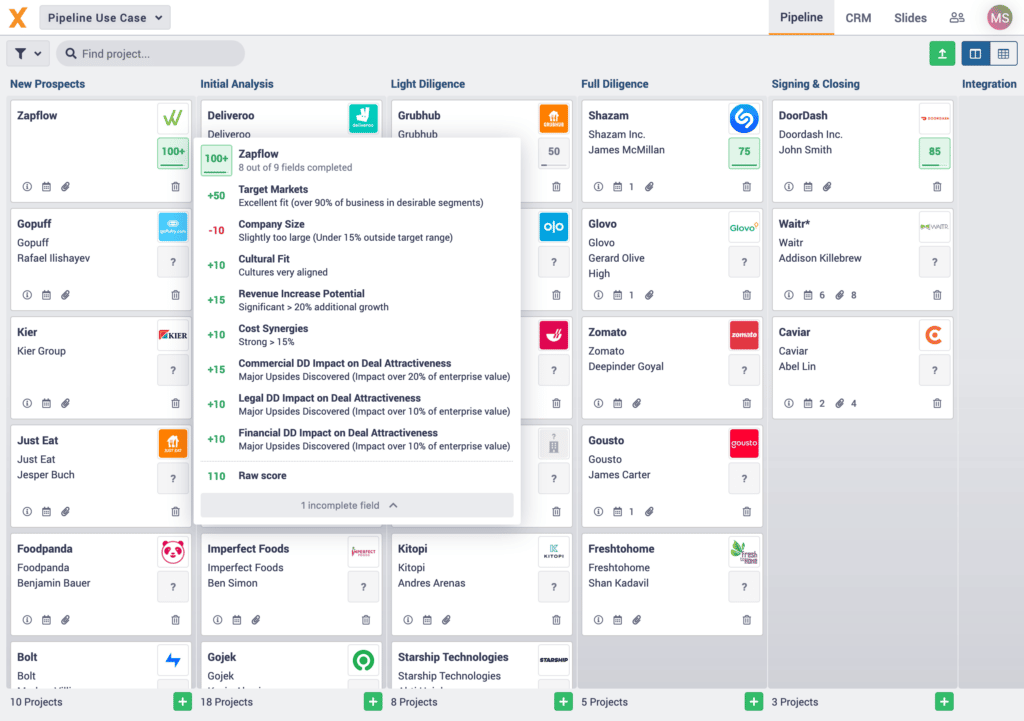 Pipeline Overview
Deal pipelines can have dozens or even hundreds of potential targets in any given stage-gate, quickly becoming overwhelming to sort through. Deal scoring enables analysts to identify companies with the best synergies so their time can be better spent gathering more information or building better relationships with the best fits. 
View ratings directly from your pipeline to quickly analyze which deals should be top priorities
Easily identify best and worst opportunities with color-coding determined by the overall score
Pre-defined color coding visually categories targets: 0 to 30 is red, 30 to 65 is grey, and 65 to 100 is green
See a clear breakdown of deal scoring factors and their impact on the overall score
Quickly develop deal theses at a glance to analyze strategic fit
Standardize Your Target Scoring
Pick and choose which project fit criteria are most appealing to your M&A team and adjust the deal scoring module accordingly. Customize your reports and scoring rules to ensure only the most promising targets are pushed to the forefront, reducing the amount of time spent on unqualified leads while increasing the number of deals your team can vet.
Activate deal scoring on the data points that matter to you most such as headcount, revenue, or geographic location
Set custom weighting for each factor, awarding more or fewer points depending on your team's values
Switch between deal processes in order to rate targets against different sets of criteria as defined by your various business units
Review and select difficulty rantings per deal scoring option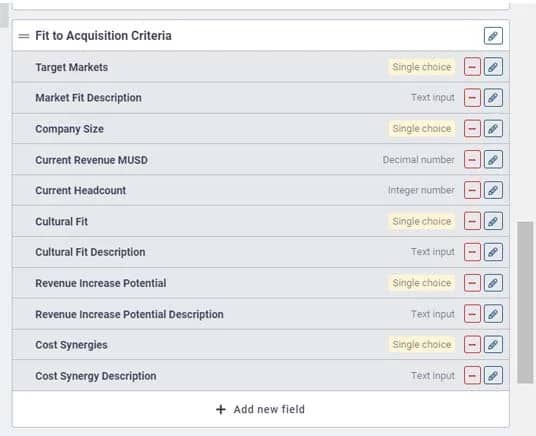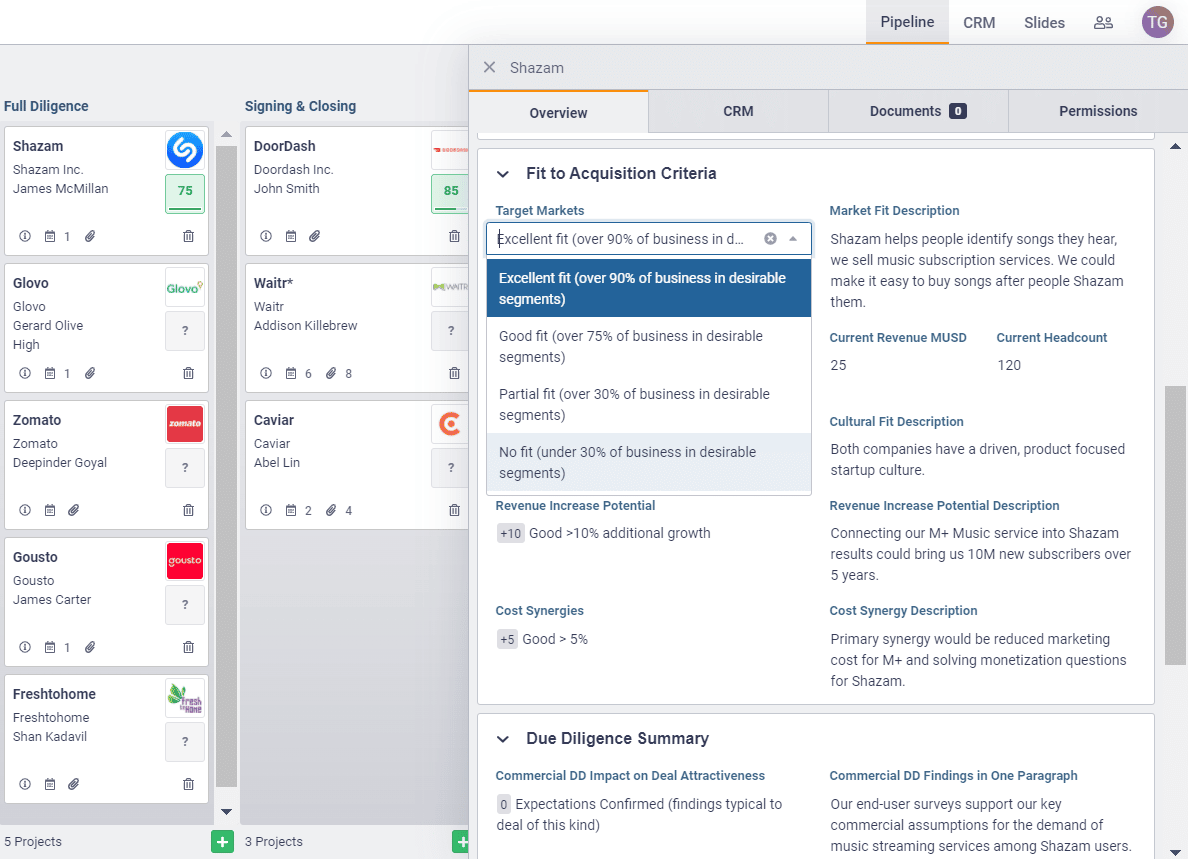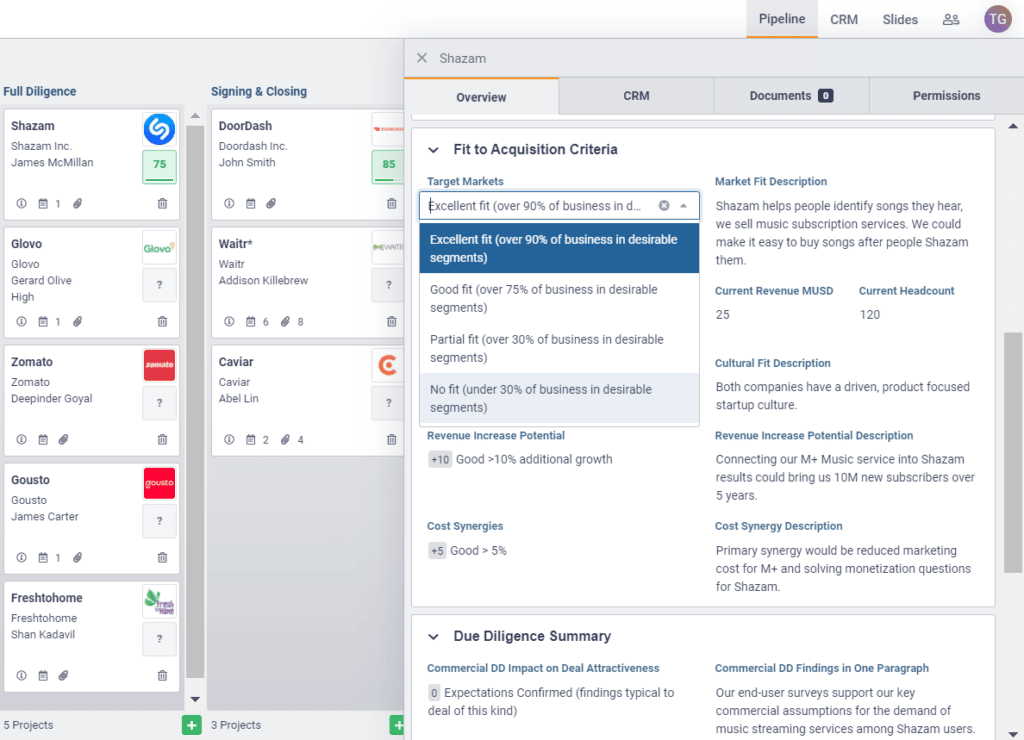 Finding Your Perfect Fit
From the pipeline dashboard, review a breakdown of your pre-set scoring criteria and how each target compares to your ideal fit. Easily identify the synergies and challenges for each target. Add notes to text-based scoring fields to better inform your team or change scores at will based on new analytics.
Make the score more and more precise by populating additional information as you get to know the targets better
See what drives point additions or deductions to reach a better-informed analysis
Rank projects by company demographics, target markets, value creation opportunities, and other factors
Learn How Midaxo Can Power Your Dealmaking
Contact us for a live demo or simply to discuss how Midaxo can improve the productivity of your team