Virtual Data Room VDR+
A Modern VDR with Powerful Deal Management Functionality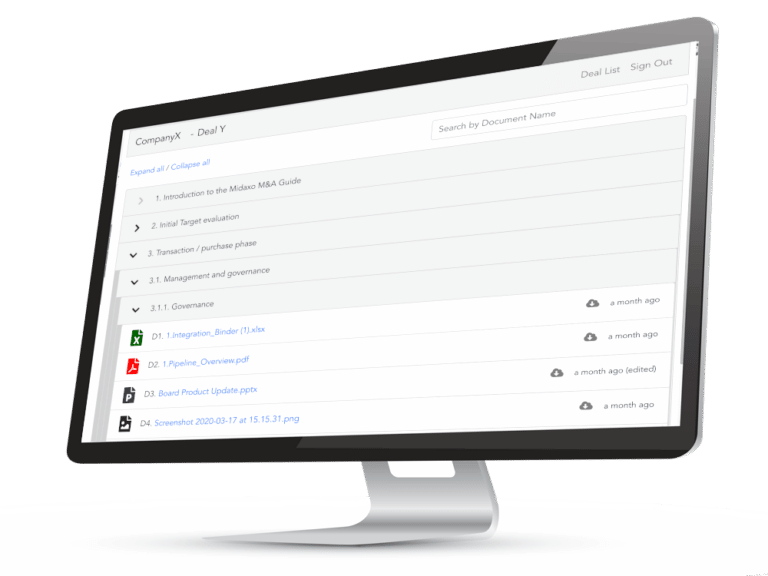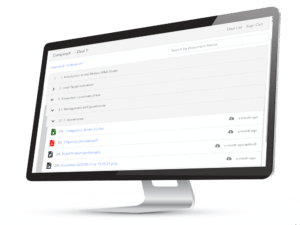 The Leading Solution for a Modern M&A Process
User-friendly Virtual Data Room
Collaborate with your team and counter-parties using a modern, intuitive virtual data room
Industry Leading Security
IS0 27001 Certified & GDPR Compliant – share documents and collaborate securely
End-to-End Functionality
Manage both the buy and sell-side deal lifecycle in a single platform
User-friendly Virtual Data Room
Midaxo VDR+ provides you with a modern, intuitive virtual data room across PC, tablet and smartphone devices.
Fresh, mobile-friendly user interface, customizable configurations to support the way you work, streamlined user invitation process and simple document upload/sharing.
Set up your data room within minutes or tell us about your deal and we will configure a data room to match your needs.
Zero training required for deal counter-parties.
Example functionality:
Drag & drop and bulk upload enables you to quickly import and share documents.
Supports the most common file formats.
Detailed permission settings let you control who can view, print or download documents.
Industry Leading Security
We understand the importance of data security and preserving the confidentiality of information when it comes to M&A. We incorporate this into the way we design and build all features within the Midaxo platform.
Midaxo platform security features include:
ISO 27001 Certified
GDPR Compliant
Role-based privileges/detailed permission controls
Audit logs
Secure browser connections
Penetration testing
24/7 monitoring
Information security management audited by KPMG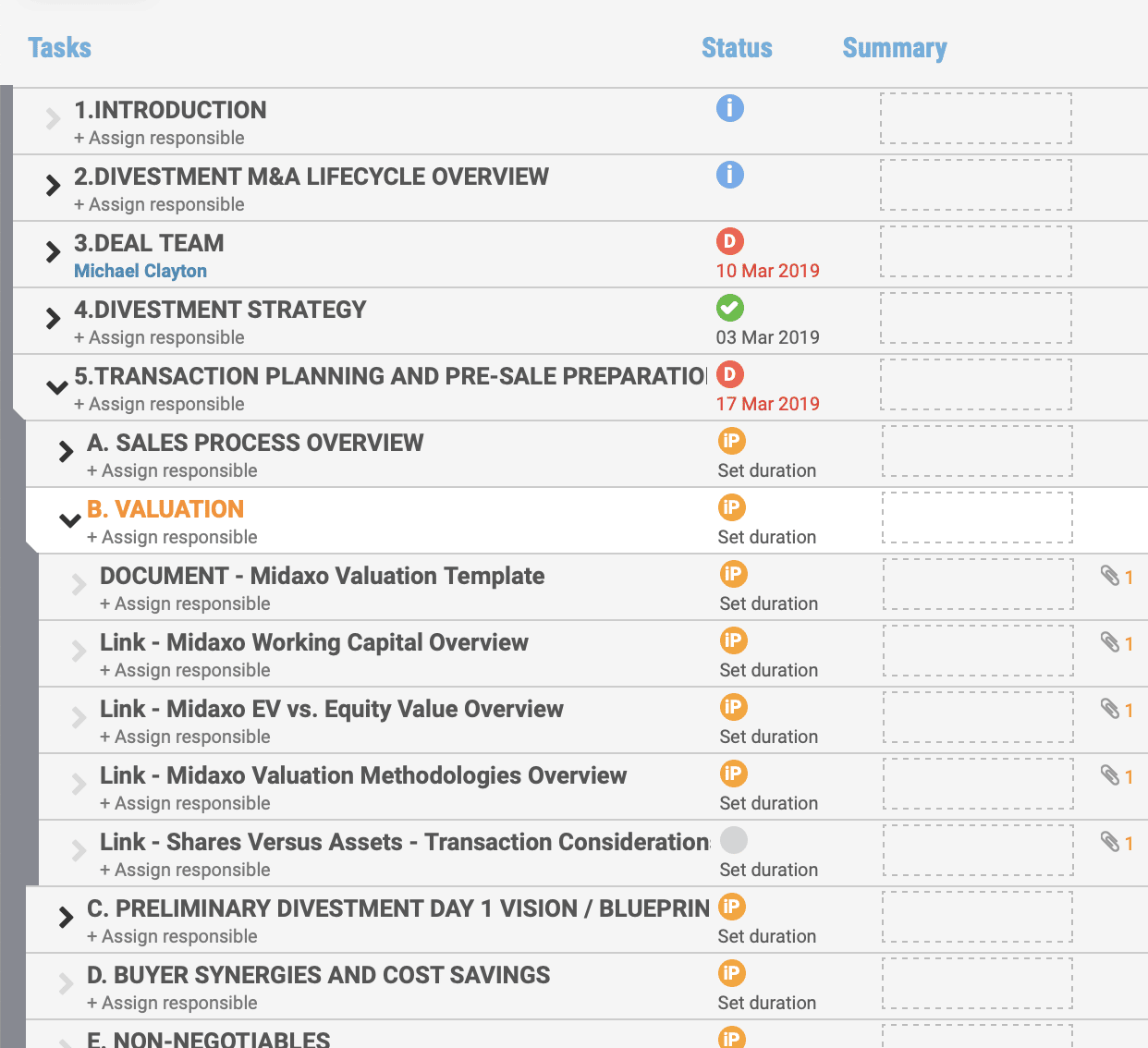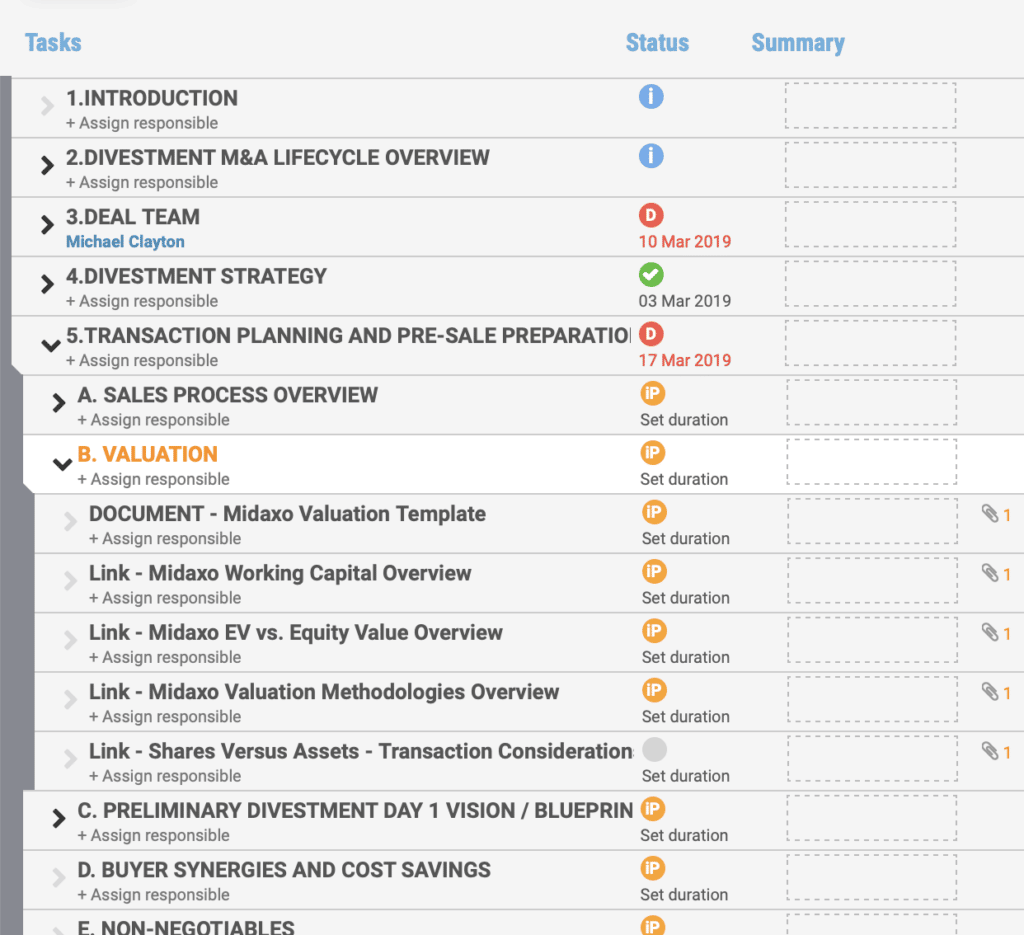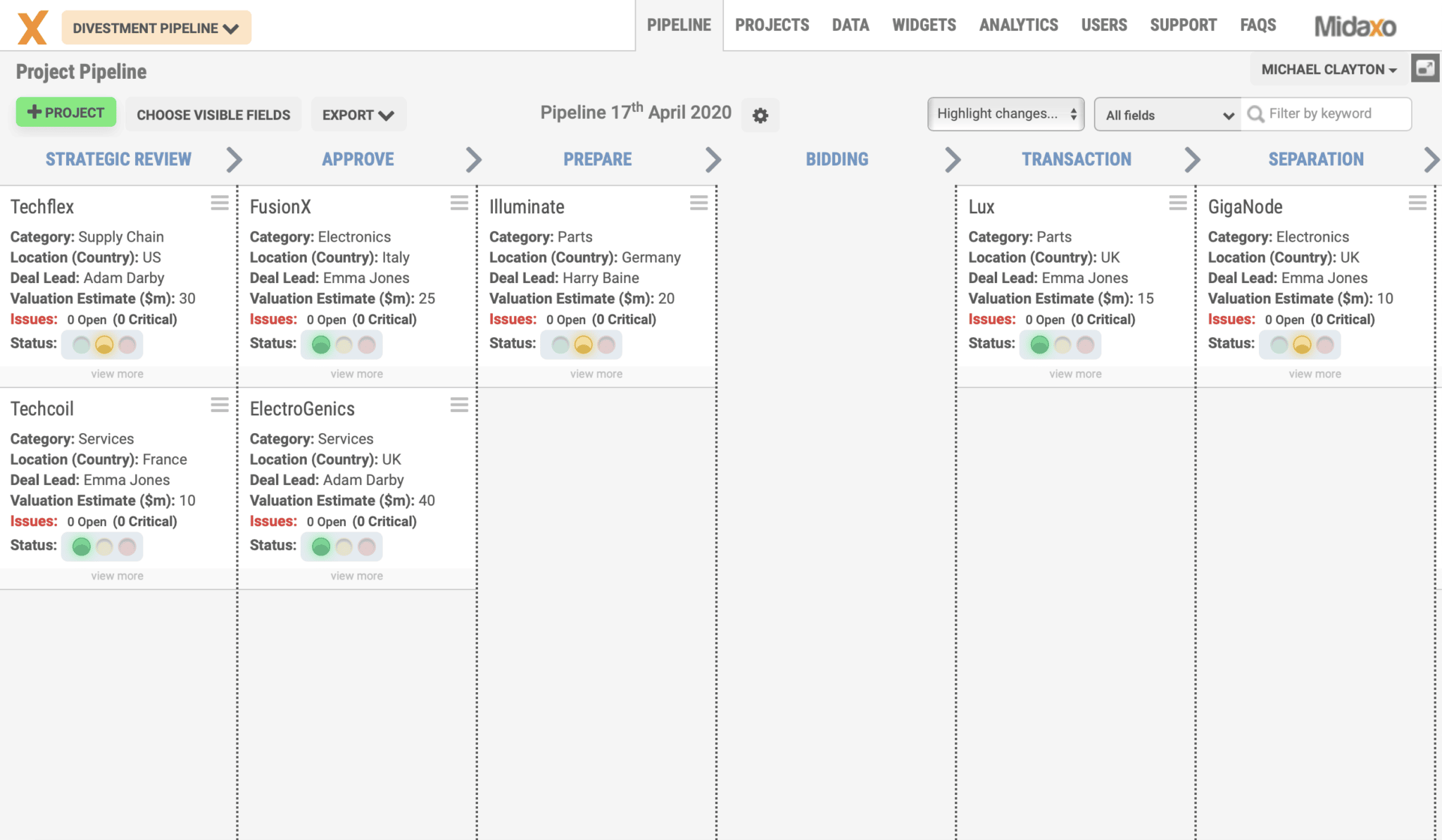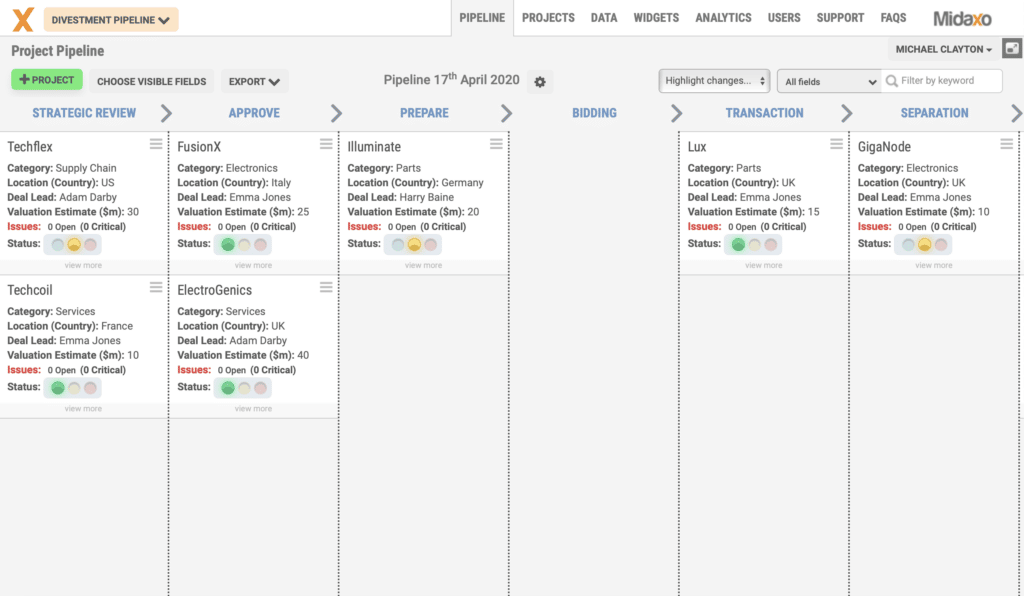 True End-to-End Functionality
The Midaxo platform offers a true end-to-end solution for deal-making – including across strategic review, preparing for sale, engaging with potential buyers, tracking correspondence, sharing documents, closing a transaction and project managing the separation process.
Midaxo supports all deal types – from the simple sale of a stand-alone business to a major carve-out requiring complex legal arrangements and full disentanglement process.
Example functionality:
Automated notifications enable you to view information and comments as they are added to the platform.
Run multiple data rooms with highly customizable configurations.
View project activity such as sign-ins, document views and downloads.
Post-deal archiving allows for lookbacks and provides an audit trail.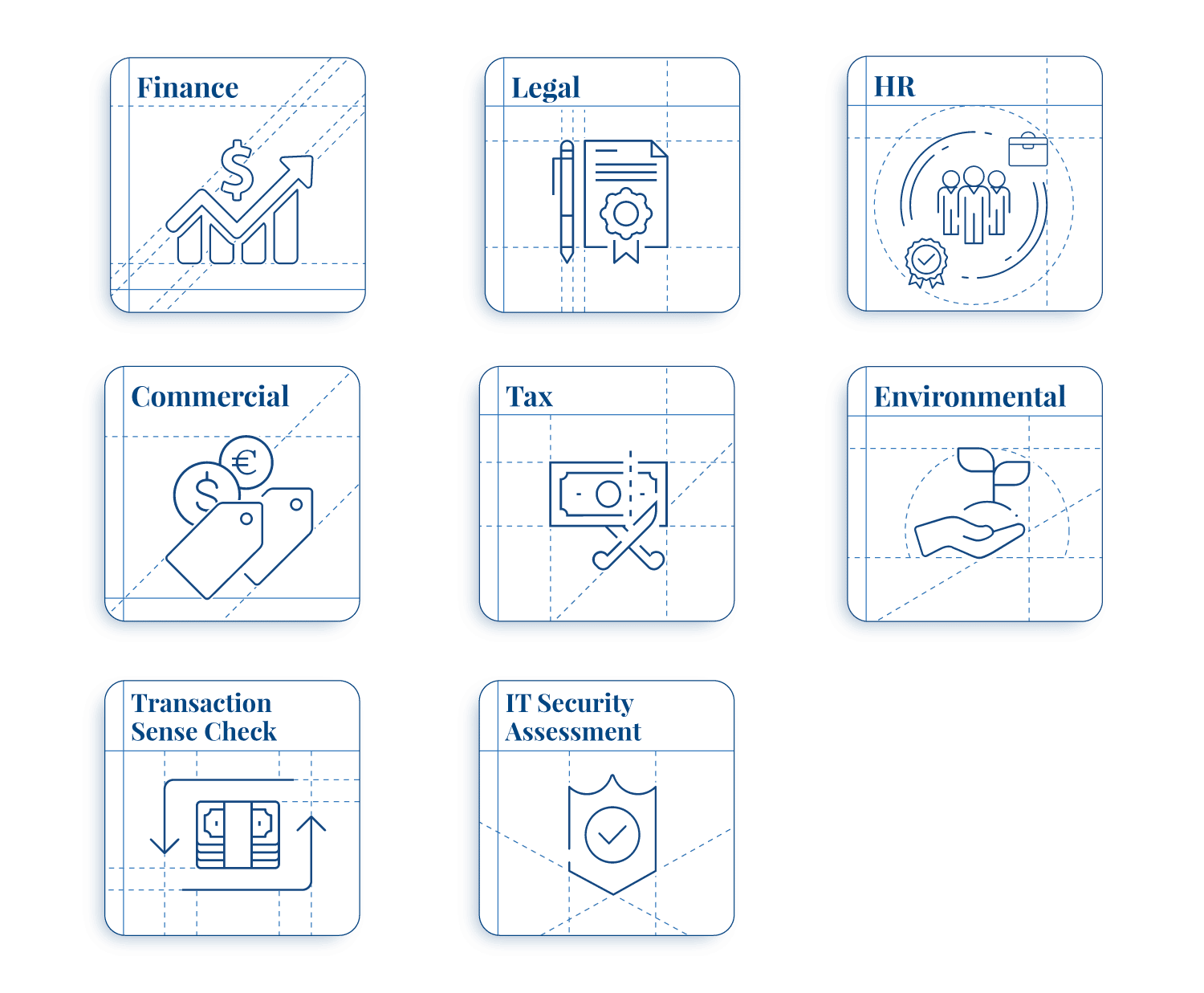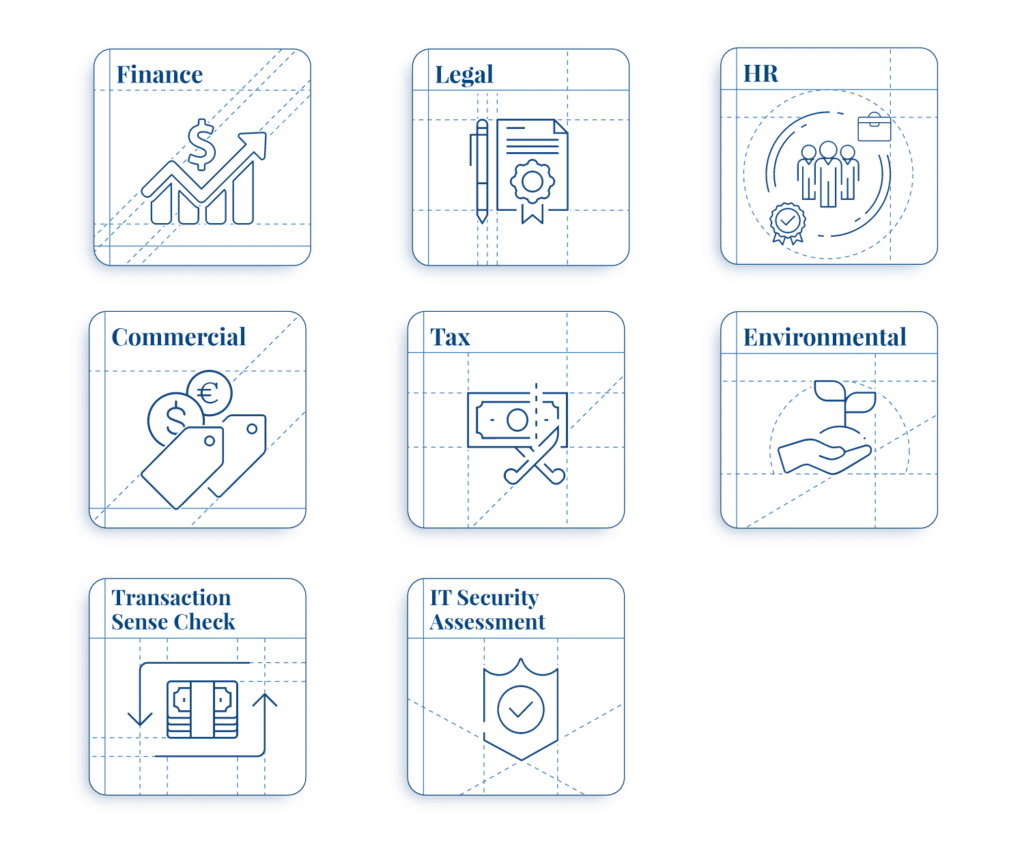 Best Practice Playbooks
In addition to software, Midaxo offers a range of comprehensive playbooks to help you with everything from preparing a business for sale, developing an acquisition strategy and undertaking due diligence, executing a transaction, performing post-merger integration or rationalizing legal entities and real estate.
Advantages of the Midaxo VDR+ Module
VDR + Process Management
Leading M&A process platform combined with a modern VDR
True End-to-End M&A Solution
Manage everything in one place for maximum efficiency
Expert Led Software Development
Built in consultation with top M&A consulting firms and global M&A teams
Learn How Midaxo Can Power Your Dealmaking
Contact us for a live demo or simply to discuss how Midaxo can improve the productivity of your team