Reporting across multiple projects for routine (or ad hoc) status reports is typically characterized as a draining manual process – where a vast PowerPoint of jumbled dashboards that has a shelf life of about 5 minutes is created. This archaic process is often repeated week after week, resulting in inconsistent presentation of information and overworked team members.
If you're running any sort of complex or stringent work process (i.e. implementations, post-merger integration, due diligence, location consolidation, divestment, etc.), things can quickly get complicated. Not only do you need to execute a detailed plan for multiple projects spanning dozens of individuals, across multiple workstreams, or stages, but you need to ensure key stakeholders are up-to-date on the latest progress.
Clearly, this archaic way of reporting isn't going to work "well-enough" forever. At some point, this time consuming, inefficient way of aggregating updates across many individuals and teams is going to distract you and your team from something more important at play. It's therefore almost inevitable that something substantial is going to fall through the cracks.
1. Manual reporting is a time drain
If you're stuck with an archaic form of progress reporting, you or some poor individual(s) on your team will be responsible for collecting and consolidating multiple updates. Digging though day-old emails and tracking down team members for statuses, multiple Excel documents are updated and laboriously copied and pasted into a PowerPoint report (sound familiar?!). As soon as the report (having taken hours or days to create) reaches the hands of key stake holders, it's out of date and most likely missing the most recent information.
The individuals you trust to manage reporting are most likely talented and ambitious team members looking to contribute much more value to a project. Imagine what else they could be spending their time on if they were set-free from the toil of manual reporting.
2. Real-time reporting can help you react more quickly
Everything is as straightforward as it was planned, right?
You could have the most beautiful project plan with thousands of documented tasks, clear dependencies, contingencies, realistic due dates, but inevitably things will go awry. Thank you, entropy.
Manual progress reports are painful and incredibly inefficient, but missed or delayed information can lead to slow corrective actions and suboptimal decision making. How can you confidently make go/no-go decisions or provide the full amount of transparency on the progress of your largest integration project when you're not working in real time?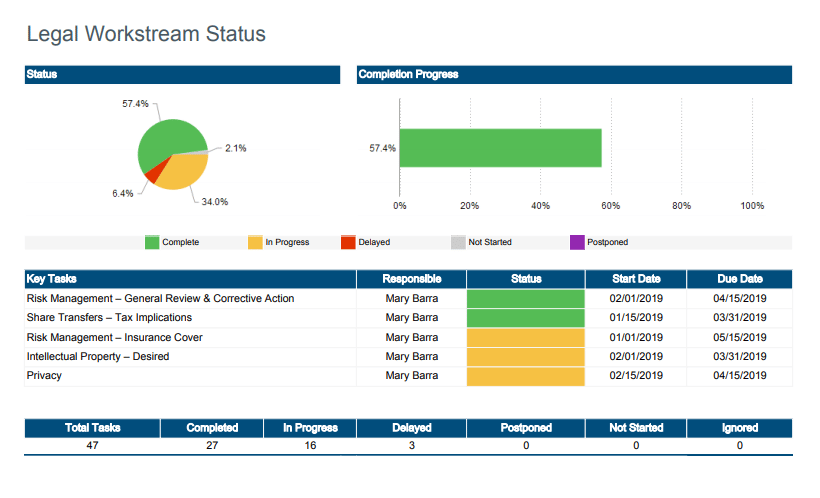 3. Teams are already benefiting from reporting utopias
"We were able to manage and predict our timeline and integration activities better, and give the right people access to the right information when they needed it. Not only that, but being able to receive real-time reports was hugely valuable during these fast-moving projects," – DAN's Chief Automation Officer, Max Cheprasov, previously iProspect's SVP of Operations and Integration team lead.
Midaxo's cloud-based environment allows everyone to work collaboratively and add information to the same place, in real-time. With one source of truth, you don't need to continually chase people to get the information you need to create status reports. Rather, as an individual works on a task or documents in Midaxo, they can make notes and mark as complete, in progress, or delayed.
As this information is added to Midaxo, your preconfigured dashboards are automatically updated in real-time. And, when it's time to for a formal status report, you can aggregate reams of data and generate a consistent and up-to-date multipage report with just one-click.
These automated working capabilities enable teams to spend less time on reporting and more time working on more important things. Once a team has witnessed the power of automated M&A task reporting, they will not want to return to the dark-ages of manual working.
4. You can't drill down into the details with static dashboards
If you're in the middle of a status report and someone asks you for more detail on a specific set of delayed tasks, you may not have the information ready. It may be in an Excel file somewhere on your computer and you can pull it up with a bit of furious clicking in front of colleagues, but what happens if someone isn't there with that information?

The beauty of the live dashboards within Midaxo Analytics is that you or anyone with sufficient permission access can explore the detail behind the summary data by just clicking into a section of a graph or table. You can even quickly pinpoint and reference the status of a specific task or document.
5. You can leverage reporting best practices
Powerful analytic tools can be intimidating and the barrier to entry can appear unsurmountable. With Midaxo, we've made it easy to transition to automated reporting by providing a range of preconfigured dashboard and report frameworks.
We've worked with top teams and experts (IB, M&A, Consulting) to develop best-practice dashboards and reports for due diligence, integration, project reporting and more. We offer 5 key dashboards with Midaxo that can be configured with the help of your customer success manager. We can also work with you to create more advanced dashboards and reports developed in collaboration with M&A experts (for an additional fee).
Imagine putting a dashboard like this to use and being able to view all individuals' tasks across multiple projects: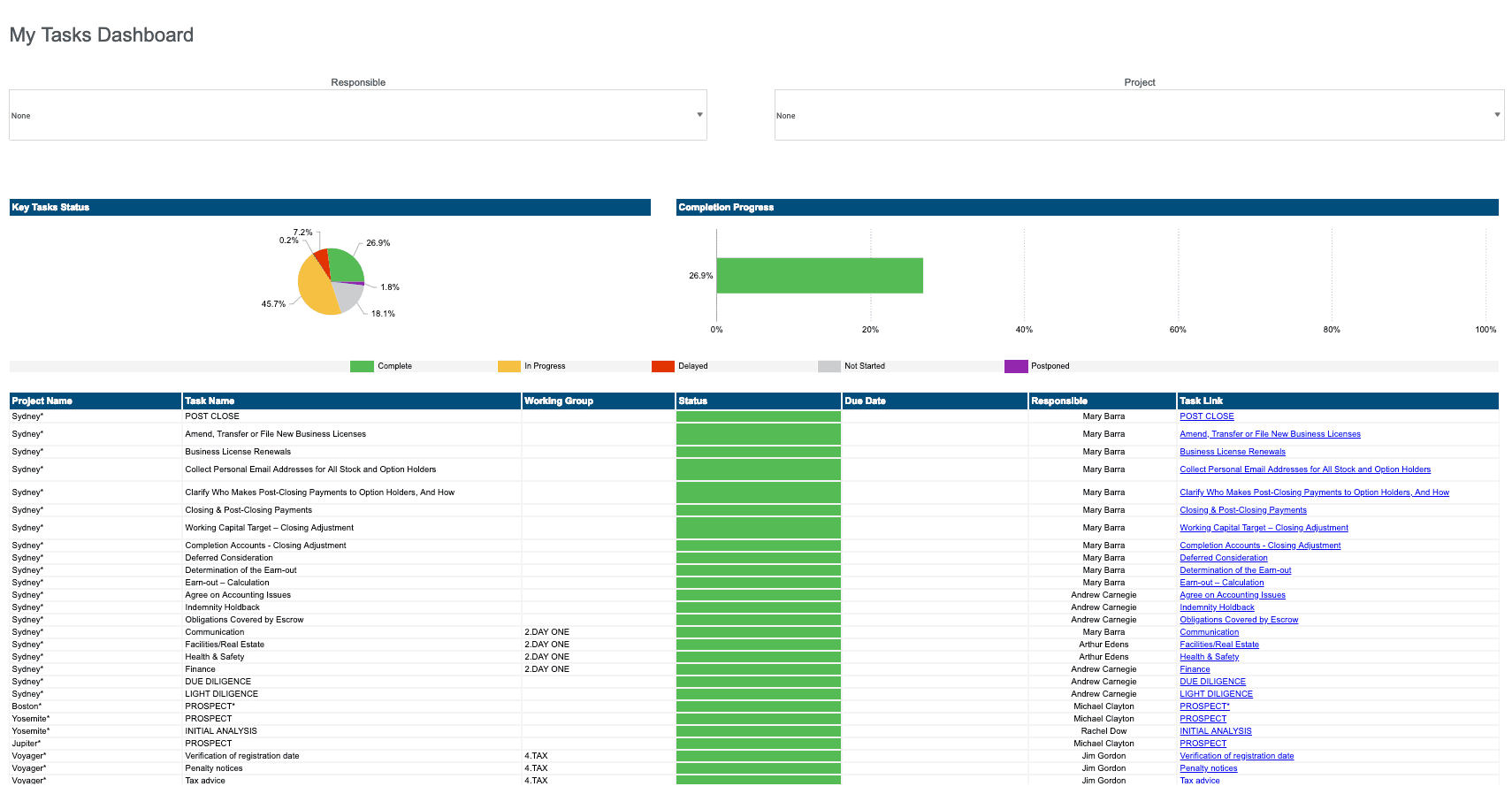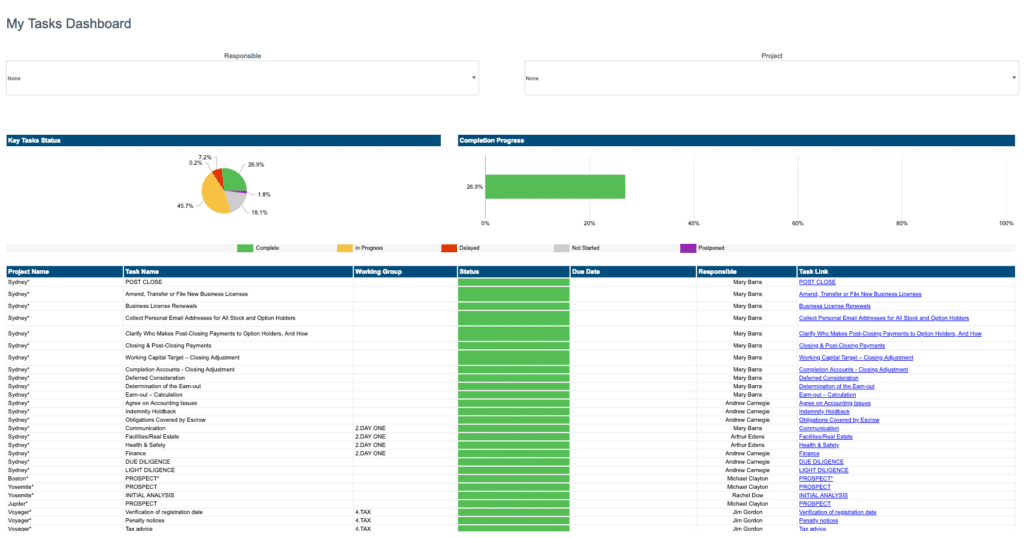 Or an executive summary for the progress of tasks across due diligence or an integration project (where you can drill deeper for more information on a workstream):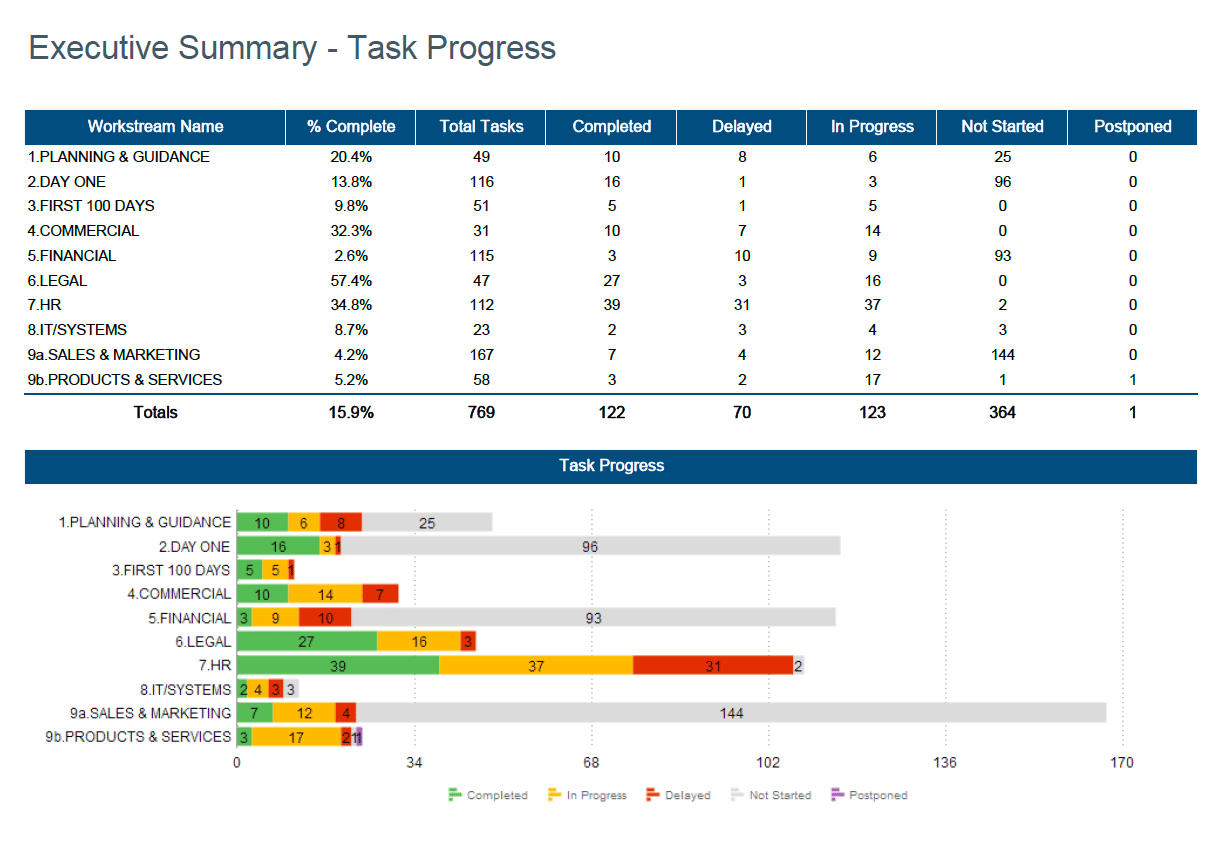 6. Live Reporting Connects individuals & an Organization
With better visibility into status updates and workloads, live reporting helps you better connect and understand the work of team members – from individuals working within a particular workstream function to key decision makers. With this clarity, you can be both more empathetic and accountable as you work together toward a common goal. And, you can better learn from the things that didn't go to plan.