In the ever-evolving landscape of M&A and corporate development, staying ahead of the curve is essential for sustained growth and success. The traditional methods of handling corporate development — with documents scattered in multiple locations, reporting challenges, low-risk visibility and inconsistent approaches — are no longer sufficient if a company wishes to remain competitive.
In a recent webinar on the transformative power of using the new Midaxo Cloud, Chief Product Officer Charles Cautley shed light on how organizations can accelerate their inorganic growth by transitioning to a new way of corporate development. A purpose-built work management platform like Midaxo Cloud represents a paradigm shift, offering a comprehensive solution that brings every facet of corporate development together in one unified platform.
Improved Collaboration
Traditionally, corporate development has been a complex and fragmented process, often involving disparate tools, communication silos and a lack of centralized data. In a modern work management platform like Midaxo Cloud, however, information, work plans and data are no longer spread across the company in Excel, email, SharePoint or other third-party tools. M&A and corporate development teams can complete their strategic initiatives faster with all workflows, documents, approvals, compliance, analytics and reporting tools centralized in a single, secure online environment.
One of the standout features of Midaxo Cloud is its emphasis on effortless team collaboration. In the old model of corporate development, teams struggled with disjointed communication channels. By using a purpose-built cloud for corporate development, teams can collaborate seamlessly, breaking down silos and fostering a culture of transparency and real-time collaboration.
Imagine a scenario where the M&A team, legal department and finance team can work harmoniously on a deal, sharing documents, insights and updates in real-time. Purpose-built work management solutions make this a reality, streamlining collaboration and ensuring that all stakeholders are on the same page throughout the corporate development lifecycle.
Full Workflow Visibility and Painless Reporting
A centralized platform enables team members to access the information they need, when they need it — for both day-to-day activities and larger projects like company-wide Board reports. A purpose-built work management solution enables teams to create high-level dashboards as well as deal-specific project statuses that feed into periodic reports.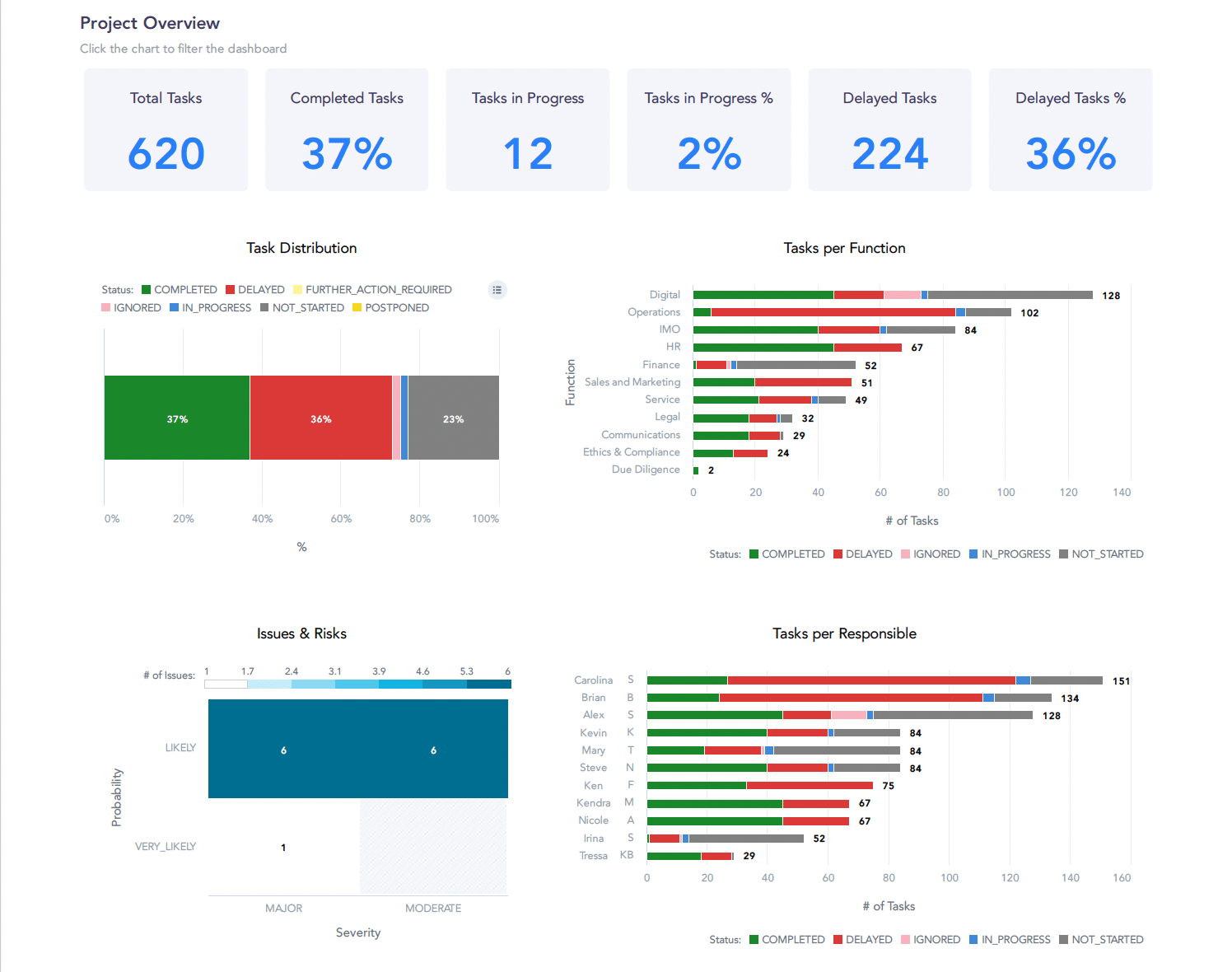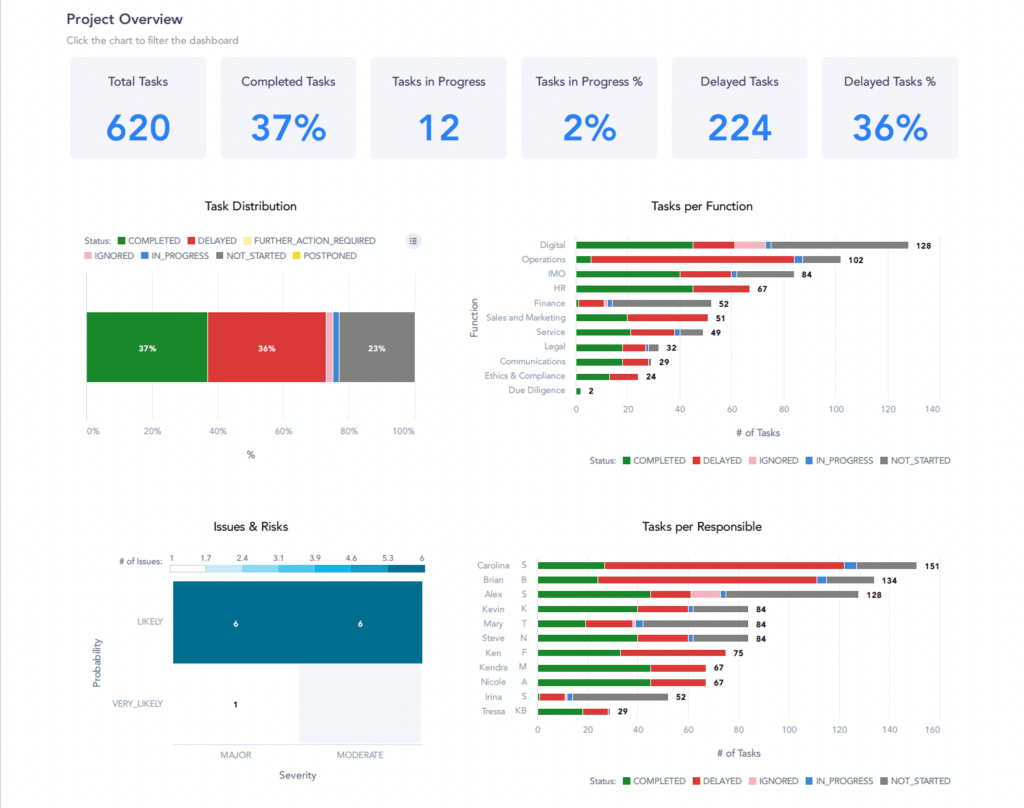 Customized analytics reporting provides insights into status and best next steps to help leaders make informed decisions about their projects and resources. With Midaxo Cloud, teams can collaboratively review standard reports in real-time or populate slides with a few simple clicks to use for project reviews or management presentations. The solution also leverages platform integrations to allow users to create or update reports by drilling down with their preferred analytics tools such as Power BI or Tableau.
Consistent Value Capture and Realization
In the traditional model of corporate development, capturing and realizing value from initiatives is often a hit-or-miss affair. According to the Harvard Business Review, 79-90% of mergers and acquisitions using these traditional methods fail.
The new Midaxo Cloud introduces a level of consistency that was previously elusive. By centralizing data and providing powerful analytics tools, organizations can now make informed decisions, track progress and ensure that every stage of the corporate development process contributes to value creation.
Read the Midaxo Value Tracker Application Note
The cloud-based platform enables teams to assess potential opportunities, conduct due diligence and implement post-merger integration strategies with a level of precision that was unimaginable with the old way of doing things. This consistency in value capture and realization sets the stage for sustainable and predictable growth.
Increasing the repeatability of the deal processes — from deal sourcing through integration — with purpose-built workflows helps organizations reduce complexity and realize maximum transaction value, faster. Midaxo Cloud enables users to capture their preferred work methods in customizable playbooks and use them to create online project plans for each transaction. With these playbooks, team members have clear visibility into their assignments and into overall team project plans and goals.
Automation & AI
Teams using Midaxo Cloud can utilize automated data intelligence to identify new targets to consider, decide when to approach specific opportunities, and prioritize targets in the pipeline. Built-in automation also enables faster review and summarization of diligence materials, as well as quick identification of workflow bottlenecks. Teams can also generate recommendations in the platform for the reallocation of resources, making it easier for companies to meet and exceed their goals.
Final Thoughts and Further Reading
The recent webinar on the new Midaxo Cloud for corporate development signifies a shift toward a more efficient, collaborative and value-driven approach to inorganic growth. By embracing a purpose-built, cloud-based solution, organizations can bid farewell to the challenges of the past and usher in a new era of corporate development, marked by faster deal closing through seamless collaboration, consistent value tracking and heightened organizational productivity.
As we navigate the ever-changing landscape of corporate development, Midaxo Cloud is delivering companies a future where growth is not just a goal but a tangible and achievable reality.
For more information on how technology can boost your corporate development initiatives, read our white paper, 4 Ways Technology Can Accelerate Corporate Dealmaking, or request a personalized demo to see how the new Midaxo Cloud can support your team's use case.