Traditional M&A reporting – on your pipeline, on the progress of acquisitions, or on the status of integrations – is typically tedious and time-consuming. The deliverables are static, short-lived, crowded with irrelevant information and are often missing the right pipeline metrics or progress information.

Preparing for weekly meetings or presentations to leadership turns into lengthy ordeals as you collect every last detail up until the last minute so that you can walk into the meeting with the most up-to-date information.

And of course, questions on the details that you decided to omit or the change that just happened that day will inevitably come up—and you'll be left standing there with polite smile and an "I'll have to get back to you on that one."

As painful as the compilation is, these reports and meetings are incredibly useful for making day-to-day decisions, troubleshooting delays and bottlenecks, promoting accountability, and guiding your team to meet the goals you set.

Outside of meetings, having a constant pulse on the health of your pipeline or the progress of the due diligence or post-merger integration steps can enable you to make better, quicker decisions—and gives confidence to your team and your leadership that you are all in-the-know.

If you are thinking about making the switch to automated reporting, here are 7 reasons why you should step into the modern age of M&A reporting.

1. Have complete and total visibility in real-time
Imagine someone asks you that question that would normally cause you to sweat — on the details that you decided to omit or the change that just happened. What if you could say "just one minute" and refresh the dashboard or click down into more details to show them the answer?

Midaxo's M&A software allows everyone to work collaboratively and add information to the same place, in real-time. With one source of truth, you don't need to continually chase people to get the information you need to create pipeline or status reports. Rather, as an individual works on a target, task, or documents in Midaxo, the corresponding dashboards will be updated. When one-click reports are created, the most up-to-date information will be pulled.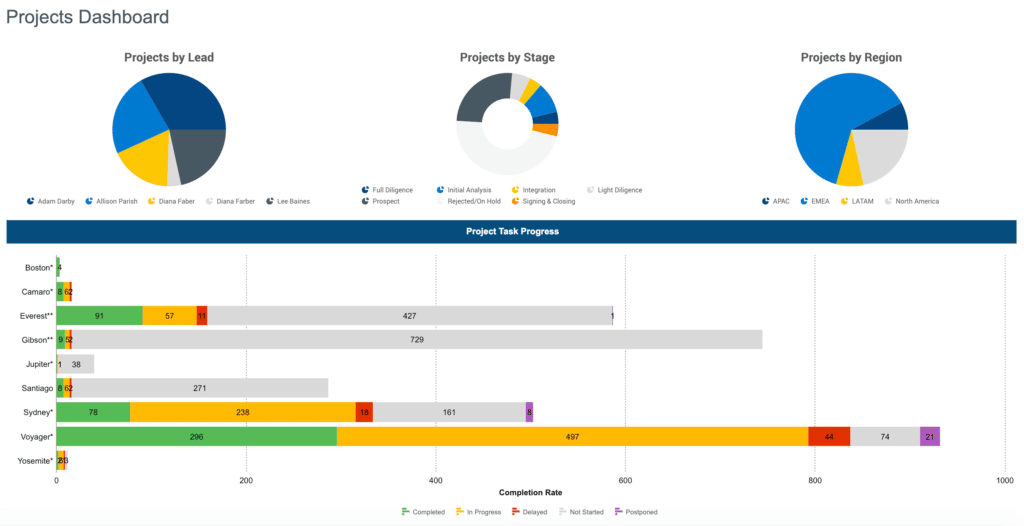 2. React more quickly to bottlenecks and issues
Rather than viewing the pipeline or progress on a weekly basis, what if you could view the most recent information every morning over your coffee or tea? Would you be able to spot something days sooner and be able to act more swiftly to mitigate the issue? If something was completed days ahead of schedule, could you move forward sooner?

With automated M&A reporting, the only limit to how often you can view a dashboard or create a report is the rate at which other team members work in Midaxo. Hourly? Daily? Weekly? It's entirely up to you. The request doesn't require hours of manual information compilation.
3. Prepare in minutes for weekly meetings and executive review
Imagine exporting a comprehensive, multi-page report filled with KPI dashboards in less than a minute on the way to your weekly meeting with the complete confidence that you are showing them the most up-to-date version. Imagine that the report matches your existing report templates and branding standards, all without the weekly administrative burden of creating manual reports.

When setting up one-click reports, you can configure the formatting (logo, font, colors, etc.) and background image to reflect the branding of your company. Add multiple relevant dashboards to each report and maintain a library of reports for specific meetings or individuals.
4. Start with refined dashboards and reports to convey the right information
When preparing for your weekly team review or delivering a presentation to your leadership, showing the right metrics and information is crucial in ensuring your team is on the track to meet key milestones and performance targets.

Sometimes, the report template you are using is either crowded with extraneous information or missing key metrics. Instead of a quick glance to understand something, you are asking the people viewing your reports to hunt to find the information they are looking for.

With Midaxo's collection of 100+ Best Practice Reports, you can start with a report template created with M&A experts.
5. Eliminate time spent manually reporting and empower team to focus on deals
Imagine all the time saved by your team with automated M&A reporting. Without the weekly administrative burden of collecting and compiling information for building reports, you are all now free to focus more on the more valuable work.
6. Conduct shorter, more dynamic team meetings and promote accountability
Instead of going around the room to get every task-level report update from each team member, imagine focusing on the most pertinent and impactful updates. Imagine being able to dig into the details together in a structured and useful way.

With dashboards and reports that have the most up-to-date information, you have the context to know what is important and what isn't. With everyone able to see where their projects and tasks stand, there is more of an incentive to get things done by the assigned deadline.
7. Ensure consistency in the reports
And finally, with automated M&A reporting, you can have standardized reporting. From week to week, you can ensure that you are viewing the same metrics and the same information. There is no hand-off of the person responsible week-to-week. There is no reliance on ad-hoc reports – but you can create them as needed.

To learn more about Midaxo's Reporting Analytics or the 100+ available dashboards and reports, contact us.