Handling a deal flow of dozens to hundreds of prospects requires a systematic approach to manage both the M&A pipeline and the deal-making process.
You'll need to store information about individual deals in a standardized format, have a clear process of stages that each deal goes through with an orderly flow of tasks, as well as arrange meetings to follow progress and make decisions. A clear structure for the process makes it easier for multiple people to update, share and follow the information.
On a high level, the core work flow includes the following activities: 1) identification of new prospects, 2) collecting and analyzing information, and 3) moving deals through each stage of the process.


Each stage in the pipeline should include clear entry and output criteria to be achieved before a deal can move to the next stage.
The stages can vary a bit, but generally the first stage is to create a list of potential prospects. The next stage is to analyze if prospective deals are worth further study. If so, then a deal goes forward through the full M&A due diligence process, planning the actual transaction, signing & closing and finally, post-merger integration.
Here is a typical pipeline work flow with goals for each stage:
| Prospect | Initial Study | Due Diligence | Transaction | Signing & Closing | Integration |
| --- | --- | --- | --- | --- | --- |
| Entry criteriaVery loose criteria | Entry criteriaDecision to move forward | Entry criteriaDecision to pursue acquisition | Entry criteriaDecision to negotiate the final SPA | Entry criteriaSign SPADeal approval | Entry criteria Change of ownershipIntegration activities are carried out |
| OutputsBrief description of the opportunity and why it would make sense | OutputsBusiness case presentationInitial ValuationSynergy targetsHigh level integration plan | OutputsDue Diligence reportsFinal valuationRevised integration plan | OutputsShare purchase agreement (SPA) | OutputsCommunication to stakeholdersPlan for financial and management systems & controlsRevised integration plan | OutputsProgress reportsSynergy tracking |
As a part of M&A pipeline management, it is important to schedule regular meetings to discuss the deals under consideration with all data updated in advance. Meetings can be held weekly or monthly. The regular meeting also determines the reporting cycle for individual projects.
In large companies where there is a dedicated corporate development team, a team meeting is usually held weekly. In smaller companies the board meeting cycle usually determines the timing for review meetings.
An Excel spreadsheet is often used to keep track of individual deals in the pipeline: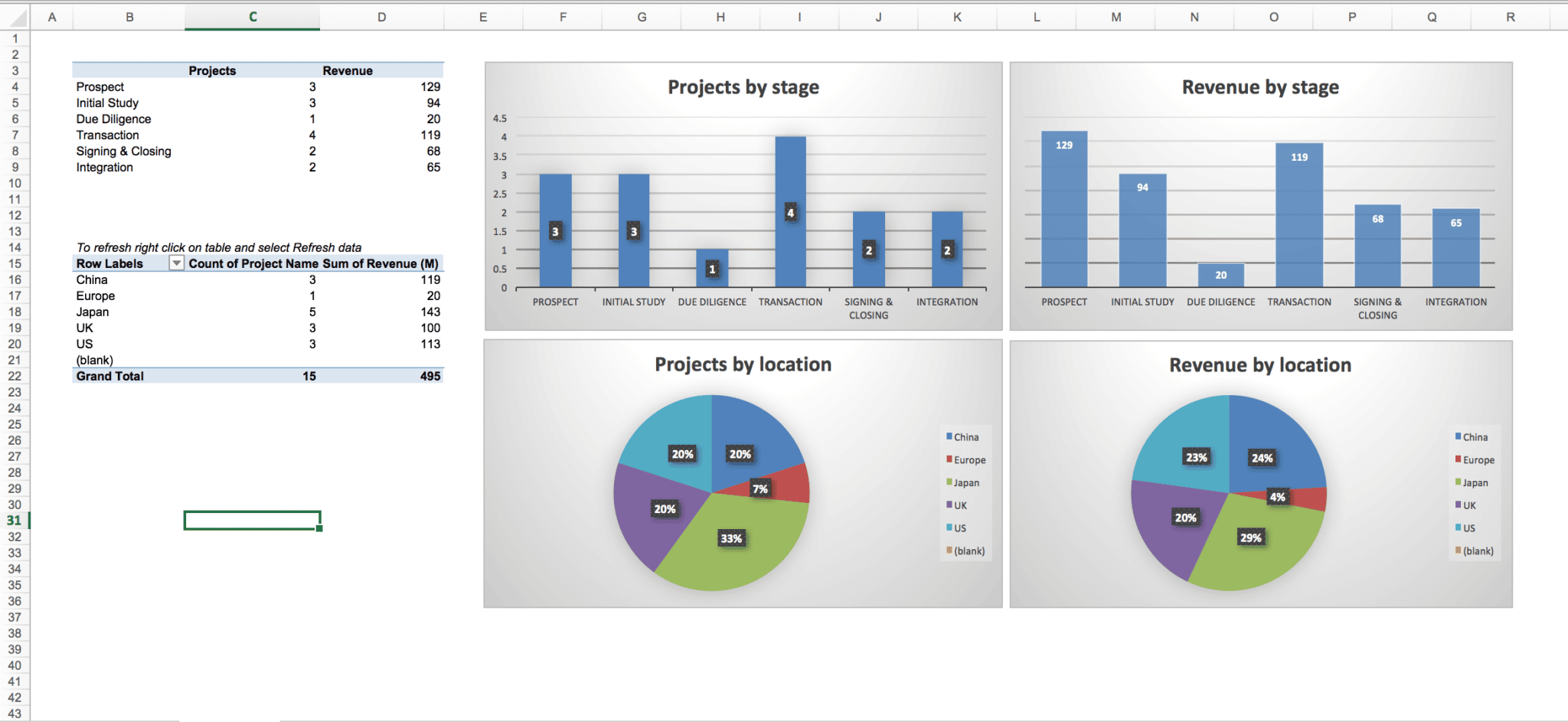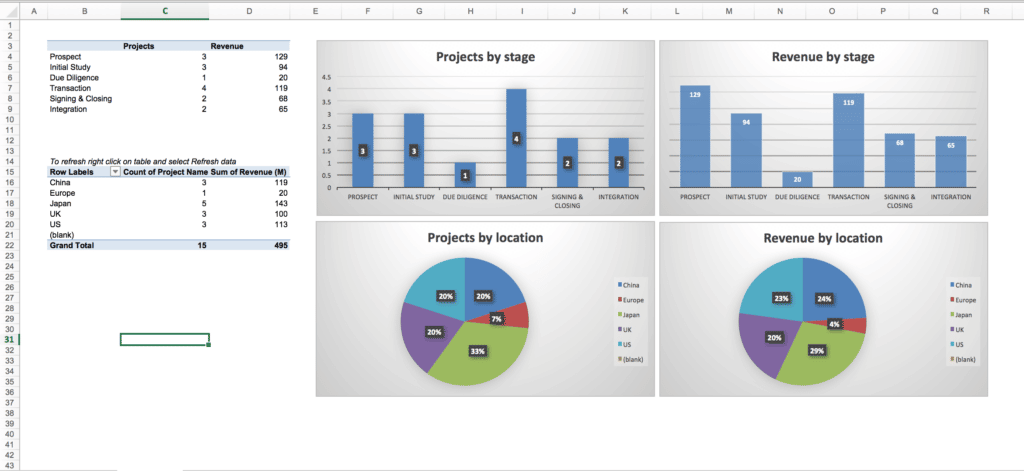 The fields typically include:
Project code name
Target name
The person who leads the deal
Location (country or city)
Categorization (such as business unit, technology area, etc.)
Rationale for the acquisition (category or one sentence description)
Short company description
Stage in the deal process
Active/rejected status + reasons why a deal is rejected
Description of the status and next steps
Some financials (like headcount, revenues, EBITDA, etc.)
MS Office SmartArt can be used to visualize the different deal stages as illustrated below. To do this in Word or PowerPoint, select 'Insert' Ribbon, 'SmartArt' Selection, 'Horizontal bulleted list' and populate the data manually.

TIP: It's worth keeping the information from rejected deals, because the same prospects could come back to the table at a later time. Also the reasons why deals are rejected are valuable data to record and analyze.
Managing documents
In each stage you will collect and analyze information as well as produce updates and presentations as a part of M&A reporting. For this you need a place to store documents. Be sure to have a dedicated folder for each deal and each stage. An ideal storage solution would enable you to share certain documents quickly and securely with other people within and outside your organization.
Typical solutions range from company intranet sites, Dropbox and Google docs to M&A-specific systems like Midaxo's deal management software. It is important to understand the security implications of the solution you select.
The key documents to produce and maintain until the deal is signed are the business case presentation, the due diligence checklist and the share purchase agreement.
The business case presentation is the most important document. It should include at least the following topics:
Executive summary
Target description
Product/Service offering
Business breakdown (by product, customer segment, etc.)
Financials
Initial Valuation
Synergy targets
Due Diligence key focus areas
Integration plan
Also a "one pager", a single page summary document of each active deal, is a good way to communicate the status of each deal to stakeholders.
Managing Issues and Risks
Throughout the process you will encounter and identify issues and risks to track. In M&A project management terminology an issue is usually something already known that needs action or a resolution, whereas a risk is something that could occur during a project that affects the outcome.
Once again an Excel spreadsheet is the minimum solution. Each time an issue or risk is identified it should be added to a shared issues list that can be reviewed in a team meeting.
The issue tracking spreadsheet should include at least the following fields:
Description of the issue
Status (not handled, in progress, done, ignored)
Severity of the issue (Critical, High, Medium, Low)
Probability (Certain, High, Medium, Low)
Corrective action
Who is responsible
When issues and risks are added or changed
Issue tracking spreadsheet example:


Managing Tasks
You'll also need to list the tasks to be carried out in each stage. In the stages before the acquisition is completed, the task list should be as brief as possible. Concentrate on the deliverable and decisions you need to produce for each stage.
In a real deal-making situation there is often a sense of urgency and the temptation to skip steps. This can lead to a hasty decision that you will later regret. Once you have planned the task flow for deal preparation and decision making, use the same template as the baseline for all your deals. Improve it over time as you learn and accumulate experience.
The post-merger integration checklist requires much more detail.
Once again, a minimum solution is a spreadsheet with the following information:
Task names in a hierarchical list
Task status (Not started, In progress, Completed, Ignored, Delayed)
Assignment of responsibilities
Status summary
Due date


This will help you (and your team) organize your work. If there are multiple members in your team, make sure you have a clear assignment of responsibilities, due dates and access to the schedule for all team members.
As your deal process matures it is beneficial to write a handbook that explains how tasks are typically carried out. For reference, browse our list of M&A playbooks, which offer guidance on a variety of processes and projects.
Using Midaxo to run M&A team meetings efficiently
Midaxo is a professional cloud-based M&A software platform designed especially for deal flow and project management. Our platform is quicker to adopt than spreadsheet-based solutions, it provides far more functionality and is very robust to scale in the long run.
The platform has integrated deal flow and pipeline management, document management, as well as issue/risk and task tracking. It comes with a comprehensive M&A process template to help you create your own task lists and M&A handbook. Although you can run your pipeline and projects without a dedicated platform, it is much easier with a proper tool. Let's look at how to run an efficient team meeting with the Midaxo M&A platform.
Meeting preparations
For an efficient meeting, all relevant data must be updated beforehand with key information communicated to all the participants. It is a good idea to send a pipeline visualization or deal-list spreadsheet in advance by email. In Midaxo, the landing page and highest-level overview is the pipeline visualization of deals by stage. Professional PDF and Excel reports can be exported with a few clicks.
Pipeline overview
In a meeting, the pipeline view is ideal to visually show all deals in their different stages: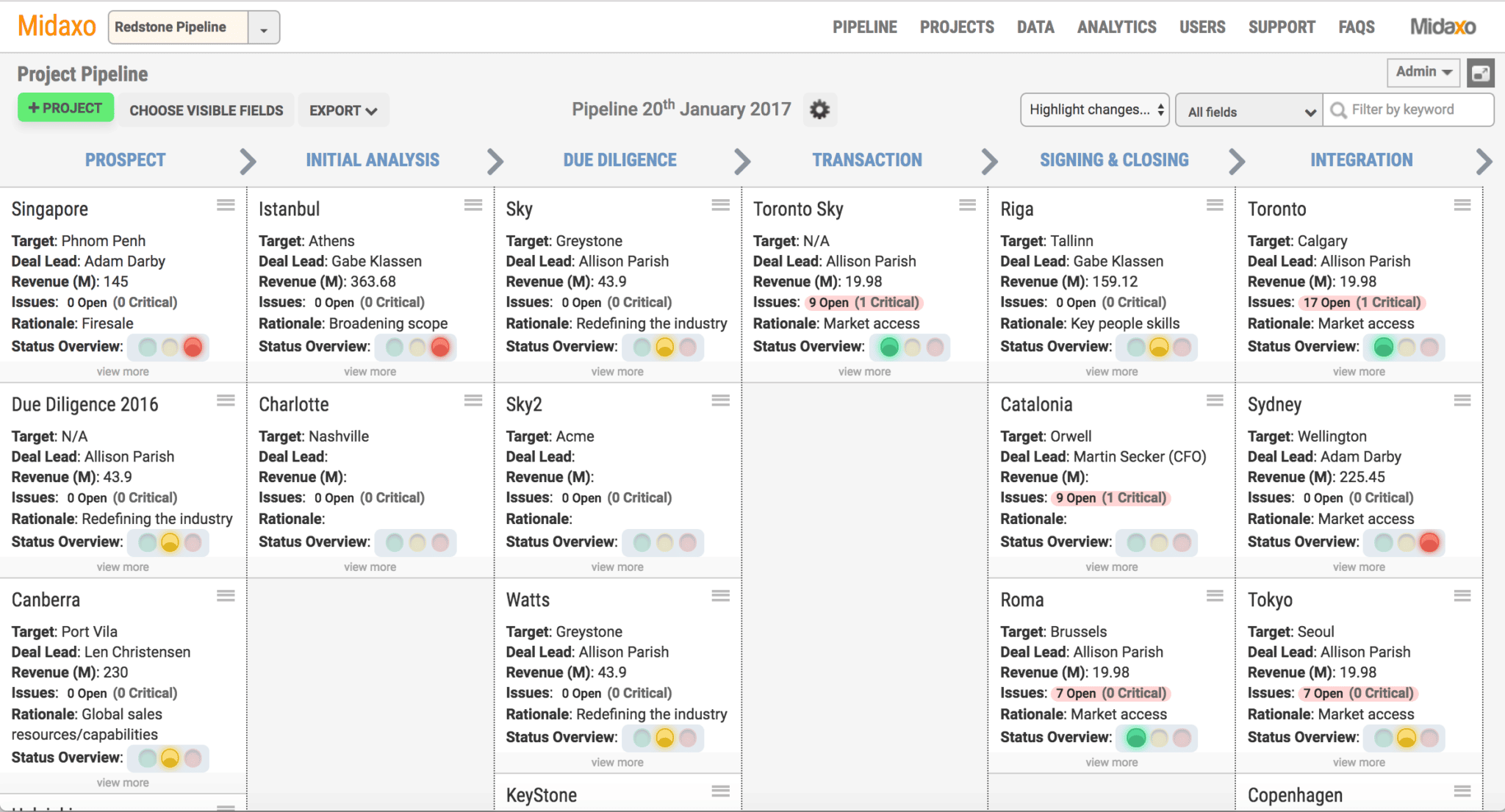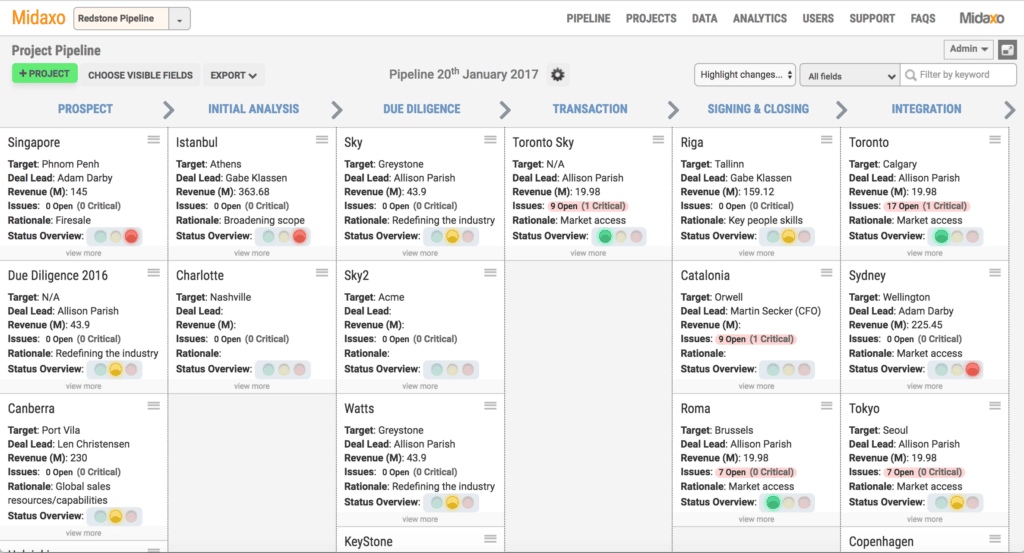 It is a good idea to go through all the deals in the pipeline one by one. If the pipeline has many deals, you can easily filter the pipeline, for instance by business unit, and let each business unit leader go through his/her deals.
Useful pipeline overview capabilities include:
Filter deals by country, business unit, deal owner, etc.
Highlight changes since the last meeting
Drag & drop deal from a stage to another
Easily drill-down to the status, issues and documents of any individual deal
Export professional reports with a few clicks
Switch between a visual pipeline view, a spreadsheet view and a project overview
Here we see the full pipeline with all deals. Access can also be limited so that individual users only see the deals relevant to them, while managers can see all deals. The ability to grant specific access to the platform (such as to the corporate development team, a business unit, advisors, a target company representative, etc.) and to control exactly what they can access is a powerful feature that is not possible with homegrown spreadsheet-based solutions.
Reviewing an individual deal
To review an individual deal, a single click brings you to an overview page where you can see all the key information, the status of the deal and all the key related documents in one place.
Deal overview and key documents view in Midaxo: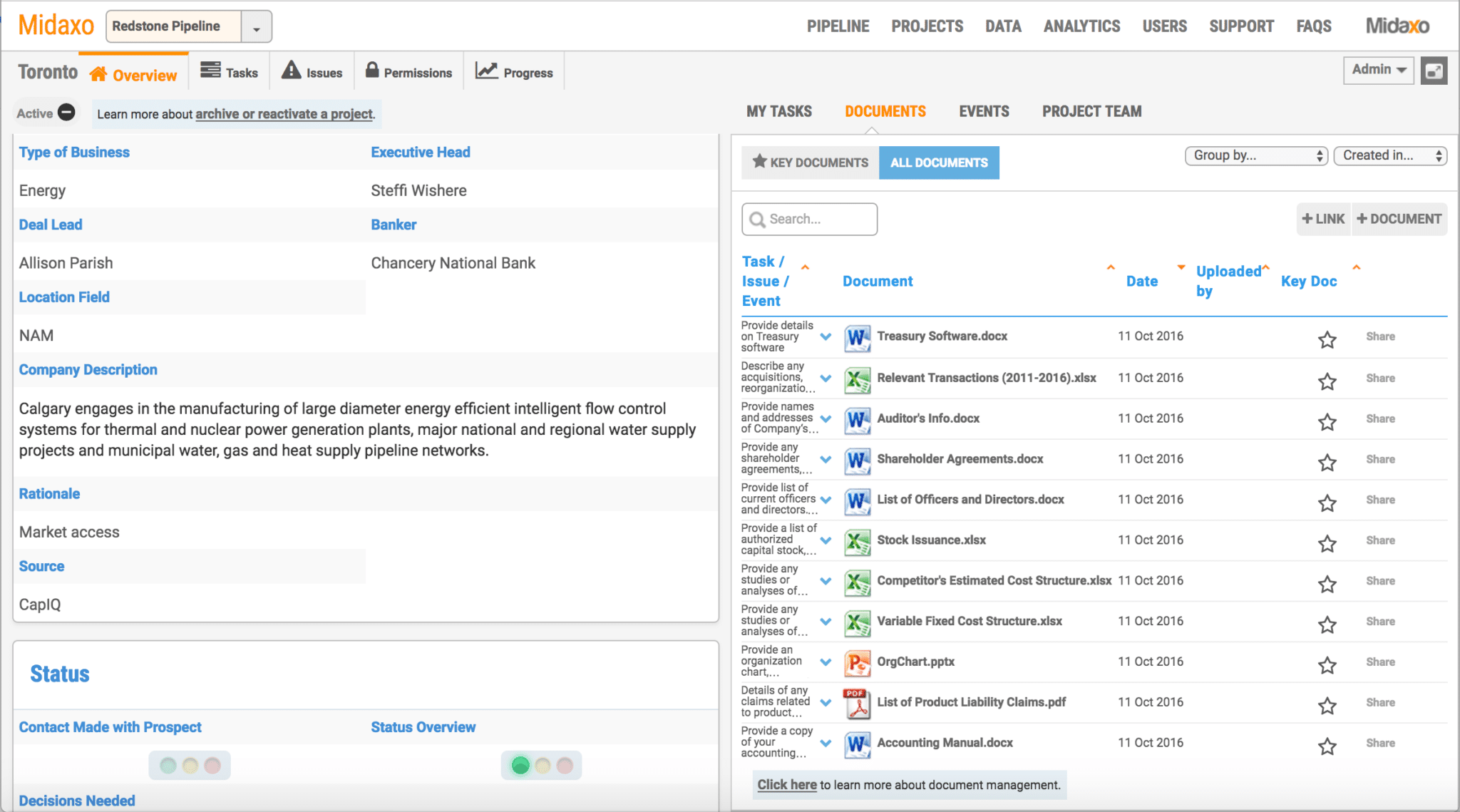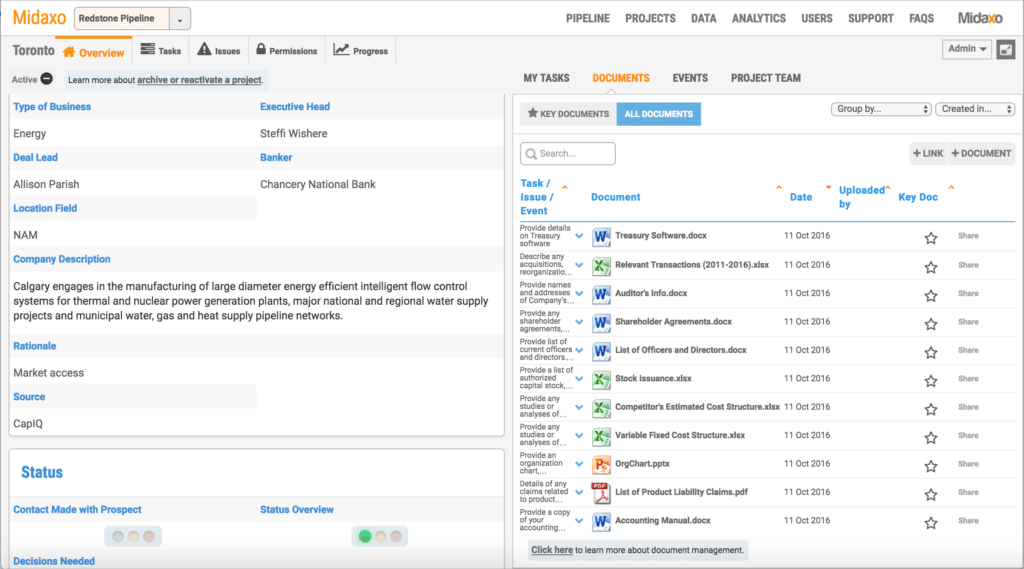 Mini-agenda for a case review:
Summarize the latest developments
Present any relevant PowerPoints, Excels or Reports (these should be highlighted as key documents)
Go through open issues/risks and discuss corrective actions
Agree on next steps
You can fully customize the fields you want to have on the overview page, which usually includes basic information about a deal, a summary of recent developments and proposed next steps. You can export this to a project one-pager as a Word Document with a single click.
Having all your key documents at hand, such as business case PowerPoint presentations, meeting minutes and due diligence reports, makes it easy and efficient to present all aspects of the deal in question.
If your audience wants to drill down to finer details, you can easily present a list of open and handled issues and risks, a full project schedule with all relevant status information and related documents and activity logs.
A list of open issues in a deal:


Task list, schedule and linked documents and issues: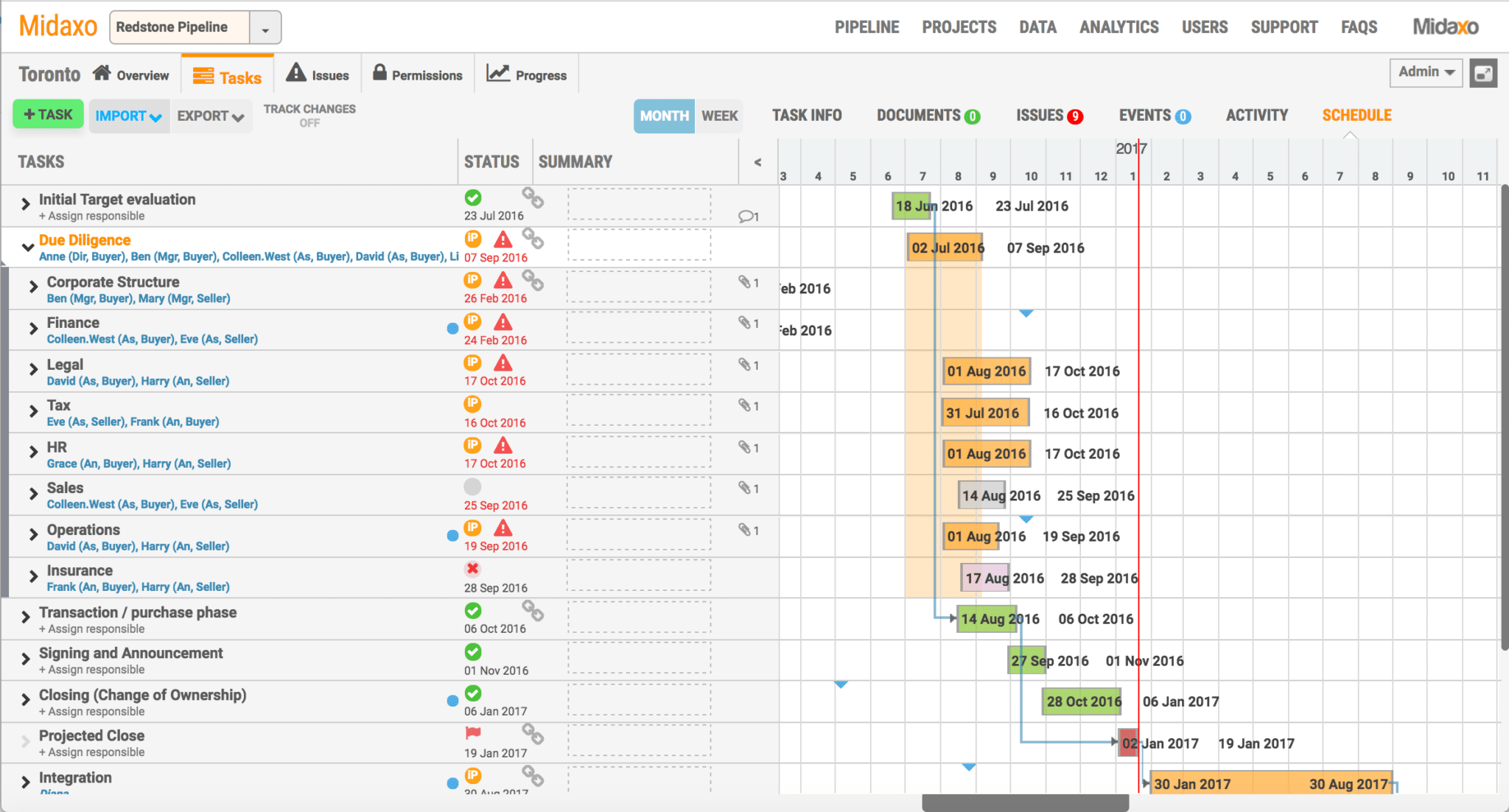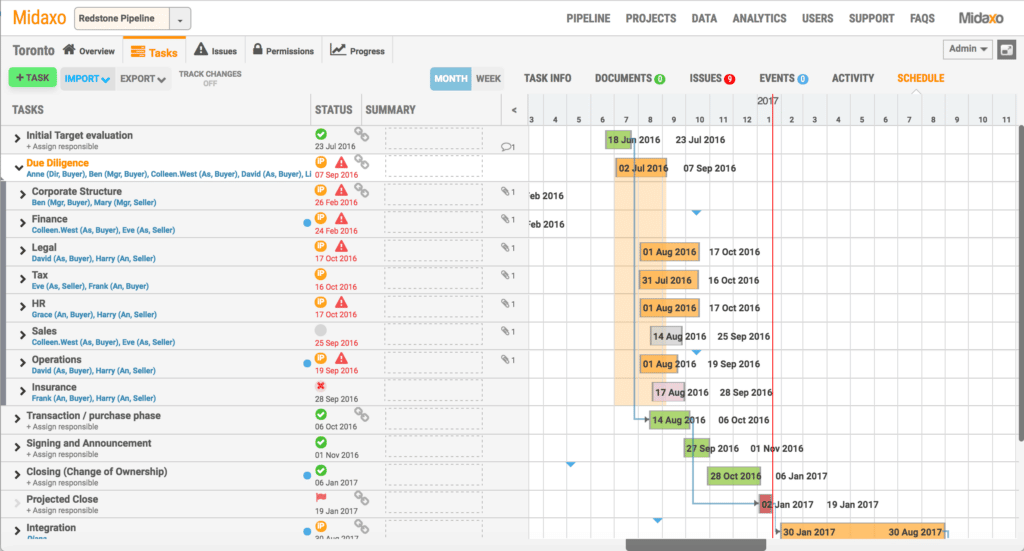 M&A Deal flow and Pipeline management options
We've established that the key to deal flow and pipeline management is a systematic approach. Taking the time to structure the processes, work flow, standard documents and content guides will ultimately allow for more informed and timely decisions in the end. Below is a template that you can use and modify freely:
Get your deal flow & pipeline management in order in a day
Schedule a personalized, free Midaxo demo. Get access to step-by-step guidance to configure your pipeline stages, one pagers, tasks lists and more. You will also have a comprehensive process template to create your own task list and M&A playbook. If you decide that the platform is more than you need for your business at the moment, don't worry, you can export everything that you configure (pipeline spreadsheet, issue tracker, task list, handbook) and use them independently.
See what Midaxo customers are saying about the platform.