As an acquisitive company, it's important to have the right resources to support your pipeline process. Having a robust tool implemented can help your team:
Be more efficient
Keep internal data secure
Focus on more deals, and
Deliver overall better quality M&A deals.
Below are the 5 things your team needs to construct a winning acquisition pipeline:
1. Inactive Deal Archiving
When a deal dies or becomes inactive, it's important to keep the information stored in a safe and secure place. You never know when that deal may resurface at a future date, and the historic record helps you pull from that previous context while avoiding reiterative work.
As your active M&A pipeline grows, you'll want to separate active deals from inactive deals in your pipeline. These deals could live on a separate tab in Excel, and any documents/correspondence can live in a separate document folder. We've all heard of the 'zombie deal' that resurfaces years later – so be sure to have all information stored and saved on all inactive deals – never delete!
In Midaxo, you can archive any deal and move it out of your active pipeline. All information related to the deal (valuation, financials, emails, calls, and notes) will remain stored on Midaxo's cloud interface, and the deal can be moved back to your active pipeline in just two clicks.


2. Automated Reporting & Analytics
To get a full understanding of your M&A deal flow, reporting is key. You'll want to keep track of what sources deals are coming from, deals by deal stage, revenue by stage, valuation, location, and more. It's important to know where targets are coming from, and who's sourcing them. This can also allow for easier communication to management.
Most M&A professionals are managing their pipeline through Excel – so it will be important to build out a separate tab of reports from the data that exists to get a full, comprehensive view of your pipeline. For those taking advantage of M&A software and its capabilities, automatic reporting helps make things easier.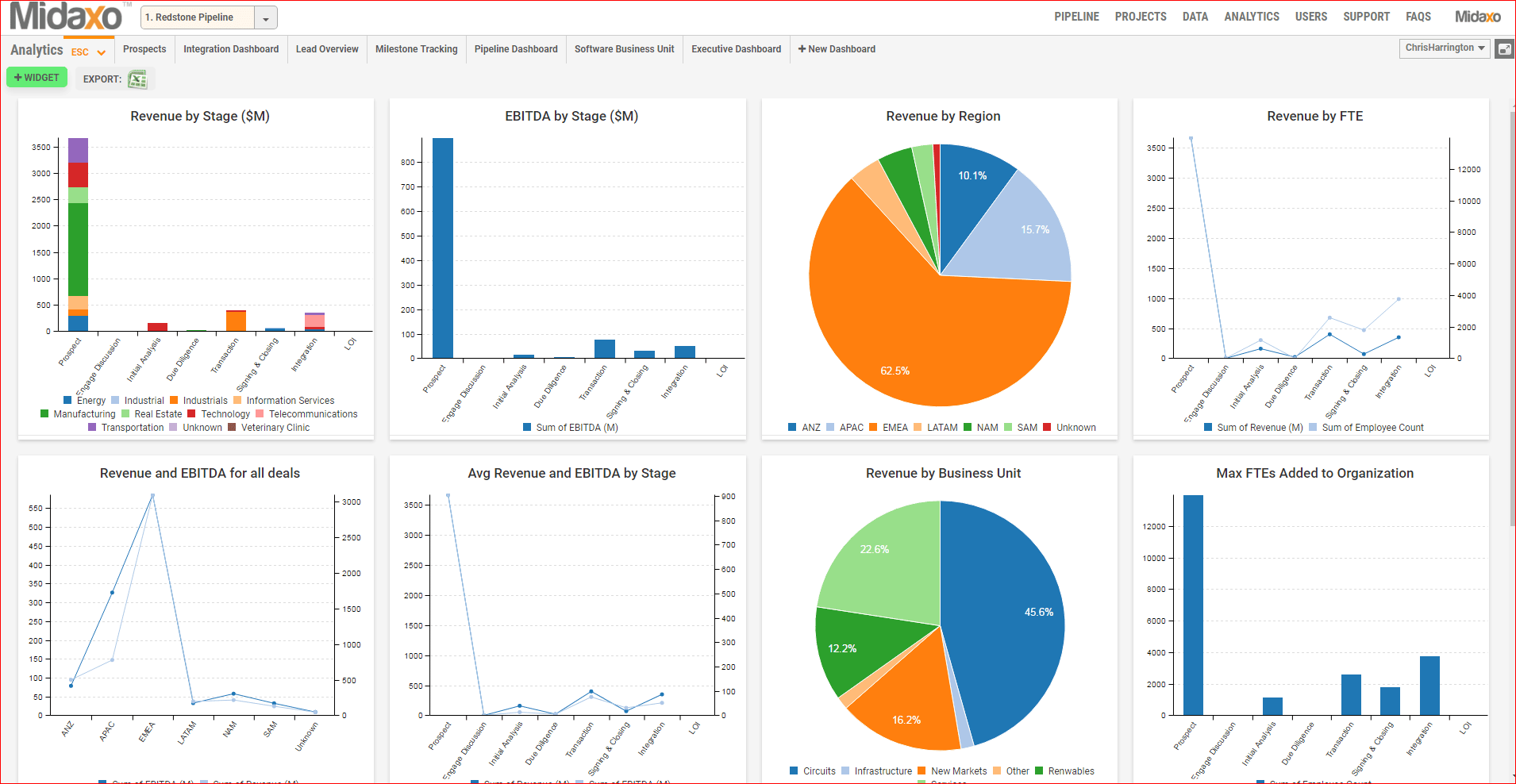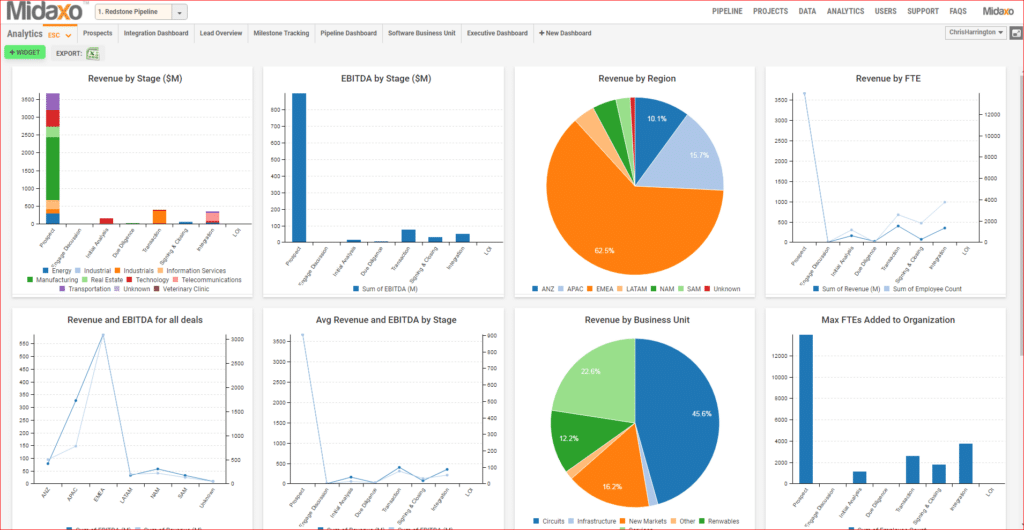 3. Effective Data Filtering & Sorting
A pipeline list in Excel can be an extensive list. That's why it's important to filter your pipeline down to keep the data organized. Have a large prospecting pipeline and happen to be traveling? A filter for deals in your prospect stage sorted by location might be an effective way to do an on-site with a target. Filters and sorting can help internal meetings run smoother, as it's easier to present your active pipeline.
4. Document Storage & Tracking
Typically, M&A is conducted through email, a CRM, Excel, SharePoint, Google Drive, and other related tools. With any deal in your active (and inactive) pipeline, it's important to be able to keep track of documents in an effective way. In a standard data room, documents can be tracked and stored effectively in deal folders and sub-folders to organize all information effectively. This can assure data is safe, secure, and easy to access.
As your pipeline continues to grow, you're going to want a safe, secure, and effective way to track all relevant documents, and to what deals they pertain.
5. Managing Multiple Pipelines
Many companies will have different processes to support their M&A pipeline management. For example, M&A professionals may have a different pipeline process for analyzing their targets compared to vetting a seller's correspondence by email.
For an even more specific example, a medical device company may pursue frequent M&A transactions to acquire new and innovative devices on a monthly basis. They may have a list of target acquisitions that they want to vet in their pipeline and M&A due diligence processes. They may also have a list of medical device companies that reach out to them to sell their products.
Said differently, the process for vetting a target and for vetting a seller's outreach may look drastically different. That's why it's important to be able to manage multiple pipelines in your pipeline process – assessing your different pipeline types in separate views can help streamline the progress of each. In Midaxo, you can manage multiple pipeline processes in a drop-down list to keep the data and processes separate.