In looking to establish an M&A process, it's important to start with the basics and add detail gradually. A common mistake is to "copy & paste" a sophisticated best practice process and to attempt layering it upon your organization. While the process might look great on paper, in reality there are likely to be too many steps and concepts to follow, many of which will feel foreign. Indeed, you may feel like you are just following process steps rather than focusing on what is most relevant and important to the deal.
Think of a golf instructor. If he instructs you to take a new grip, a new stance, lean back, rotate your club more, etc. you will feel weird, miss the ball and resort back to your old way of hitting the ball. A better approach is for the coach to encourage you to just try a new grip for a while. Then, when this begins to feel more natural, further improvements such as leaning back a bit more, etc. can be suggested.
Below are the typical approval phases and key deliverables of a standard M&A process.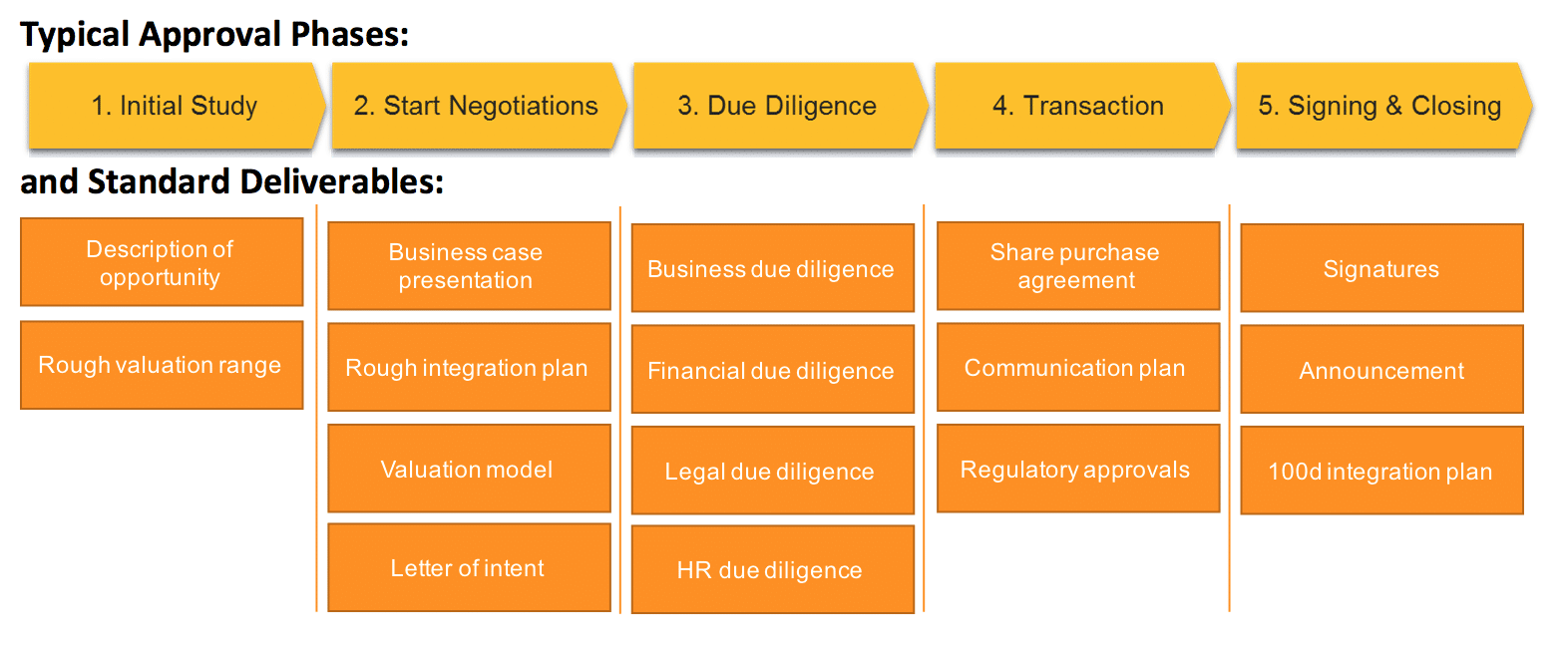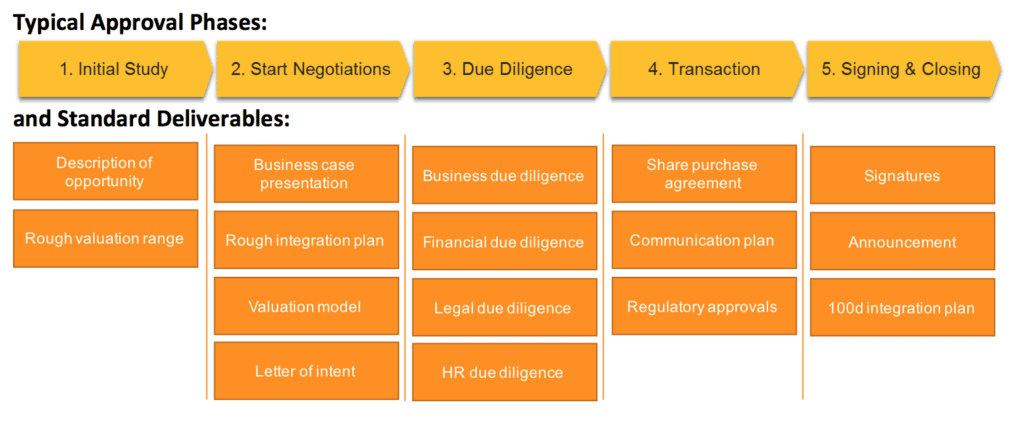 A basic best practice approach is to create deal playbooks (templates/checklists) for key deliverables, and include bulleted lists of recommended analysis and tasks, within the template. For example, your M&A due diligence questionnaire/template for human resources might include guidance on how to assess the cultural differences between buyer and target and how to best report on the findings.
This process is relatively easy to get going. It shouldn't cause much disruption internally and in starting from basics you won't feel like you're following a bureaucratic process like a robot. Another thing you should do immediately is to define a "one pager" for each deal and ideally, a dashboard that visualizes the key deal metrics across the M&A pipeline.
Typical one-pager fields may include:
Target name
Location Key numbers (headcount, revenue, EBIT, growth)
Valuation estimate
Deal rationales (tuck-in, VC investment, etc.)
A sample dashboard might include:
Revenue of targets by phase
Targets by location
Targets by deal lead
This is a great baseline for your M&A process.
Craft Deal Specific Task Lists Case-by-Case
A best practice approach to M&A is to add more detailed deal-specific task/check lists on top of your standard task/check lists. Taking this approach enables you to focus on a particular deal's key value drivers and keep on top of risks.
Further Refinement
After running deals through an actual process, you will start identifying factors that are essential to the success of a deal – these may include looking for similar targets, identifying and retaining key employees, or checking the compatibility of back-end IT systems, etc. Add these factors into your M&A process and track them. Remember, however, in starting from basics you should keep things simple. What gets tracked in the M&A process varies significantly from company to company. You can and should still track factors that are not defined in the process as they arise across due diligence – however, some areas are more fundamental and therefore warrant being tracked from the outset of a deal.
In utilizing Midaxo's comprehensive due diligence checklist it is recommended that you begin with reading through the checklist, really thinking about the deal in question and scoping the checklist to meet your needs (i.e. you may wish to remove line items or pull in from other checklists). As an example, let's say we have a software company that is looking to acquire tuck-in product extensions to complement its all-in-one marketing platform. Based on our own experience or learning from others' failures, we might identify the retention and motivation of key employees as a critical success factor when it comes to integration. 
An Example of Simple HR DD Steps: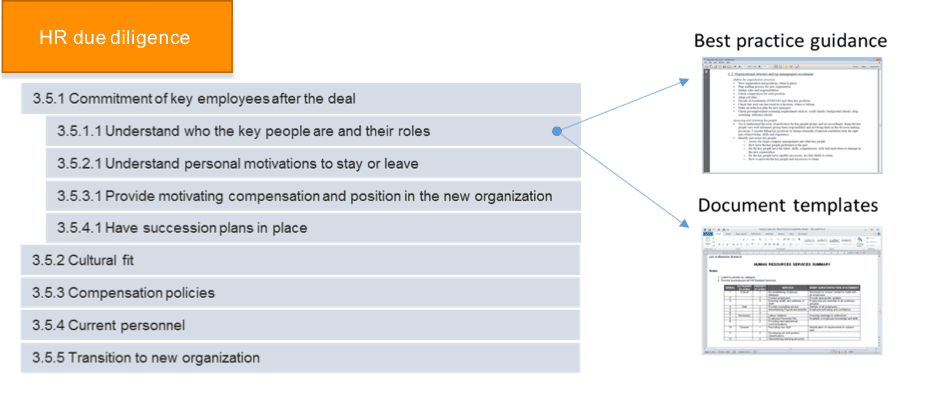 Another best practice approach is to conduct a deal "post-mortem" after all deals and integrations – whereby you identify success factors and add them into your process. As part of a post-mortem it's also important to take the time to think about refining your process as you build it and to remove any unnecessary steps. In doing this you are essentially building an M&A Playbook. As a real-world example, see details of Microsoft's M&A Playbook when it comes to tech acquisitions. Those looking to walk before they run might be more interested in our own post-merger integration checklist.
Select Task Size Wisely
People want to focus on real work and generally don't want to report on every thought or minor action across a deal. One reason why people struggle with the adoption of project management tools is that they spend too much time planning and reporting and too little time on actual work. Given the speed at which most M&A projects move it's imperative not to fall into that trap. Rather, focus your tracking efforts on key-deliverables and must-have compliance items. One week is usually a good reporting cadence. Your tasks should be organized so that they make sense to be tracked weekly. Larger tasks will need to be broken down while smaller tasks/non-core deliverables can be combined to drive efficiency of reporting. With a Digital M&A Platform such as Midaxo once due diligence issues have been logged the deal reporting can be carried out with literally a few clicks.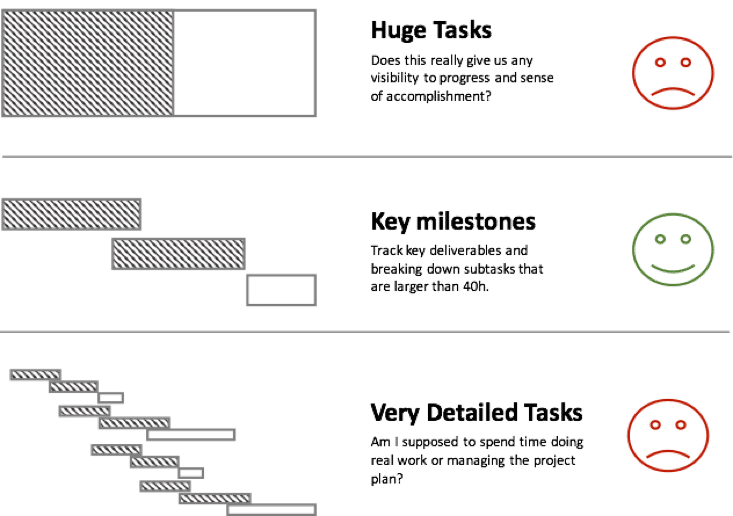 Taking a realistic approach to task-tracking should foster optimal project productivity, keep end-users motivated and enable you to stay on top of what's essential. In taking the time to invest in building a systematic and repeatable M&A process around task-tracking it's important to enforce usage of the system through which people report on progress and provide deliverables. Change management in this respect might not come easy – it's therefore imperative to communicate clearly that you have a single system to project manage the M&A process and to reiterate the message until the new way of working has been embraced. This approach will be key to driving adoption and establishing a winning M&A process.
Happy process planning!