M&A reporting has traditionally been characterized by a manual process, whereby deal teams collate reams of data and work it into a static PowerPoint report – which inevitably becomes out of date within hours. The process is repeated week-after-week prior to Monday morning progress meetings – often by a number of ambitious analysts, who are at risk of becoming disenfranchised with the world of M&A if they are led to believe that "grunt work" is all they are good for.
Clearly, the "Analogue" approach to M&A reporting is no longer fit for purpose – the manual work involved, repetition, duplication of effort encountered, and lack of real-time visibility is time-consuming, expensive and inefficient – and distracts from the more important issues in play across a deal.
1.Shift Happens
The world of M&A is fast-paced and high energy. The expectations placed on the average deal team are extremely high and constantly shifting – notably, the ability to quickly share real-time information has become a necessity given the increased time pressure under which deal teams work and the demand for immediate information. Yet many M&A teams continue to rely on an analogue reporting process because it's familiar and all they know. Such processes are very 1999 and appear archaic when compared to the advanced reporting solutions available today. To keep up with today's environment, deal teams would be wise to take an introspective look at their M&A reporting process and question whether there is room for improvement and if so, whether deal management software could bridge any shortcomings identified.
2.Real-time – All the Time
By optimizing the availability of real-time information, deal teams can (i) improve process efficiency – such as by reducing the need to share paper documents, send emails and collate information from multiple sources/tools prior to reporting (ii) increase deal velocity – e.g. by evaluating more targets and closing more deals and (iii) empower teams to respond with greater speed and accuracy and make faster decisions around how to proceed with a target (e.g. "go" or "no go").
In the absence of real-time working, it is very easy for members of a deal team to be working with different versions of reality. Leveraging real-time functionality, on the other hand, provides immediate data/information sharing and collaboration capabilities and ensures there is only one version of deal reality.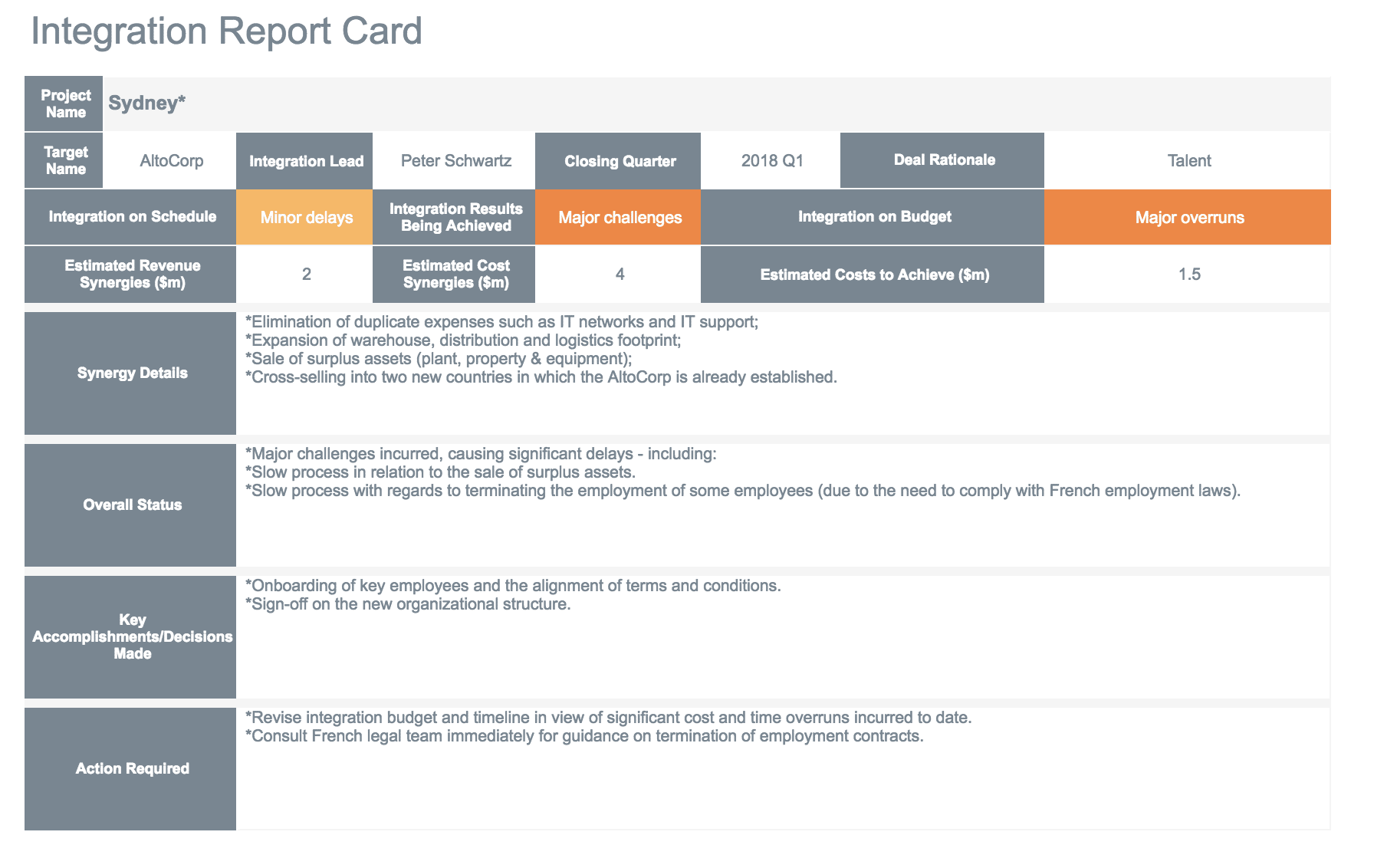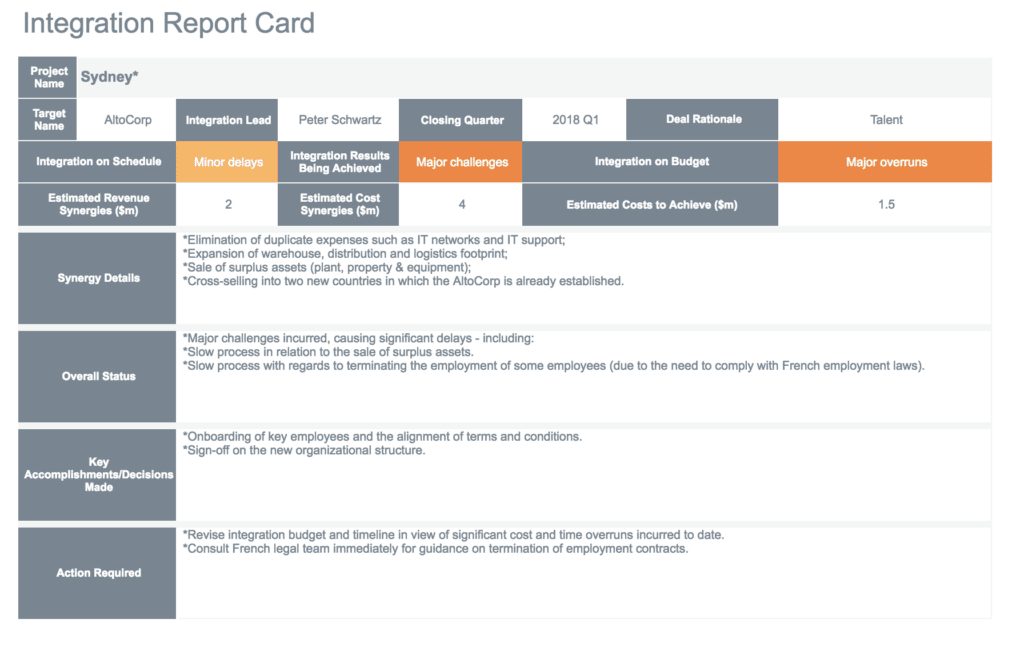 Reclaim your nights and weekends with powerful analytics and automated reporting.
3.Reporting Utopia Is Possible…
For any deal team still reporting from static documents, it may be difficult to imagine a way of working where moving a target (depicted by a deal card) across stage gates (e.g. from initial analysis to due diligence) with one click will automatically update a number of custom charts and KPIs comprising a real-time M&A dashboard – for instance, showing target count by deal stage, deal lead, industry/vertical, geographic region, etc. Similarly, for any deal team taking an analogue approach to scoring/ranking targets (or not doing so at all) it may be an eye-opener to learn that M&A target scoring can be automated.
When it comes to target scoring, with Midaxo Analytics, all a deal team needs to do is score targets across a number of areas pertaining to strategic and financial fit (via a pre-populated – but customizable– drop-down box) and technology will take care of the rest – by auto-scoring based on the ratings assigned and subsequently populating a chart and supporting table of best fit targets. These auto-generated deliverables can then be downloaded and emailed/shared, exported for further editing within Excel/PowerPoint or made visible in the Midaxo M&A platform to any individual with the requisite access rights.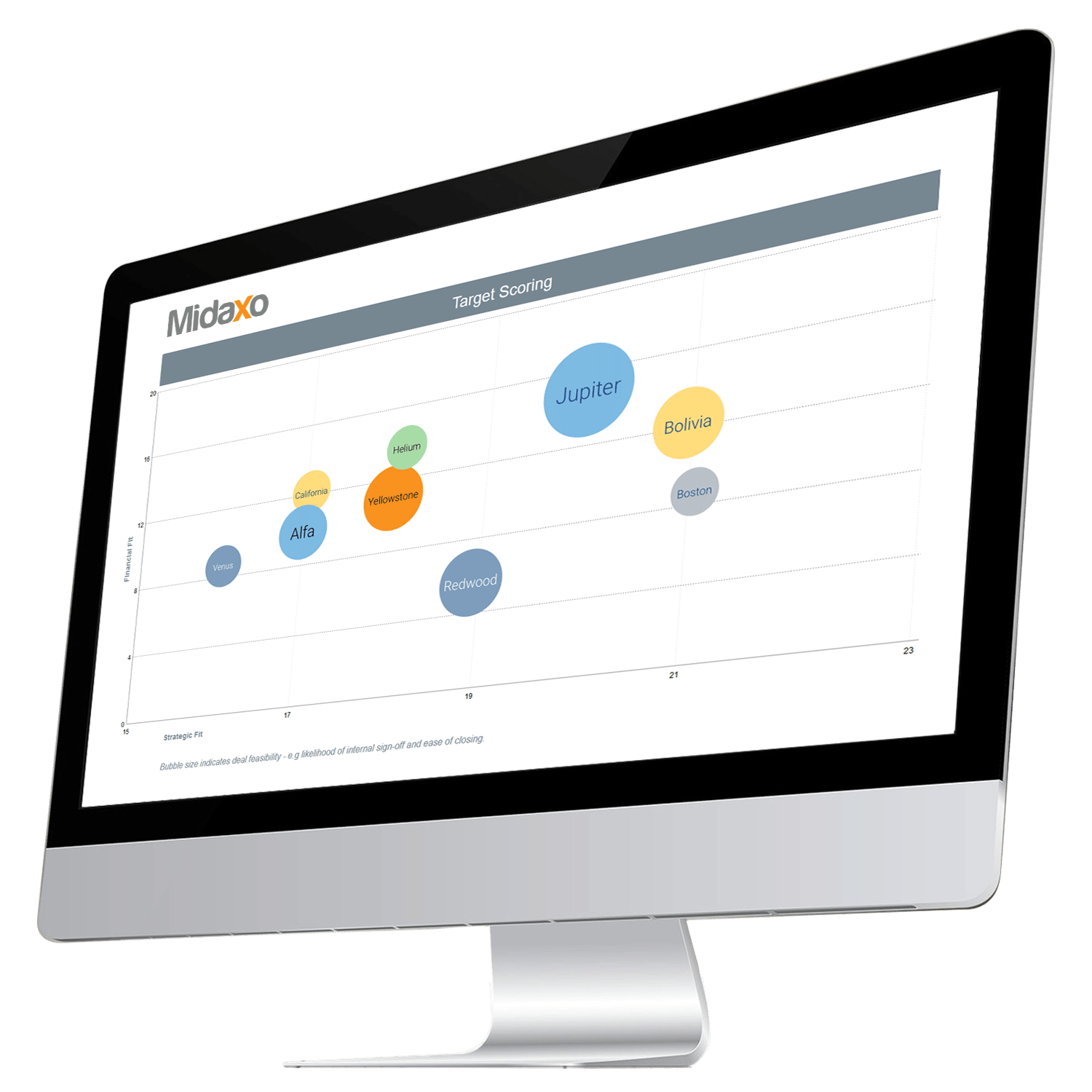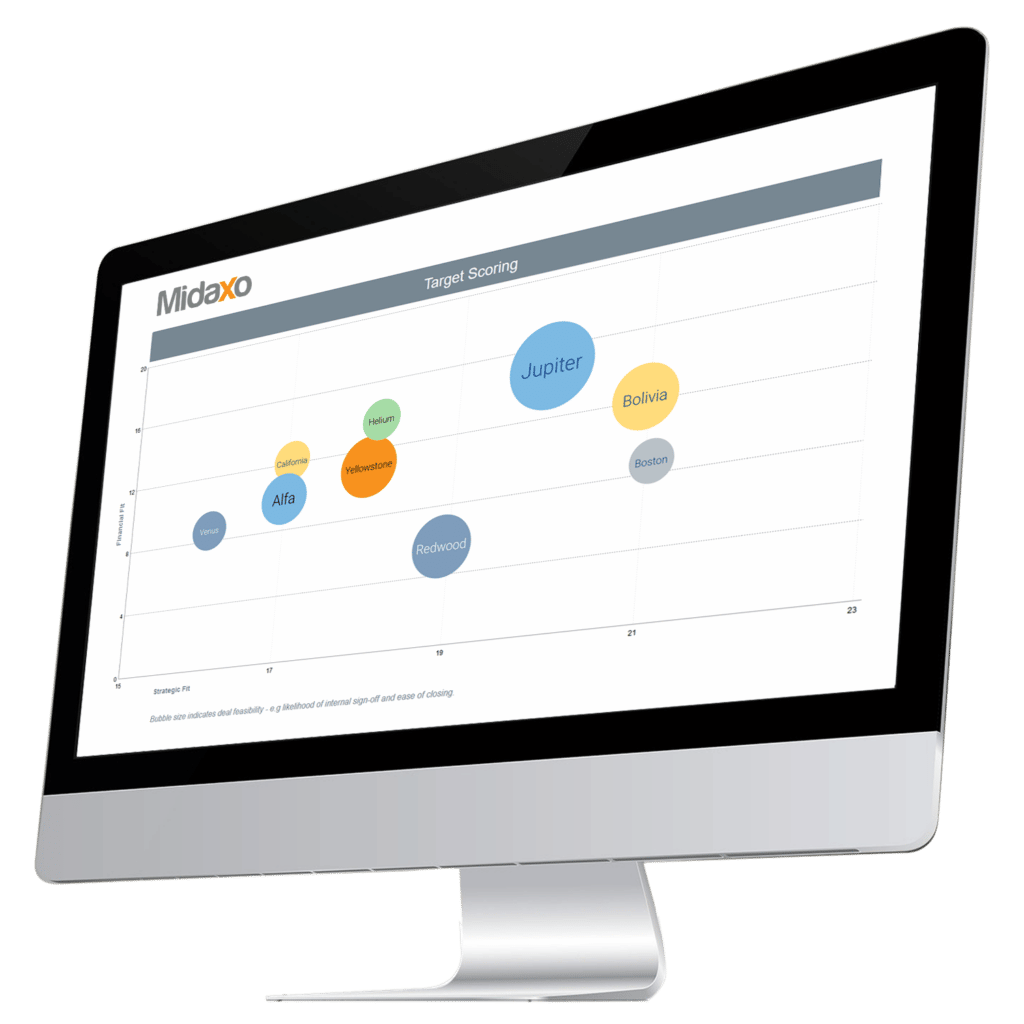 4.Automated Working Should be the Only Way of Working
Automated working capabilities allow teams to spend less time reporting and more time working on the things that matter most. For example, sophisticated reports with chart & graph functionality and linked reports/drill-downs can be configured and updated with a few clicks – making reporting on the status of a deal a process that takes minutes, rather than hours. Additionally, PowerPoint/PDF pitch decks and reports summarizing progress or details of a particular target, etc. – based on live deal information – can be generated in seconds or scheduled for automatic emailing to deal team members – therefore making time-consuming preparation for the Monday morning progress meeting a thing of the past. Ultimately, once a deal team has witnessed the power of automated M&A reporting it's a sure thing they will not wish to return to the dark-ages of analogue. 
5.Knowledge Transfer Connects an Organization
Using a Smart M&A Platform to manage M&A reporting enables the seamless transfer of knowledge across all levels of an organization. At the Individual Level, team members can see which targets are being evaluated and in what stage, across industries/verticals and on the basis of what M&A driver/rationale, etc. At the Project Level, a project manager/M&A Lead can check the pulse of an M&A pipeline in real-time with a few clicks – for instance, by seeing the number of targets in initial analysis or due diligence, the number of targets assigned to them or others for evaluation, etc. or drill into why targets are being lost/abandoned. At the Organizational Level, key decision makers/C-Suite are able to track the progress of an M&A pipeline at a higher level (while drilling into the detail if they wish) via real-time dashboard analytics – featuring customizable KPIs linked to corporate development initiatives such as revenue and EBIT contribution from closed deals, etc.